Past NDGA National Conventions
Every year, the NDGA holds a Convention concurrently with a Depression Era Glass Show and Sale. The location changes each year, so that members can have the opportunity to attend a Convention in their geographical area. The show is often sponsored by a local Depression Glass Club, whose members make the necessary arrangements for a facility, tables, parking, lodging and a whole lot more. Generally, there are about 32 top quality show dealers participating in the show, and they bring their "best" for this event.
The Convention usually lasts two days. There is always a short (hopefully) members-only business meeting in which Club Officers who were elected for the coming year are introduced to the members. This meeting has taken place in the past on Friday or Saturday, depending upon the particular year.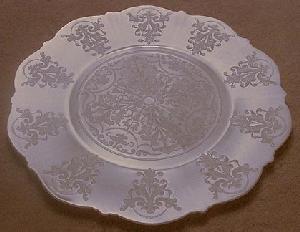 During the Glass Show hours on Saturday and Sunday there are various speakers who present seminars that last about an hour, on all sorts of topics related to Glass, specific Manufacturers, or even specific patterns from a single Manufacturer. There is always something for everyone to learn from the speakers, who are all volunteering their time and expertise for the NDGA.
Finally, there are the displays, which are also provided by Club members from their private collections. Often the NDGA Convention is the only place where you will ever see some of the rarest pieces of Depression Era glassware, when these private collectors share their treasures with the rest of us. Convention is an event not to be missed, if you can at all make it.
Past NDGA Convention sites
Here is a list of the places where the NDGA Annual Convention has been held over the years. Click on the listed cities to see more information regarding those conventions. Regretfully, we cannot provide pictures from all past conventions. Indeed, many of them were held before the Internet and Digital Cameras and and "surfing the web" were part of the everyday vernacular. But it is nice to see the long history of this organization, reflected in over thirty continuous years of holding an annual Convention and Show.
We are attempting to accumulate as much information as we can on past Conventions. Some of the information in the links below comes from the programs for the Conventions, and not all programs provided the same amount of details. Other information came from past issues of the News & Views. Still, some information is better than none at all, and as more details come to the webmaster, it will be added to our web site. Remember, this site is for all members, so if you have anything to contribute which will add to the information below, please contact the Webmaster@NDGA.net.
2017 Wellington, KS
2016 Tiffin, OH
2015 Kansas City, MO
2014 Wellington, KS
2013 Wellington, KS
2012 Kokomo, IN
2011 San Antonio, TX
2010 Wichita, KS
2009 Danbury, CT
2008 St. Charles, MO
2007 Modesto, CA
2006 Waxahachie, TX
2005 Waxahachie, TX
2004 Council Bluffs, IA
2003 Claremore, OK

2002 Lee's Summit, MO
2001 Salem, OR
2000 Denver, CO
1999 Little Rock, AR
1998 San Antonio, TX
1997 New Orleans, LA
1996 Des Moines, IA
1995 Tulsa, OK
1994 Topeka, KS
1993 Little Rock, AR
1992 Tulsa, OK
1991 Little Rock, AR
1990 Tulsa, OK
1989 Chicago, IL

1988 Denver, CO
1987 New Orleans, LA
1986 Springfield, MO
1985 Lakeland, FL
1984 Houston, TX
1983 St. Charles, MO
1982 Denver, CO
1981 San Diego, CA
1980 New Carrolton, MD
1979 Orlando, FL
1978 Kansas City, MO
1977 Buena Park, CA
1976 Oklahoma City, OK
1975 Washington, DC