NDGA Annual Convention 2008
The 34th Annual National Depression Glass Association Convention was held on July 19-20, 2008, in the St. Louis suburb of St. Charles, Missouri.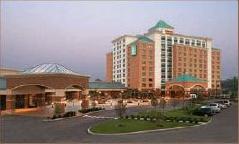 The dates were a little later in the month than most past Conventions, but we had to accept the weekend where the facility had an opening. The last time the National Depression Glass Association held a convention in St. Charles was 1983.
The site was the St. Charles Convention Center (photo at right), a facility which opened in 2005. It is adjacent to the Embassy Suites St. Louis-St. Charles. It is about 20 minutes from downtown St. Louis, and only 10 minutes from Lambert-St. Louis International Airport.
The sponsoring organization was the Gateway Depressioneers, and 0ur Convention Chairperson for this year was Betty Buersmeyer. She and her helpers produced a world-class Convention, one that will be remembered by all attendees.
Special Pre-Convention Event
There was a special side-trip available for attendees and dealers at the 34th Annual Convention. On Friday morning, July 18, the day before the Convention opened, at about 10:30am, we left for the Cupples Museum, located at Saint Louis University.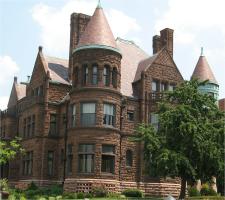 The Cupples House (shown at right) was built in 1890 by Samuel Cupples, who made his fortune in the warehouse business (he had a virtual monopoly on warehouses in the St. Louis area). Saint Louis University acquired the house and in 1973 it was saved from demolition and restored. It is on the National Historic Register. The Eleanor Turshin Glass Collection was the focus of our interest. This is a magnificent collection of Art Glass, from American companies such as Steuben and Tiffany to Daum, Lalique and others from Europe. All of those in attendance were overwhelmed by the beauty of the house itself.
Schedule of Events
The show and sale opened with Early Bird admissions at 8:00am Saturday morning. Early Bird admission is at a premium and there were a good number of folks in line when it opened. General admission to the Convention, Show and Sale began at 10:00am on Saturday and 11:00am on Sunday.
Seminars and Speakers
Our featured authors this year were Danny Cornelius and Don Jones, authors of the book American Pattern Glass Table Settings. They presented a seminar on Early American Pattern Glass (EAPG) and displayed some fabulous pieces from their private collection.
A second seminar speaker was author John Walk, speaking on the topic of Fenton Rarities, Whimseys and Samples. John wrote the book Fenton Rarities 1940-1985 which was released in 2002, and he is a well-known dealer in Fenton and other elegant glass.
The third seminar was presented by Jim and Nancy Finley, collectors from Sedalia, MO. They have been collecting Cambridge glass for over 40 years. They began with Rosepoint. As their massive collection grew they began to branch out. They stayed with Cambridge glass and began to acquire swans, nude stems, the Marjorie etched pattern, Japonica, decorated opaques, bar and smoking items, rare and unusual pieces, and turkeys. As part of their seminar they displayed their collections of turkeys, gave a brief history of the turkey's manufacture, and explained how to distinguish a Cambridge turkey from other glass turkeys.
National Glass Organizations
The NDGA encourages all of the National Glass Organizations to participate in the NDGA Convention, and will provide space (conditions permitting) for any of the National Glass Organizations who wish to attend and staff a table to promote their group. This year we had the Morgantown Collectors, National Cambridge Collectors, Wave Crest Society and the Museum of Glass in West Virginia. Each organization was able to distribute membership information and sell literature and souvenir items at the Show.
NDGA Annual Meeting
The Annual General Membership Meeting was held in conjunction with the Convention. It began at 5:30pm on Saturday. The room was comfortably filled with members, and the meeting lasted about 1½ hours.
Election results were announced, with Ed Staley elected as Vice President, Robert Henicksman as Treasurer and the four at-large Board Members were: Danny Cornelius, Fred Meyer, Betty Buersmeyer and Jack Peacock.
Silent Auction

We again had a "Silent Auction", to raise money for the National Glass Collection. The results of this year's Silent Auction were the best ever. Thanks to Dick Ladd and his helpers for an impressive auction which required four tables to hold all the items (click on the thumbnail to see a larger picture). The proceeds from this auction will all be used for acquisitions for the National Glass Collection.
Glass Displays
Each year at the Convention, collectors share their personal collections of glass and pottery with the rest of us. It is often the only opportunity that we have to see some of the rare and unusual items that are in private collections. Also on display were the additions to the National Glass Collection acquired since the last convention.
Click on any of the small pictures to see a larger photo. Here is what Convention visitors got to see this year:
| Exhibitor(s) | Display Title | Photograph |
| --- | --- | --- |
| Richard Sater | 1904 World's Fair items | |
| Raymond & Shirley Wagoner | Rare Cherry Blossom | |
| Danny Cornelius & Don Jones | Early American Pattern Glass | |
| Betty Buersmeyer | Seascape | |
| Gene Cooper & Brad Allen | Morgantown Decor & Freeform | |
| Mike Tooley | Chocolate Glass | |
| Don Rogers | Cambridge Variety | |
| Kent Washburn | Orange Glass | |
| John & Dovie Fields | Blue Fostoria Baroque | |
| Scott Smith | Colored Nautical | |
| Kathleen Booth | Multi Colored Jamestown | |
| Richard Ladd | Indiana Glass Cream & Sugars | |
| Dwayne Kuhnert | Swanky Swigs | |
| Sylvia Bien | Delphite Kitchenware | |
| Ken Sloan | Hazel Atlas Kitchenware | |
| Willis Brand | Green Parrot | |
| Len & Enid Waska | Wave Crest | |
| Marilyn Kreutz | Cobalt Glass | |
| Sarah Van Dalsem | Fire King Jadite Shell | |
| John Braum & Wayne Alexander | Wildflower w/gold band | |
List of Participating Dealers
Here is the list of dealers who exhibited at the St. Charles Convention.
| | | | |
| --- | --- | --- | --- |
| Linda & David Adams | Las Vegas NV | Helen & Gene Allen | Overland Park, KS |
| Rick Bakkum | Buffalo MO | Dale & Betty Buersmeyer | Pacific MO |
| Penny Reed | Des Moines IA | Rose & James Curnutt | Western Spring IL |
| Esther Mitchell | Little Rock AR | Pam Franscella | Gurnee IL |
| Pat & Sharon Ervin | Sycamore IL | Dovie & John Fields | Independence MO |
| Jim Davis | Springfield IL | Willis Brand | Waterloo IL |
| Arlene Goldberg | Greenwood Village CO | Rosemary Trietsch | Albertson NY |
| Helen Jones | Berkley Springs WV | Donna & Bert Kennedy | Balch Springs TX |
| Carol McEwen | Wichita KS | Fred & Pam Meyer | McKinney TX |
| Max Miller | Houston TX | Jack Peacock | Winston-Salem NC |
| Jane & John Schleinzer | Aurora IL | Penny Renner | Elkhart, IN |
| Cecil & Sharyn Taylor | Irving TX | Carolyn & Glen Robinson | York, SC |
| Kent Washburn | San Antonio TX | Leegh & Michael Wyse | Corvallis OR |
| John & Judy Bine | Troy MO | Janet Wasson | Highland IN |
| Danny Cornelius & Don Jones | Port Washington OH | Lee & Jean Spalding | Wichita KS |
| Marilyn Kreutz | St. Louis MO | | |