NDGA Convention 2007 - Modesto, California
The 33rd annual National Depression Glass Association Convention was held on July 7-8, 2007, in Modesto, California. The last time the National Depression Glass Association held a convention in California was 1981 in San Diego, so collectors in California were pleased to have this opportunity to attend the Convention and Sale.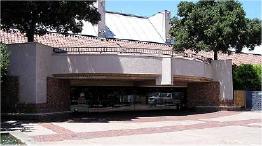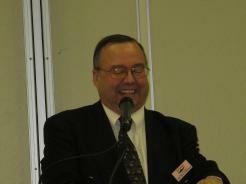 As an added bonus, Yosemite National Park is about a 70 mile drive east of Modesto. This park is one of the nation's oldest (established in 1890) and contains giant sequoias, waterfalls, towering rock formations and alpine meadows. It is certainly worth the hour's drive from Modesto, if you have extra time.
All Convention events were held at the Modesto Centre Plaza. The Convention Chairman for this year was Ed Staley (at right), a local Modesto businessman. Ed and his wife Carol have an extensive glass collection, consisting of well over 9,000 pieces.
"Early Bird" Session
On Saturday morning, there was an "Early Bird" session, with the doors opening at 8:00am and continuing until 10:00am. There was an extra charge to attend the "Early Bird" session as follows:
At the door: $20 per person for NDGA members; $25 per person for non-members of NDGA
For those who pre-register and pay with PayPal®: $15 per person for NDGA members
$20 per person for non-members of NDGA.
General admission was $8 per person, beginning at 10:00am.
NDGA Annual Meeting
The Annual General Membership Meeting was held in conjunction with the Convention. It began at 5:30pm on Saturday and lasted about two hours. Election results were announced, and Kent Washburn was re-elected as President, Carol McEwen as Secretary and the newly elected Board Members were: Ann Stoetzer, Mike Morris, Sarah Van Dalsem and Jean Spalding.
It was announced during the meeting that there were three resignations from the Board of Directors: Jim Rose, Vice President; Dorothy Fletcher, Board Member; and Ann Stoetzer, Board Member. The Board met on Sunday morning and unanimously approved the following replacements for the above individuals: Bert Kennedy will serve out Jim Rose's 1-year term as Vice President. Fred Meyer will serve out Dorothy Fletcher's 1-year term as Board Member. And Carolyn Robinson will serve out Ann Stoetzer's 2-year term as Board Member.
In addition, the NDGA Historian, C. Pat Ervin, resigned his position, with Leegh Wyse taking over. Rosemary Trietsch was named the newsletter editor, replacing Dean Lowry, who was congratulated for a job well done over the past year.
Silent Auction
We once again had a "silent auction", to raise money for the National Glass Collection. We will continue this fund-raising project in future years. Donations of good quality glass items for the auction were be accepted during set-up on Thursday and Friday until Noon. The silent auction produced a little more than $400.00 for the National Glass Collection.
Seminars and Speakers
There were four seminars presented in Modesto, and some very interesting topics were discussed. Several seminars overlap one another, but all seminars were repeated on Saturday and Sunday. Here are the topics and speakers:
Indiana Glass During the Depression Era - Craig Schenning
Craig is the author of the book A Century of Indiana Glass, and represented the Indiana Glass Society last year in Waxahachie. We're happy to have him back with us this year, this time sharing his knowledge with us in a seminar.
Fostoria Ohio to You - Gary Schneider
Did you know that the Fostoria Glass Company started out in Ohio making mostly lamps and lamp parts? Gary is the President of the Fostoria Glass Collectors (a Southern California club) and a collector of very early Fostoria items. He spoke about Fostoria in the days before the company moved from Ohio to West Virginia.
Fostoria: Process, Product and How it was Sold - Mark Dreier
Mark is a former national traveling dealer and is considered an expert on Fostoria Glass Company. Using many of the catalogs, glass items and advertising materials from his own collection, he provided us an insight into the ways glass was manufactured and marketed by Fostoria over the years.
Depression Glass: Opportunities and Consequences - Michael Krumme
Michael is a colorful speaker and former dealer in elegant glass. His seminar was about the betterment and detraction caused by the World Wide Web for dealers and collectors alike. Mike prescribes actions that can be taken to address the problems, side effects, benefits and casualties resulting from the Internet's entry into the marketplace. A state of the art examination of new sales and buying techniques that will affect all of us.
National Glass Organizations
We encourage all of the National Glass Organizations to participate in the NDGA Convention, and will provide space (conditions permitting) for any of the National Glass Organizations who wish to attend and staff a table to promote their group. In Modesto, the Morgantown Collectors, Indiana Glass Society, Fostoria Glass Collectors of Southern California, National Imperial Glass Society, International Depression Glass Club of Sacramento, CA, and the Historical Glass Museum of Redlands, CA, took advantage of this opportunity. Each organization was able to distribute membership information and sell literature and souvenir items at the Show. In addition, we had representation from the Antiques & Collectibles National Association, offering collectors and dealers their special insurance policies.
Glass Displays
Each year at the Convention, collectors share their personal collections of glass and pottery with the rest of us. It is often the only opportunity that we have to see some of the rare and unusual items that are in private collections. Here is the full list of displays presented at Modesto. Click on the thumbnail picture to see a larger version.
Photo
Display Content
Exhibitor(s)
Home Town

American Sweetheart
Jim & Dottie Kimball
Playa del Rey, California

Ruby Cape Cod
Kent Washburn
San Antonio, Texas
Fostoria Orchid Vernon
Janine Bender
Pebble Beach, California

Fostoria American
Sharon Ervin
Sycamore, Illinois

Fostoria Vases
Gary Schneider
Whittier, California

Fostoria Blue Coin
John Clements
Portland, Oregon

American Barware
Alex Guzman
Talent, Oregon

Cambridge Cleo
Richard Tony Nettell
Lafayette, California

Cambridge Apple Blossom
Richard Tony Nettell
Lafayette, California

Depression Era Ice Buckets
Cindy Hornback
Modesto, California

Jadeite
Dolores Cotham
Roseville, California

Indiana Console Sets
Dean Lowry
Houston, Texas

Paden City Party Line
Michael Krumme
Los Angeles, California

Heisey's Ridgeleigh
Sue Hill
Santa Cruz, California

Orange Glass made in West Virginia
Kent Washburn
San Antonio, Texas

National Glass Collection
Sarah Van Dalsem
Acquisitions Committee member

National Glass Collection
Linda Bredengerd
Acquisitions Committee Chairperson

Historical Glass Museum
Frank Herendeen
Redlands, California
List of Participating Dealers
Here is the list of 33 dealers who participated in the Convention in Modesto. As you can see, there were top-quality dealers from thirteen states attending and exhibiting glass for sale at the Modesto Convention. This was a rare opportunity for you to see items from dealers who rarely travel to the west coast.
Exhibitor Name(s)
Home Town
Exhibitor Name(s)
Home Town
Linda & David Adams
Las Vegas NV
Robert Henicksman
Ilwaco WA
Rick Bakkum
Buffalo MO
Betty & Dale Bass
Phoenix AZ
Joanne & Dale Bender
Pebble Beach CA
Dale & Betty Buersmeyer
Pacific MO
Elizabeth Coome Ventura
Brentwood CA
Rose & James Curnutt
Western Spring IL
Penny & Elliot Drucker
Reno NV
Victor & Seray Elliot
Fairfield CA
Pat & Sharon Ervin
Sycamore IL
Dovie & John Fields
Independence MO
Kevin & Kathy Flynn
Pebble Beach CA
Gary Geiselman
York PA
Arlene Goldberg
Greenwood Village CO
Melanie & Ron Hildreth
Corona CA
Helen Jones
Berkley Springs WV
Donna & Bert Kennedy
Balch Springs TX
Carol McEwen
Wichita KS
Fred & Pam Meyer
McKinney TX
Max Miller
Houston TX
Jack Peacock
Winston-Salem NC
Becki Ray
Centrallia WA
Penny Reed
Des Moines IA
Jane & John Schleinzer
Aurora IL
Ann Stoetzer
Glendale AZ
Cecil & Sharyn Taylor
Irving TX
Mary & Ed Walker
La Quinta CA
John & Janet Wilkinson
El Cajon CA
Kent Washburn
San Antonio TX
Leegh & Michael Wyse
Corvallis OR
Dwayne & Barbara Johnson
Aurora OR
Ms Lee Briggeman
Fertile IA