NDGA 2012 Convention Information
July 14-15, 2012 - Kokomo, Indiana
In Memoriam


Tom Smith was the Co-Chairman of the 2012 Convention, and he spent many hours and lots of miles to make the Convention a memorable one for our members. Sadly, Tom passed away on July 11, just a few days before the start of the Convention. Tom was a glass enthusiast, collector, dealer and author, and his enthusiasm was contagious. Our friend will be missed by all who knew him.

The 2012 Convention Co-Chairmen were Danny Cornelius and Tom Smith. They introduced some innovations that we have not seen in the past, as you will read about below. The Convention was held at the Kokomo Event Center, a part of Ivy Tech Community College, 1500 North Reed Road, Kokomo, IN, which is located on the East side of U.S. 31 one block North of North Street.
All are WELCOME !
In case there is any confusion, ALL GLASS LOVERS ARE WELCOME. You did NOT have to be a member of the NDGA to attend our Convention. Come one and all, have some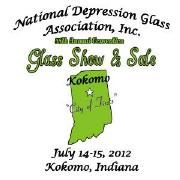 fun, buy some glass and learn a whole lot about American-made glassware. Although the organization name contains the words "Depression Glass", be assured that there were all kinds of American glass represented.
Convention T-Shirt
The NDGA had a limited number of t-shirts for sale, advertising the 2012 Convention in Kokomo, Indiana. You can see the design at right.
Schedule of Events
The show and sale opened at 10:00am on Saturday, July 14. It ran until 5:00pm, after which there was a half-hour break, followed by the Annual Membership Meeting of the NDGA (about 1½ hours). Newly elected Board members and Officers were introduced and sworn in. All NDGA members were invited to participate in the meeting. On Sunday, July 15, the Convention opened at 11:00am and closes at 4:00pm.
Special Guest
Dean Six of the West Virginia Museum of American Glass, Ltd. was our Special Guest, and he also presented a Seminar and was available all weekend to answer questions and talk about glass and glass research.
Seminars and Speakers
Dean Six

West Virginia Museum of American Glass

Dean Lowry

Beginners / Children's Seminar

Helen Jones

Beaumont Glass

Dave Shetlar

Stretch Glass

Dean Lowry

Decorated Glassware by Indiana Glass Co.
National Glass Organizations
Each year, the NDGA invites representatives from other national glass organizations to participate in our Convention. The following attended Convention 2012 and each set up a table with membership information for their organization and other items of interest. You can click on the underlined link to see a photo.
National Greentown Glass Association
(The Greentown Association brought an actual working glass press!)

National Duncan Glass Society, Inc.
NDGA Annual Meeting
The Annual General Membership Meeting was held in conjunction with the Convention. It began at 5:30pm on Saturday. The meeting lasted about 1½ hours.
Dining with the Cars
That was the name of the banquet after the annual meeting on July 14th where all attendees were charmed to be "Dining with the Cars." Yes, you heard correct – the banquet was held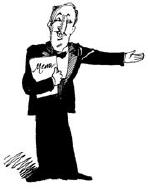 inside the Automotive Museum at the Kokomo Event Center located at 1500 North Reed Road, the same location as the Convention. We got to enjoy the nostalgic surroundings of times gone by while viewing the over 100 automobiles in the museum. The automobiles on exhibit run the gamut from the Haynes "Pioneer" to gems of the 20th century.
The meal was pot roast with vegetables and rotisserie chicken with sides of mashed potatoes and gravy, corn, green beans, rolls and honey butter. Dessert was your choice of cherry or peach cobbler, with sugar free cake available for the diabetics in attendance. The beverages were your choice of coffee, tea, lemonade, or bottled water. All of this for only $18.00 per person.
The best part -- there were over 170 people who attended the Banquet!
Live Auction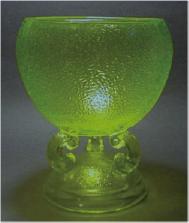 At the conclusion of the Banquet on Saturday night, we had our first ever LIVE auction with auctioneers Bob and Pam Franscella. There were a limited number of glass items donated for this event. The photo at right is the No. 15328 Brilliancy Assortment by Tiffin, introduced in 1926. It is one of a number of very nice items in the auction. CLICK HERE to see photographs of the high quality items that were auctioned off. Each of the items was donated, so the proceeds of the Live Auction went entirely to the Museum Support Fund.
There was an enthusiastic crowd (the room was full to standing-room only), and bidding was lively. The results of the Live Auction added over $5,200.00 to the Museum Support Fund.
Silent Auction
We also had a Silent Auction during the Glass Show, to raise money for the National Glass Collection. Members contributed various pieces of glass or other items (books, etc.), to be sold in the silent auction, with the proceeds going to the NDGA National Glass Fund.
Glass Displays
Each year at the Convention, collectors share their personal collections of glass and pottery with the rest of us. It is often the only opportunity that we have to see some of the rare and unusual items that are in private collections. This year was no exception.
We would like to thank the following people for providing displays at the 2012 Convention: Linda & David Adams, Rodney Ayers, Max Blackmore, Kathleen Booth, Brian & Mary Callahan, Kim & Mary Carlisle, Jim & Margaret Davis, Holly Fields, Jonathan Fields, Art & Ellen Gilbert, Chase Haver, Kathy Hood, Graham Jones, Richard & Nancy Ladd, Lewis & Lezlie Lough, Dean Lowry, Anne Nelson, David & Linda Rash, Bill & Pat Rose, Edward Sawiciki, Dr. Eric Stephenson, Dave & Bonnie Turner, Harold & Susan Watson and Carla Yerkes.
Click on the thumbnail photo to see a larger version.
| | |
| --- | --- |
| NDGA National Glass Collection | |
| Lancaster Yellow Jubilee | |
| Glass Knives | |
| Cambridge Decorated Opaques | |
| Early Westmoreland 1889-1937 | |
| Rare Fenton Candlesticks | |
| Green Miss America | |
| Amethyst Moondrops | |
| Rare Candlesticks | |
| Early Fenton Jade | |
| Blue Stretch Glass | |
| Fenton Ebony Crest / Black Rose | |
| Ring by Hocking | |
| Promotional / Collector Glass | |
| Green Tea Room | |
| Depression Dairy Items | |
| EAPG Nevada Pattern | |
| Jade / Jadite | |
| Jefferson Lamps | |
| Indiana Glass | |
| New Martinsville Muranese Ware | |
| Heat Sensitive Glass | |
| Fenton Ivory Crest | |
| Rare St. Clair | |
| Flower Garden & Butterfly | |
| Heisey Candlesticks | |
| Heisey Lafayette Pattern | |
| Jenkins Glass Company | |
| EAPG Ruby Stained | |
| Old Morgantown | |
The NDGA National Glass Museum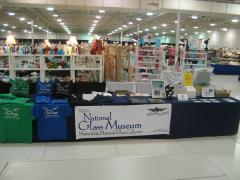 Of course, this year we have something very special to celebrate - the new NDGA National Glass Museum. We had photos, canvas bags for sale and lots of stories to tell. Everyone is excited that we finally have a museum after many years of waiting and dreaming.
List of Participating Dealers
Most dealers in the Glass Show portion of the Convention have been doing the shows for a number of years. The NDGA maintains a waiting list for dealers who wish to be considered. The list is maintained in date order, applications with earliest date received at the top. Prospective dealers may fill out the NDGA Dealer Application form.
Below are listed the dealers who exhibited their glass for sale in Kokomo in 2012:
L & M Glassware
The Attic Annex
Helen Allen
Michael & Leegh Wyse
Jim & Joyce Coverston
Helen & Gene Allen
Albany, OR.
Front Royal, VA.
Overland Park, KS.
The Glass Chalet
Max Miller Antiques
The Bookworm
Sandra Bridwell-Walker
Max Miller
Enid & Len Waska
Cleburne, TX.
Houston, TX
Flatonia, TX.
Leasures Treasures
Ray & Paula Mahoney
Backward Glances
Jim & Leora Leasure
Tarpon Springs, FL.
Helen & Bob Jones
Eighty Four, PA.
Berkley Springs, W.V.
Regal Collectibles
Antiques Glassware & Collectibles
White Rose Antiques
Myrtle & Charlie Riggle
Dovie & John Fields
Glen & Carolyn Robinson
Hebron, IN.
Independence, MO.
York, S.C.
Hemmann's Krystal Hays
Stan & Diane Depression Glassware
J & L Treasures
Mike & Cathy Hemmann
Diane & Stan Sewell
Linda & Jim Kilburn
St. Clair, MO.
Poughkeepsie, N.Y.
Burlington, CT.
Memories Antiques
Carolina Antiques
McEwen Extras
Ed Sawicki
Jack Peacock
Carol McEwen
Dunellen, N.J.
Winston-Salem, N.C.
Wichita, KS.
Red Apple Antiques
Showcase Glass
No Horse Antiques
Dale & Betty Buersmeyer
Bert & Donna Kennedy
Sandi & Dennis Boone
Pacific, MO.
Mesquite, TX
Aledo, IL.
Crockett's Collectibles
J & S Antiques
Depression Classics
Crockett & Cathie Richardson
Jane & John Schleinzer
Pam & Bob Franscella
Harkers Island, N.C.
Aurora, IL
Gurnee, IL.
Rae Patrick Ent.
Net_Tiques
D N D Antique Glass
Sharon & Pat Ervin
Helene & Coy Meeks
Don Jones & Danny Cornelius
Sycamore, IL.
Oregon, IL.
Port Washington, OH.
Hattie's Place
Our House Antiques
Tucker's Treats & Antiques
Rick Bakkum
Linda & David Adams
Dave & Kay Tucker
Buffalo, MO.
Las Vegas, NV.
Cottage Hills, IL.
Curio Cabinet Antiques
Kitschy Cat Antiques
Janet Wasson
Jim & Rose Curnett
Highland, IN.
Western Springs, IL.