1980 Convention - New Carrolton, Maryland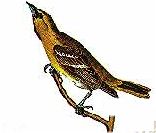 The sixth Annual NDGA Convention was held in New Carrolton, Maryland, on July 4-6, 1980. At left is a Baltimore Oriole, the State Bird of Maryland (yes, there is a real bird, not just a baseball team). The Chairman of the Convention was Dick Beadles, with Shirley Hartsock acting as the NDGA Coordinator. The Convention was sponsored by the DEL-MAR-VA Depression Glass Club. On Saturday night there was a dinner and dance.
Seminars and Speakers
There were three seminars presented at New Carrolton. The speakers and their topics were:
The Making of Fenton Glass - Film by Fenton Art Glass Co.
The Heisey Story - Produced by Heisey Collectors of America
Duncan & Heisey Glass - Orva Heissenbuttel
The following authors were present as special guests of the NDGA:
The DeAngelo's - The National Journal
Norma Rehl - Collectors Handbook of Stangl Pottery
Pat McGrain - Price Trends
Jim Carpenter - Treasure Trove Publishing Co.
Glass and Pottery Displays
There were some interesting displays presented in New Carrolton, but unfortunately, we don't have pictures for you. If anyone has photographs from this event and would be willing to share them, please contact the Webmaster@NDGA.net.
Cup & Saucer Collection - Depression Glass Museum of America
Blue Bubble Table Setting - DEL-MAR-VA Depression Glass Club
in Memory of Marguerite Mc Guire, First Lady of Depression Glass.
Rock Crystal - Old Dominion Depression Glass Club
Akro Agate - Potomac Depression Glass Club
Cup Plates - Pairpoint Cup Plate Collectors of America, Greater Washington Chapter
Heisey - National Capital Heisey Collectors Club
Della Robia - Jamie Oglesby, Florida
Dolphins - Ernie Favor
Glass Knives - Dick Rehl
Duncan Glass National Capital Duncan Glass Club
List of Participating Dealers
Here is the list of the 27 dealers who set up to sell glass at the sixth Annual NDGA Convention in Maryland.
Business Name
Name(s)
Home Town
1886 House
Laurie Cruise
East Schodack, NY
Jenny's Little Treasure Shop
Virginia Collins
Overland, MO
Helen Allen
Helen Allen
Kansas City, MO
Rosewood Antiques
Rosemary Gary
Wheaton, MD
The Hazens
Gordon & Hazel Hazen
Stafford Springs, CT
Cross Country Antiques
Richard Kehoe
Fayetteville, NC
Sarah's Corner Collectibles
Sarah D. Brown
Stockbridge, GA
Key's Glass Cottage
Calvin & Gwyn Key
Hazel, KY
Happiness Is
Bud & Kathy Stultz
Glen Allen, VA
Pat C. Pierce
Pat C. Pierce
Lakeland, FL
Whispers of the Past
Bob & Verlyn Ernst
Bowie, MD
Pat McGrain
Pat & Sue McGrain
Frederick, MD
Peggy's Rainbow Room
Peggy Gorman
Holidaysburg, PA
Bernice's Glass Shop
Bernice Brewer
Oklahoma City, OK
Things from the Past
John B. Stoner
Swiftwater, PA
Michael Shue
Michael Shue
Windsor, PA
Falira's Antiques
Falira Lisah
Monroeville, PA
KEN-MAR Antiques
Martha Siefert
Wheaton, MD
Arlene Harty
Arlene Harty
Barrington, NH
DeAngelo Enterprises Antiques
Connie DeAngelo
Allentown, PA
J & L Glass
Leroy Sanders
Fairfax, VA
Mary's Antiques
Mary E. Grandel
Winchester, VA
Norman & Diana Charles
Norman & Diana Charles
Hagerstown, IN
A Pause in Time
Mel Zimmerman
Washington Grove, MD
Al & Betsey's Glass
Al & Betsey Freeman
Bethesda, MD
Debbie's Antiques
Brian & Debbie Sinders
Fortville, IN