NDGA Convention 2004 - Council Bluffs, Iowa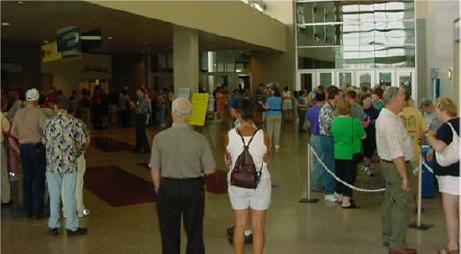 The 30th Annual NDGA Convention and Glass Show was held in Council Bluffs, Iowa, July 9-11, 2004. The sponsoring club was the Iowa Depression Glass Club, of Des Moines, Iowa, and the club members were just wonderful in their support of the Convention. The Convention Chairperson was Jeff Settell, a former NDGA President and also a former Convention Co-Chairman (Des Moines, 1996). The location of the Convention for 2004 was the Mid-America Center, situated where Interstates 29 & 80 cross, in Council Bluffs, Iowa. Across the Missouri River is Omaha, Nebraska. Things started off well, with a large crowd waiting at the doors for the Glass Show portion of the Convention to open. The waiting line snaked around the large lobby of the Mid-America Center, as you can see from the photograph.
Convention Happenings
The Annual Meeting kicked off the Convention on Friday, July 9th, with the Show Preview party following the meeting. The Convention and Show continued on Saturday and Sunday, July 10-11. During the meeting, the membership was shown quite a few items that were donated to the National Collection at the Convention. It is not possible to show all of the individual donations, many of which are lined up on the table behind Larry Cook (who did his best "Vanna White" imitation while showing off the donated glass). Nick Ochs presented a check to President Washburn to complete the funding of the Pam Ochs Endowment Fund which provides for acquisitions to the National Glass Collection. Jim and Nancy Finley of Sedalia, MO, made a nice donation to the Washburn Endowment Fund, and Mr. Washburn himself added enough to fully fund this endowment which provides for the maintenance and upkeep of the National Glass Collection. And in keeping with a tradition first established in Claremore in 2003, President Washburn displayed the piece of blue "Tulip" that was purchased for the National Glass Collection in honor of Jeff Settell, Convention Chairman for this year.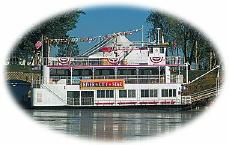 The Banquet on Saturday night, July 10, was a night to remember. The banquet was held on the River City Star riverboat, during a two-hour cruise on the Missouri River. The food was good, and there was plenty of it, and although it was a bit humid, everyone stepped outside on the deck and enjoyed the scenery as we cruised the Missouri.
Seminars and Speakers
There were four Seminars presented at Convention 2004. The seminar topics and speakers were:
Jim Rose - "Cambridge Caprice"
Larry Baker - "Art Glass of the Depression Era"
Bert Kennedy - "Share the Vision: the Morgantown Etching Plates"
Joyce Krupey - "Patterns Important to the History of Depression Glass"
(check out her excellent article on Depression Glass, found elsewhere on this site).
In addition to the above formal Seminars, Jackie Wendt returned this year with her display of reproductions and original pieces. During the Convention, Jackie stayed with the display and gave impromptu "seminars" to anyone who was interested. You were able to see the "repro" and the original side by side and compare and contrast them. The Glass Society of Wisconsin provided additional money to add to the already impressive display. This was a wonderful opportunity to learn about the increased problem of "Depression Glass" reproductions.
National Glass Organizations
We encourage all of the National Glass Organizations to participate in the NDGA Convention, and will provide space (conditions permitting) for any of the National Glass Organizations who wish to attend and staff a table to promote their group. The National Cambridge Collectors were the only national organization to take advantage of this opportunity this year, to distribute membership information and sell literature and souvenir items at the Show.
Glass and Pottery Displays
Each year at the Convention, collectors share their personal collections of glass and pottery with the rest of us. This year's exhibits were certainly spectacular. The displays are one of the best reasons to attend the NDGA Convention. You often see very rare pieces exhibited - items you'll probably never run into for sale. Thanks be to Kathryn Orr for coordinating this year's displays. Here is a list of the displays seen in Council Bluffs:
Each of these displays represent a theme for each month of the year
Month
Occasion
Exhibitor Name(s)
Display content
Photograph
January
New Year's Day
Michael Onstank
Ankeny, IA
Opalescent Moonstone

February
Valentines Day
Jeff Settell
Ankeny, IA
Pink American Sweetheart

March
St. Patrick's Day
Linda Bredengerd
Wichita, KS
Green Sierra

April
Easter
Kathryn Orr
West Des Moines, IA
Pink Dogwood

May
May Day
Linda Bredengerd
Wichita, KS
Pink Mayfair

June
Fathers' Day
Larry Baker & Don Barber
North Kansas City, MO
20's Blue Art Glass

July
4th of July
Leegh & Michael Wyse
Corvalis, OR
Red Rock Crystal

August
Summer Fun
Kathryn Orr
West Des Moines, IA
Crystal Sunburst

September
Harvest Moon
Larry Cook
Meriden, KS
Old gold Octagon

October
Halloween
Michael Onstank
Ankeny, IA
Black/yellow/crystal Cloverleaf
November
Thanksgiving
Jeff Settell
Ankeny, IA
Riviera

December
Christmas
Rose & Jim Curnett
Western Springs, IL
Teal Christmas Candy

Additional Displays for your enjoyment
Display content
Exhibitor Name(s)
Photograph
Overall Display view
National Glass Collection
items donated this year
NDGA Inc.

Closer view of half the display
National Glass Collection
NDGA Inc.

Closer view of half the display
National Glass Collection
NDGA Inc.

Glass Company mold for a small item
National Glass Collection
NDGA Inc.

Cambridge yellow Apple Blossom
Pam and Jim Rose
Bartlesville, OK

Tiffin black satin glass
Sharon and Pat Ervin
Sycamore, IL

Fostoria ice buckets
Jo Davis
Shawnee, OK

Amethyst Moondrops
Judy and Bob Schmidgall
Arkadelphia, AR

Reproductions
Jackie Wendt
Franklin, WI

Fostoria azure Kashmir
Jeff Settell
Ankeny, IA

Duncan & Miller blue Carribean
Mary-Anna Denton
Waverly, IA

Swanky Swigs
Alma Shell
Madrid, IA

New Martinsville Janice
Becky Ballantyne
West Des Moines, IA

Paden City Gazebo
Becky Ballantyne
West Des Moines, IA

Hazel Atlas Ovide
Ken Sloan
Chicago, IL

Hocking's yellow Cameo
Lynnette Chapman
Des Moines, IA

Tumble ups
Carol & Julian McEwen
Wichita, KS

List of Participating Dealers
Here is the list of the 32 participating dealers who exhibited glass for sale at this year's Convention. They came from all across the country, from California to Virginia, Oregon to Texas, and all points in between. Barb and Larry Taylor, of Las Vegas, NV, announced that they were retiring from shows and this was their last NDGA show. We all wish them well in their retirement.
Dealer Name(s)
Business Name
City & State
Adams, Linda & David
Our House Antiques
Las Vegas, NV
Allen, Helen & Gene
Helen Allen
Overland Park, KS
Bass, Betty & Dale
Betty and Dale's Antiques
Phoenix, AZ
Bine, Judy & John
John & Judy's
Troy, MO
Boone, Sandy & Dennis
No Horse Antiques
Aledo, IL
Conner, Betty & Bob
Iron Kettle
Augusta, KS
Cook, Larry
Walnut Merchantile
Meriden, KS
Curnutt, Rose & Jim
Kitschy Cat Collectibles
Western Springs, IL
Curtis, Jo & Bill
Line Camp Antiques
Amarillo, TX
Drucker, Penny & Elliott
Mother Drucker's
Irvine, CA
Ervin, Sharon & Pat
Rae Patrick Enterprises
Sycamore, IL
Fields, Dovie & John
John Fields
Independence, MO
Geiselman, Gary
Grandma's China Closet
Washington DC
Hildreth, Melanie & Ron
Past Reflections
West Covina, CA
Kennedy, Donna & Bert
Blue Dart
Mesquite, TX
Martin, Janet & Wendell
Janet Martin
Mt. Orab, OH
McEwen, Carol & Julian
McEwen's Extras
Wichita, KS
Miller, Max
Max Miller Antiques
Houston, TX
Moore, Shirley & Art
Shirley Moore
Tulsa, OK
Peacock, Jack
Jack Peacock
Winston-Salem, NC
Ray, Becki
Becki's Dish Palace
Seattle, WA
Renner, Penny
Penny Renner
Elkhart, IN
Robinson, Carolyn & Glen
White Rose Antiques
York, SC
Rogers, Jane & Don
D & J Glassware
Wentzville, MO
Schleinzer, Jane & John
JS Antiques
Aurora, IL
Schmidgall, Judy & Bob
Dr. Bob's Antiques
Arkadelphia, AR
Stultz, Kathy & Buddy
Happiness Is
Glen Allen, VA
Taylor, Barb & Larry
A Touch of Glass
Las Vegas, NV
Taylor, Sharyn & Cecil
Cecil Taylor
Irving, TX
Walker, Sandra & William
The Glass Chalet
Cleburne, TX
Washburn, Kent
Kent Washburn Antiques
San Antonio, TX
Wyse, Leegh & Michael
L & M Glassware
Corvallis, OR