Latest News ...
The Museum is Open!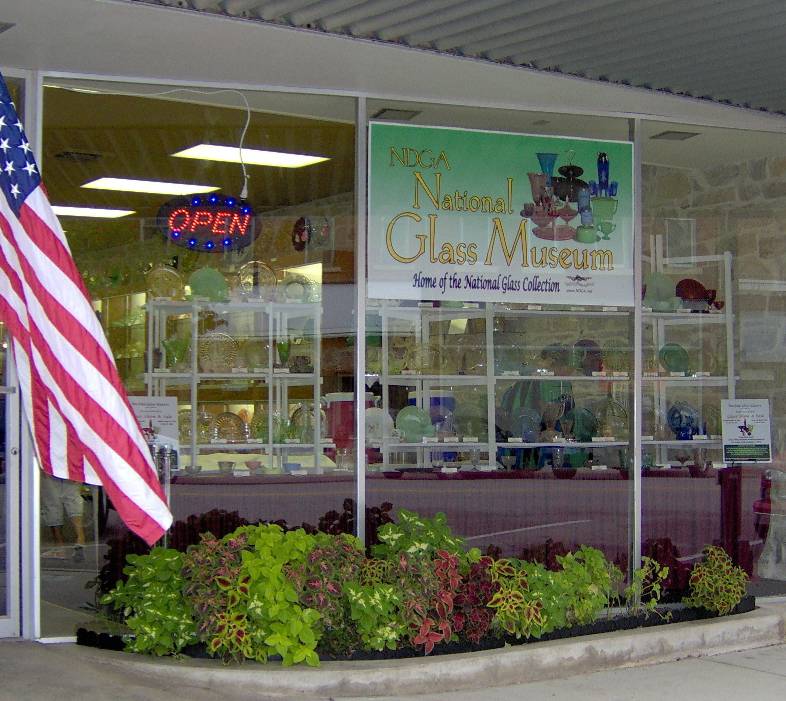 After many years of working towards having a museum to showcase American made glassware with an emphasis on the Depression Era, The National Depression Glass Association's dream finally became a reality. On Friday September 14, 2012, a ribbon cutting ceremony was held to celebrate the Grand Opening of the NDGA National Glass Museum located at 117 S Washington Ave. in Wellington KS. A large representation of NDGA members, along with many of the citizens of Wellington, and representatives of the Wellington Chamber of Commerce were on hand to officially open the museum. Guests visiting the museum throughout the weekend were welcomed with refreshments and enjoyed browsing through the museum.
The museum will help in serving the two main goals of the organization, education and preservation of all American made glassware with an emphasis on the Depression Era. The museum displays glassware from the 1800's thru the 1970's and represents a large number of the companies that were in existence during those times. It also has a working reference library for the public to use in their research of glassware. The museum is staffed by volunteers, who are always willing to help answer questions.
NDGA is a 501 (c) (3) organization with the museum opened to the public at no charge. The museum is supported by donations and proceeds from the gift shop where you may purchase glass items, along with t-shirts, tote bags and post cards. A donation jar is also available to anyone wishing to help support the museum.
The Museum is opened Thursday, Friday and Saturday between the hours of 11:00 A.M. to 4:00 P.M., with additional hours available by appointment. Please call 620-326-6400 or 316-524-1553 for those arrangements.

Come to the 2013 Convention in Wellington, Kansas!
The 2013 Convention will be held in Wellington, Kansas, home of the NDGA National Glass Museum. The festivities will be found at the Wellington High School, a nice facility quite capable of holding our 32 top quality dealers and many displays of glass from members' private collections. The show Chairman for 2012 is Pam Meyer, and you can email her at Convention@NDGA.net. She will be looking for volunteers and collectors willing to display parts of their collections. Contact her if you are willing to help in any way. As information comes in regarding Convention 2013, we will be posting it on our Convention 2013 page.
July 16, 2012 - NDGA Convention was a Success
The 2012 NDGA Convention in Kokomo, Indiana, is officially over. Thanks go to Convention Co-Chairmen Danny Cornelius and the late Tom Smith (see below). Great displays, excellent Seminars, wonderful glass for sale from 32 national dealers, a super Banquet with attendance exceeding 170 persons and a live auction which garnered over $5,200.00 towards the Museum operations for the next year. I'd call that a success, wouldn't you? Plan to attend next year's Convention in Wellington, Kansas, and you'll get to visit the NDGA National Glass Museum in person. In the meanwhile, you can get a more detailed report and lots of photos on our Convention 2012 Summary page.