Convention 2001 - Salem, Oregon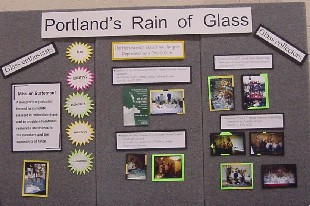 The 27th Annual NDGA Convention and Sale was held on July 19 & 20, in Salem, Oregon, at the State Fairgrounds. It was sponsored by the Portland "Rain of Glass" Club and the Club is to be complimented on the wonderful job that they did. Show Chairperson was Rogene Clements.
This is the first time that the annual Convention was held on the west coast in twenty years. It was held the same weekend as the Portland Expo show, enabling glass collectors to shop two shows in one weekend. The "Rain of Glass" group certainly proved that the NDGA should seriously consider a return engagement in the future.
The Convention ran for two and one-half days. The Glass Show was preceded by a short members-only business meeting in which Club Officers who were elected for the coming year were introduced to the members. And there were a few (inevitable) speeches ... Then things moved along with a members-only Show preview on Friday night. For future shows, the preview will be available to non-members at a premium admission price.
Seminars
During the Convention Show and Sale, four Seminars were presented to those interested, allowing show-goers a chance to learn even more. The seminars were:
Barbara & Jim Mauzy - Depression Glass -- Putting It All Together
Kit Gosha - "Fostoria's Swirl Patterns"
Debbie and Randy Coe - "What is Elegant glass?"
Carole White and Neal Skibinski - "Depression Era Glass - Center Handled Sandwich Servers: Confusion and Conundrums."
Banquet
On Saturday night (July 14), there was the annual Convention Banquet. This year, it was held at Rudy's on the Salem Golf Course. After an ecstatic day of shopping, the picturesque golf course provided a serene end to the day. The building itself is an exact replica of the Rosedown Plantation located in Georgia and is nestled among beautiful old trees.
Guest Authors for 2001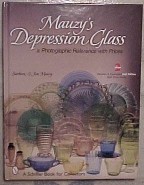 Barbara and Jim Mauzy have written several books including Peanut Butter Glasses, Depression Era Kitchen Shakers, Bakelite in the Kitchen and of course Mauzy's Depression Glass.
The Mauzy's gave us a wonderful opportunity. Salem, Oregon was the site of their FIRST unveiling of their second edition hardback book, Mauzy's Depression Glass, Revised and Expanded. All attendees had the opportunity to buy this book before anyone else in the country.
Displays at the 2001 Salem Convention
Finally, there were the displays, which were provided by NDGA and Portland "Rain of Glass" Club members from their private collections. Often the NDGA Convention is the only place where you will ever see some of the rarest pieces of Depression Era glassware, when these private collectors share their treasures with the rest of us. Convention is an event not to be missed, if you can at all make it. To highlight just two of the many displays, consider these: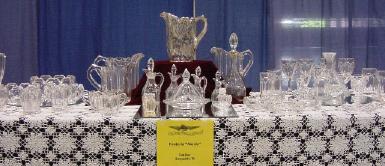 Tom Herr (TX) displayed his late wife Aleeta's collection of Fostoria "Alexis", a pattern that actually predates the Depression years. Many NDGA members fondly remember Aleeta, our long-time treasurer and friend. Tom set up a booth as a dealer at the Convention, and we were all glad to see him and to have the chance to express our condolences in person. You can see a larger shot of this photo in the list of displays from the 2001 Convention, below.

Ken and Elaine Palmer (FL), brought along a green Cherry Blossom covered vegetable bowl. This is so rare, Gene Florence says it's the only one he knows of. This piece of glass rode all the way from Florida on Ken's lap, and then was housed in a glass case (photo at left). WOW ! When is the last time you saw a piece that was the only one known?
Click on the thumbnail picture in the table below to see a larger version of the same shot. Then use your browser's "BACK" button to return to the list. We apologize for the quality of some of the photographs - the background and lighting were not exactly designed for studio-quality picture taking. But the displays were spectacular when seen in person!
Name(s)
Display Title
Thumbnail
NDGA
The National Collection
Watch it grow!

Tom Herr
Duncanville, TX
"Alexis" by Fostoria

Leegh & Michael Wyse
Corvallis, OR
"Red Rock Crystal" by McKee

Dennis Headrick
Newberg, OR
"Lariat" by Heisey

Carole White
Portland, OR
"Rings and Friends" by Hocking

Robin & Tim Cook
Auburn, WA
"Caprice" by Cambridge

Jewell Gowan
Salem, OR
"Laurel" by McKee
"Desert Rose" by Franciscan

Becki Ray / Robin & Tim Cook
Seattle, WA / Auburn, WA
Cambridge Etchings

Cindy Thomas
Woodburn, OR
Adam to Windsor Sherbets

Jeff Settell / Lynda Reed
Ankeny, IA / Portland, OR
"Tulip" by Dell

Robert Carlson
Portland, OR
Paden City Rare Pieces

Cindy & John Frank
Portland, OR
Cobalt "Royal Lace" by Hazel Atlas

Rogene Clements
Portland, OR
"Rogene" by Fostoria

Lynda Reed
Portland, OR
Hull Pottery

Liz Estes
Troutdale, OR
"Midnight Rose" by Fostoria

Donna & Fred Carter / John Clements
Tigard, OR / Portland, OR
"Coin" by Fostoria

Carl Pelham
Rainer, OR
"Moondrops" by New Martinsville

Nancy & Charlie Swehla
Fort Bragg, CA
Goblet Collection

Kit & Gary Gosha
Tualatin, OR
Swirl Patterns by Fostoria

Linda & David Adams
Las Vegas, NV
Vases - Depression Era and Beyond

Bill Line
Portland, OR
"Terrace" by Duncan & Miller

Diane & Victor Elliott
Orangevale, CA
"Iris" by Jeanette

Jim Cooke
Beaverton, OR
Colonial Candlesticks by Heisey

Various NDGA Members
RARE GLASS ITEMS

List of Dealers in Salem
The following is a list of the Dealers who made the trip to Salem, Oregon, for the 2001 NDGA Convention. Several of these dealers made the trip completely across the Country. All brought their best merchandise to the Pacific Northwest.
Name(s)
Business Name
Home Town
Barbara & Larry Taylor
A Touch of Glass
Las Vegas, NV
Donna & Jay Upham
Second Time Around
Xenia, OH
Melanie Hildreth
Past Reflections
West Covina, CA
Leegh & Michael Wyse
L & M Glassware
Corvallis, OR
Betty & Dale Bass
Betty & Dale's Antiques
Caney, KS
Helen & Gene Allen
Helen & Gene Allen
Overland Park, KS
Florence & Joe Solito
Florence & Joe Solito
Tolland, CT
Bonnie & Bruce Catton
Touch of Glass
Kent, WA
Sandra & Dennis Boone
No Horse Antiques
Aledo, IL
Judy & John Bine
Judy & John Bine
St Charles, MO
Rebecca Ray
Rebecca Ray
Kent, WA
Penny Renner
Penny Renner
Crystal River, FL
Jean & Lee Spalding
Rose Garden Collectibles
Wichita, KS
Shirley & Art Moore
Shirley & Art Moore
Tulsa, OK
Rose & James Curnutt
Kitschy Kat Collectibles
Western Spring, IL
Jane & John Schleinzer
JS Antiques
Aurora, IL
Cindy & Rick Jones
Rick & Cindy Jones
Sleepy Hollow, NY
Kathy & Alan Stultz
Happiness Is
Glen Allen, VA
Penny & Elliot Drucker
Mother Drucker's
Irvine, CA
Lydia McNeil
Sentimental Journey
Orange Park, FL
Jo & Bill Curtis
Line Camp Antiques
Amarillo, TX
Carol & Julian McEwen
McEwen's Extras
Wichita, KS
Dianne & Victor Elliott
Closet Classics
Orangevale, CA
Linda & David Adams
Our House Antiques
Las Vegas, NV
Judy & Bob Schmidgall
Dr. Bob's Antiques
Arkadelphia, AR
Sharon & Patrick Ervin
Rae Patrick Enterprises
Sycamore, IL
Tom Herr
Over the Rainbow Antiques
Duncanville, TX
Joanne & Janine Bender
Joanne & Janine Bender
Pebble Beach, CA
Larry Cook
Walnut Mercantile
Walnut, IA
Gretchen & Francis Thompson
Thompson's Treasures
Kent, WA
Kent Washburn
Kent Washburn Antiques
San Antonio, TX