NDGA 2014 Convention Information
July 12-13, 2014 - Wellington, Kansas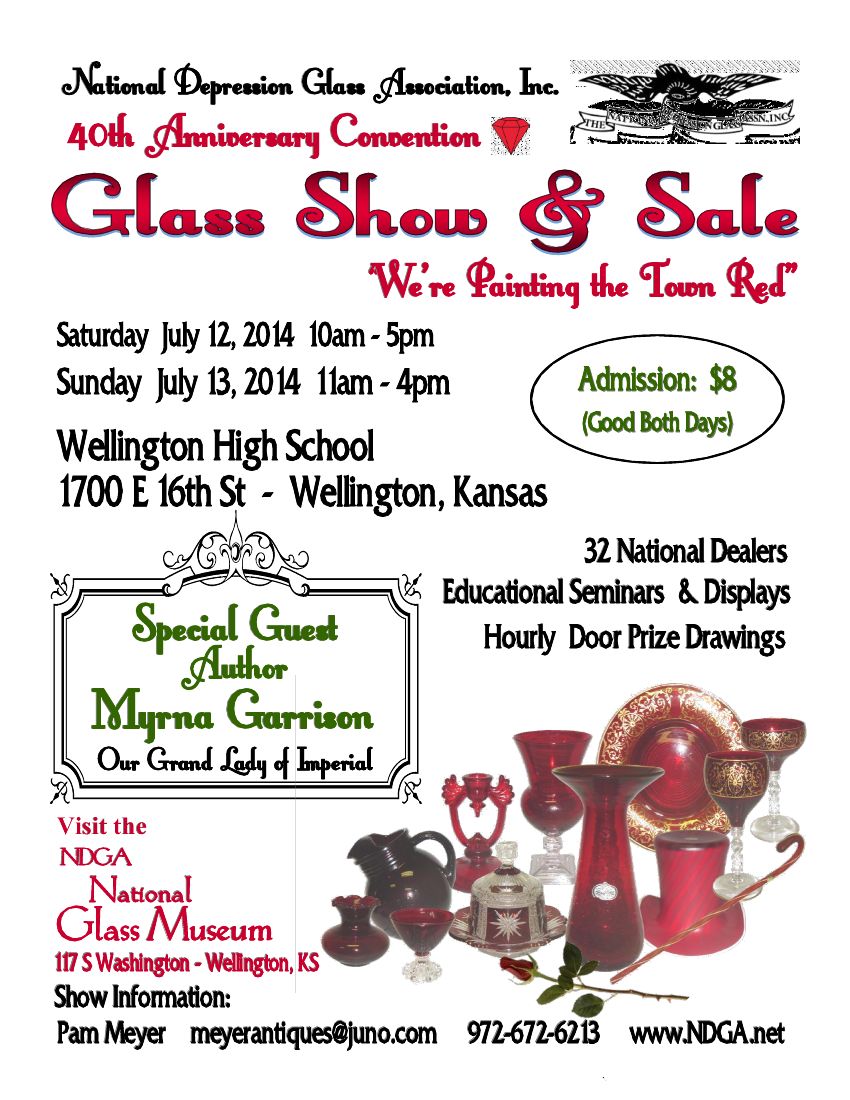 The 2014 Convention Chairperson is Pam Meyer. She was also the Chairperson for the 2013 convention. She will be looking for volunteers to work at the Convention, and will be naming a Display Coordinator to handle the displays. Send her an email if you're willing to help.
The schedule should be similar to past Conventions, with a general membership meeting on Saturday afternoon, about a half hour after the glass show closes. Seminars on various topics will be presented during the Convention hours, and you know there will be a fantastic array of displays from individual collections. We will post the latest information from the Convention Chairmen as it comes in to us, so check back for updates periodically.
In case there is any confusion, ALL GLASS LOVERS ARE WELCOME. You do NOT have to be a member of the NDGA to attend this Convention. Come one and all, have some fun, buy some glass and learn a whole lot about American-made glassware. Although the organization name contains the words "Depression Glass", be assured that there will be all kinds of American glass represented.
Registration is now open!
Start making your plans to attend the 2014 Convention. Here is the registration form. Complete it and send to Pam Meyer at the address indicated on the form.
Register now why you're reading this!
Schedule of Events
The Convention will be held at the High School in Wellington, Kansas, shown at right. Wellington is also the home of the NDGA National Glass Museum, and that is no coincidence. The NDGA invites everyone who attends the Convention to stop by and check out YOUR Museum. The high school is located at 1700 E 16th Street in Wellington.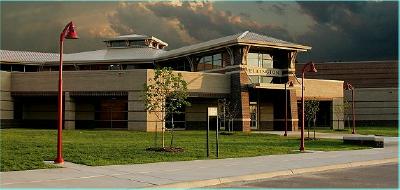 The show and sale will open at 10:00am on Saturday, July 12. It will run until 5:00pm, after which there will be a half-hour break, followed by the Annual Membership Meeting of the NDGA (about 1½ hours). Newly elected Board members and Officers will be introduced and sworn in. All NDGA members may participate in the meeting. On Sunday, July 13, the Convention opens at 11:00am and closes at 4:00pm.
Seminars and Speakers
We are honored to announce that Myrna Garrison will be our special guest author. Her knowledge of the Imperial Glass Company is outstanding. Myrna and Bob Garrison have authored several books covering the candlewick pattern, Imperial milk glass, and Imperial rare patterns.
Seminar Schedule
| | | | |
| --- | --- | --- | --- |
| Day | Time | Speaker | Title |
| Saturday | 11:00 am | Myrna Garrison | Light The Way |
National Glass Organizations
Each year, the NDGA invites representatives from other national glass organizations to participate in our Convention, each with a table with membership information for their organization and other items of interest. We thank the following organizations for participating:
Early American Pattern Glass Society
Fostoria Glass Society of Tennessee
H.C. Fry Glass Society
Heisey Collectors of America
International Perfume Bottle Association
National Cambridge Collectors, Inc.
National Reamer Collector's Association
Old Morgantown Glass Collectors
Tiffin Glass Collectors

NDGA Annual Meeting

The Annual General Membership Meeting will be held in conjunction with the Convention. It begins at 5:30pm on Saturday. The meeting should last about 1½ hours, and members are encouraged to attend and participate. The newly elected officers and Board members will be introduced at this time.

Live Auction

NDGA's 3rd Live Auction will take place Saturday night after the banquet and promises to be the best one yet. The banquet and auction location is the Knights of Columbus Hall located at 201 E. Harvey in Wellington. The auction is open to the general public and should start around 8:00 p.m. Check out the pictures of items donated to the auction on the auction photo page.

Remember, proceeds will go to the Museum Support Fund to help keep the museum up and running.

Silent Auction

There will be another Silent Auction during the Glass Show, to raise money for the National Glass Collection. Members contribute various pieces of glass or other items (books, etc.), to be sold in the silent auction, with the proceeds going to the NDGA National Glass Fund. We've had some interesting items in past auctions, including a set of tire chains! Bring along something to donate to the auction - it's for a good cause. Use your imagination.

Children's Auction

Over the last few conventions there have been some kind of Children's Seminar. Those seminars taught about patterns and where they were made. Our hope is to spark some interest by teaching them about how our wonderful American glassware is made. Last year Leegh Wyse held seminars at the museum teaching this aspect. Leegh can't be with us this year so Angie Hilt will be taking her place. The plan for now is to have one of those seminars to be held at the convention on Sunday afternoon then followed by an auction just for the kids. We will provide "Bidding Bucks" to each child and they will be able to bid and buy items that have been donated by several interested parties.

In order for this to be successful we will need kids of course! I need every one to start getting the word out on this event. I also will need volunteers to help set it up and run it for me. If you are interested please give me a call and lets talk. My hope is to get the kids excited about the glass and it's uses. A lot of the pieces donated already have the name of the item and the maker on a sticker. This could be a very interesting teaching tool.

Glass Displays

Each year at the Convention, collectors share their personal collections of glass and pottery with the rest of us. It is often the only opportunity that we have to see some of the rare and unusual items that are in private collections. We will also exhibit the additions to the National Glass Collection acquired since the last Convention.

| | |
| --- | --- |
| American Sweetheart Monax | Ray Voigt, San Antonio TX |
| Floragold by Jeannette Glass Company | Jonathan Fields, Independence MO |
| Red Moondrops by New Martinsville | Holly Fields, Independence MO |
| Imperial Katy Green | Peggy Humphrey, Ely MN |
| Fire-King Forget-Me-Not | Dale & Betty Muersmeyer, Pacific MO |
| Roulette by Hocking | Donovan & Deloris Schmidt, Newton KS |
| Cambridge Carmen | Rick Jones, Southport SC & Ed Staley, Modesto CA |
| Baroque by Fostoria | Donovan & Deloris Schmidt, Newton KS |
| Birds of Paden City | Ronnie & Gloria Broadbent, Baton Rouge LA |
| Tiffin Red Kimberly, Ruby Red & Red Empress | Tom & Cheryl Maiberger, Tiffin OH |
| Water Sets in Cranberry | Walt & Cheri Nichols, Winfield KS |
| Cambridge Mt. Vernon in Carmen | Freeman & Jeannie Moore, Flower Mound TX |
| Blue Opalescent Imperial Molly | Peggy Humphrey, Ely MN |
| Red Radiance by New Martinsville | Nancy Norman, Sugarland TX |
| Glass Animals | Mandi Garrison, Edmond OK |
| Royal Ruby Bubble by Hocking | David & Sarah VanDalsem, Tulsa OK |
| Pink Flanders by Tiffin | Mary Schaar, Valley Center KS |
| 6 Colors in Cleo by Cambridge | Dave Wiley, Montgomery TX |
| McKee Ships | Linda Bredengerd, Wichita KS |
| Janice by New Martinsville | Becky Ballantyne, West Des Moines IA |
| Reamers | Dick Winne, Horseshoe Bend AR |
| Tiffin Satin | Melissa Leslie, Wichita KS |
| Red Rock Crystal by McKee | Jim Garrison, Edmond OK |
| Juice Sets | Linda Bredengerd, Wichita KS |
| Ruby English Hobnail by Westmoreland | Roger Radebaugh, Tulsa OK |
| Nautical by Duncan & Miller | Jennifer & Scott Smith, Broken Arrow OK |
| Royal Ruby by Anchor Hocking | John & Dovie Fields, Independence MO |
| From our collections | NDGA National Glass Museum Volunteers |
| Sharon by Federal | Teresa Kessler, Wellington KS |

List of Participating Dealers

Most dealers in the Glass Show portion of the Convention have been doing the shows for a number of years. The NDGA maintains a waiting list for dealers who wish to be considered. The list is maintained in date order, applications with earliest date received at the top. Prospective dealers may fill out the NDGA Dealer Application form. Prospective dealers must be a current member of the club in order to apply to do the convention show. Please click here to join the club.

Here are the dealers from the 2014 Convention.

DJ Glass
Don Rogers
Wentzville, MO

DND

Danny Cornelius & Don Jones

Port Washington, OH

Hotels & RV Parks

Oak Tree Inn
1177 E. 16th Street
Wellington, KS 67152
(620) 326-8191

The Oasis RV PARK
Hwy 166 at I-35 – exit 4
1592 S. Seneca Rd.
South Haven, KS 67140
(620) 892-5115

Sunshine Inn
1001 E. 16th Street
Wellington, KS 67152
(620) 326-8944


KOA
100 South KOA Dr
Wellington, KS 67152
(620) 326-8300

Chisholm Trail Inn
315 W. 8th
Wellington, KS 67152
(620) 326-2255


Steakhouse Motel
1311 East 16th
Wellington, KS 67152
(620) 326-2266

Siesta Motel
1716 North A Street
Wellington, KS 67152
(620) 326-6223


Hampton Inn & Suites
Kansas Star Drive
Mulvane, KS 76110
(316) 524-3777

Sleep Inn/Haysville, KS
651 E 71st St. South
Haysville, KS 67060
(316) 425-6077
This is the Convention Host Hotel, located at exit #39 on the Kansas Turnpike. It is a newer hotel and will be offering rooms with one King bed at $75.00 or a room with two doubles for $79.00 per night. They offer a full breakfast, refrigerator, microwave, indoor pool, hot tub and exercise room.

OTHER CONVENTION ACTIVITIES

For those coming to the convention and feel like the local activities are not enough and the show/sale isn't going to be enough to take care of your glass "sickness" the following is a list of the area antique malls and shops.

1. Paramount Antique Mall
48,000 sq. ft., 225+ dealers
13200 W. Kellogg (Hwy 54), Wichita, KS
Open Mon-Fri 10-7, Sat. 10-6 and Sun. 12-6
316-722-0500

2. Paramount East Antique Mall
22000 sq. ft.
10187 SW Hwy 54 (East Kellogg), Augusta KS
Open Mon-Fri 10-7, Sat. 10-6 and Sun. 12-6
316-775-3999

3. 2 Attics Antique Mall
1534 E. 61st St. North, Park City, KS
Open Mon-Fri 10-6, Sat. 10-5 and Sun. 1-5
316-201-1828

4. A Legacy Antique Mall
105 S. Emporia, Wichita, KS
Open Mon-Fri 10:30-5, Sat. 10:30-6 and Sun. 10:30-5
316-267-2730

5. Andover Antique Mall
656 N. Andover Rd,
Andover, KS
Mon-Sat 10-6 and Sun. 1-5
316-733-8999

6. Bondie's Old Town Antique Mall
827 E. Central
Wichita, KS
Mon-Sat 10-5 and Sun. 1-5
316-267-0900

7. Collections Antiques Shop
12316 E. 61st St. North
Wichita, KS 67226
Thurs-Sat 10-5
316-744-8069

8. Country Bumpkins
3543 E. Douglas
Wichita, KS
Mon-Sat 10-5
316-612-2512

9. Flying Moose Antique Mall
9223 W. Kellogg, Wichita, KS
Tues-Fri 10-7, Sat. 10-5 and Sun. 1-5
316-721-6667

10. Hewitt's Antiques & Shopkeepers Mall
228 N. Market, Wichita, KS
Open Mon-Sat 9:30-5 and Sun. 1-5
316-264-2450

11. Juliana Daniel Antiques
3224 E. Douglas, Wichita, KS
Open Mon-Sat 10-5:30
316-691-9966

12. Paper Moon Antiques
1940 W. 13th St, Wichita, KS
Open Wed-Sat 10-5
316-440-4560

13. Pigeon's Roost Mall
601 N. State St., Augusta, KS
Open Mon-Sat 1-5 and Sun. 12-4
316-447-2279

14. T's Treasures of Yesterday & Today
1542 E. 61st St. North, Park City, KS
Open Wed-Thurs 11-4, Fri-Sat 1-5
316-744-0023

15. Ashby's Antique Mall
110 N. Main, Blackwell, OK
Open Mon-Sat 10-5 and Sun. 12-5
580-363-4410

16. D's Art and Glass Gallery
Down Town Belle Plaine, KS
call for hours
620-488-5280

17. Virginia Jarvis Antiques
701 Main, Winfield, KS 67156
Tues-Sat - 10-5:30 & Sun. 1-5:30
620-222-2492


Lots of good shopping to make everyone happy!

HAPPY HUNTING!