NDGA 2010 Convention Information
July 10-11, 2010
The 2010 Convention Chairman was Linda Bredengerd, and the sponsoring organization was the Wichita Glass Gazers. The Convention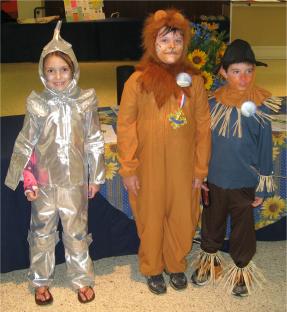 was held at the Century II Exhibition Hall, located on Highway 54 in downtown Wichita, Kansas.
With the setting being Kansas, the theme for this year's Convention centered around the "Wizard of Oz." There were Oz-some displays, and even a few characters from the movie. Click on the small photo at right to see the Scarecrow, Tin Man and Cowardly Lion in a larger clip.
Schedule of Events
The show and sale opened with Early Bird admissions at 8:00am Saturday morning. Early Bird admission is at a premium, while General admission to the Convention, Show and Sale began at 10:00am.
Featured Authors
Our guest authors were Joanne and Earl Autenreith who introduced their new book: Cooperative Flint Glass Co. of Beaver Falls, Pennsylvania 1879-1934. This book has been eagerly awaited by dealers and collectors alike as it fills a definite void of information on this subject. The Autenreith's presented a seminar on this subject and hosted a display table featuring some fabulous pieces of Cooperative Flint Glass.
Seminars and Speakers
Joanne and Earl Autenreith - Cooperative Flint Glass Co.
Jim and Leora Leasure - Old Morgantown Glass
Larry Baker - Candy Jars/Boxes -- Look-alikes and Confusables
Philip Hopper - Hocking Lamps
Myrna Garrison - Imperial's Private Mold Customers
Jennifer Smith - Children's Seminar
National Glass Organizations
The NDGA encourages all of the National Glass Organizations to participate in the NDGA Convention, and this year we had tables set up for the National Cambridge Collectors, Morgantown Collectors Guild, Fostoria Glass Society, Anchor-Hocking Museum, National Heisey Museum and the Museum of American Glass in West Virginia. There was also a table for the Peach State Depression Glass Club.
NDGA Annual Meeting
The Annual General Membership Meeting was held in conjunction with the Convention. It began at 5:30pm on Saturday. The newly elected officers and Board members were introduced at this time, and all committee chairpersons presented their reports to the membership present. During the meeting, Sarah & David Van Dalsem and Linda Bredengerd gave a book of Stock Certificates from Imperial Glass Company to Bev Harris of the Heart of America Glass Club, to be delivered to the Imperial Museum.. It was given "in Memory of Bob and Honor of Myrna Garrison." They said in the presentation that they thought the book of Stock Certificates was more important to the Imperial Museum than it would be to the NDGA future museum.
Silent Auction
The Silent Auction in Wichita was a rip-roaring success. The purpose of the auction is to raise money for the National Glass Collection. Members contribute various pieces of glass or other items, to be sold in the silent auction, with the proceeds going to one of the several NDGA funds (the person donating the item chooses where the money is to go). Melissa Leslie and her Committee delivered the most successful Silent Auction yet.
Glass Displays
Each year at the Convention, collectors share their personal collections of glass and pottery with the rest of us. It is often the only opportunity that we have to see some of the rare and unusual items that are in private collections.
This year, the folks who worked on the Convention produced the finest array of displays that has ever been seen at an NDGA Convention. There were SEVENTY-TWO displays of glass and pottery from private collections, not just from the Wichita area, but literally from all over the United States. The huge Century II facility accomodated all of the displays and the 32 dealers with plenty of space for all. The members of the Wichita Glass Gazers club deserve a huge THANK YOU from all of us who attended the Convention in 2010.
Here is a listing of all of the displays, each with one or more photographs. Click on the small photo to see a larger version. Some displays simply could not be shown in only a single photo. As you can tell from the pictures, this was an amazing array of glass for everyone to enjoy.
1
Cambridge Swans
Pam & Fred Meyer

2
Misc. Swans
Bert & Donna Kennedy


3
New Martinsville Swans
Bert & Donna Kennedy


4
Fostoria Swans
Bert & Donna Kennedy

5
More Misc. Swans
Bert & Donna Kennedy

6
Cambridge Apple Blossom
Sadie Franks

7
Royal Lace
Dennis & Mary Lou Doris

8
Fostoria Pelicans
Melissa Leslie

9
Cambridge Crown Tuscan
Freeman & Jeannie Moore

10
Kopp, Consolidated, Phoenix
Kay McCollum

11
Tiffin
Jack Peacock

12
Mushrooms & Eggs
Lee Spalding

13
Reverse 44 US Glass
Sandy Walker

14
Duncan Miller
Fred & Nita Eldridge

15
Waterford Waffle
Philip & Barb Hopper

16
Morgantown
Jim & Leora Leasure

17
Stemware
Linda Adams & Helen Jones


18
Glass Hats
Lee Spalding


19
Rosepoint
Esther Mitchell


20
Seneca Driftwood
Sandy Walker



21
Morgantown Krinkle
Bert Kennedy

22
Julian's Dolphins Memorial
National Glass Collection

23
Dolphins
Carol McEwen

24
Old Colony
John & Dovie Fields

25
Southern Lady Linens
Cina Shirley


26
Swanky Swigs
Donovan Schmidt



27
McKee/Jeannette
Ed & Carol Staley


28
Glass Forks & Spoons
Carol McEwen

29
Glass Knives
John & Marcy Bredengerd

30
Sapphire Blue Oven Ware
Dale & Betty Buersmeyer

31
Napkin Dolls
Margaret Davis
32
Reamers
Richard Winne


33
Green Perfumes & Powders
Linda Bredengerd

34
Amber Perfumes & Powders
Linda Bredengerd

35
Beaded Block
Mary Lou Moreland

36
Azure June
Scott & Jennifer Smith

37
Green Sunflower
Linda Bredengerd

38
Green Cameo
Scott & Jennifer Smith

39
Green Lorraine
Pam Meyer

40
Crystal Florentine
Friends of NDGA

41
Green Bubble
Janis McDonald
42
Heisey Lafayette
Jim & Margaret Davis

43
Fiesta/Franciscan Ivy
Angie Hilt

44
Franciscan Ivy
Max Hamilton

45
Figural Flower Frogs
Fred Ray

46
Fostoria American Ruby
Melissa Leslie

47
Harker Cameo
Pam Meyer

48
LuRay Pastels
Shirley & Art Moore

49
Opalescent Blue Hobnail
Angie Hilt

50
Indiana Center Handle Servers
Dean Lowry

51
American Sweetheart
Donovan Schmidt
52
Shell Pink
Pam Meyer



53
Miss America
Lisa Allton

54
Roseville Water Lily
Fred Meyer

55
Adam
Vicki Churchman
56
Hull Open Rose
Melissa Leslie

57
Manhattan
Shelly Abels

58
Floragold
Jody Chrapkowski

59
Fenton Burmese & Carnival
Jean Spalding

60
Early American Bread Plates
Don Jones


61
Franciscan Porcelain
Max Hamilton

62
Childrens & Miniatures
Multiple Contributors



63
Viking Birds
Amanda Parmenter age 23

64
Glass Animals
Addison Powell age 7

65
Viking Horoscope Mushrooms
Emily Burlingame age 20

66
Waterford "Waffle"
Elizabeth Fields age 12

67
Ultramarine Swirl
Jonathan Fields age 13

68
Ruby Red Glass
Becca Wagoner age 9

69
Moderntone Amethyst
Holly Fields age 12

70
Blue Bubble
Kelly Billups age 20
71
Paramount Antique Mall
Wichita, KS

72
Andover Antique Mall
Wichita, KS

Cooperative Flint Glass
Joanne & Earl Autenreith


List of Participating Dealers
Here is the list of dealers who brought their finest glass for sale during the Convention in Wichita. The NDGA extends thanks to all of them.
Linda & David Adams
Las Vegas, NV
Helen & Gene Allen
Overland Park, KS
Rick Bakkum
Buffalo, MO
Dale & Betty Buersmeyer
Pacific, MO
Jim & Joyce Coverston
Front Royal, VA
Jim & Rose Curnett
Western Springs, IL
D. Cornelius & D. Jones
Port Washington, OH
Pat & Sharon Ervin
Sycamore, IL
John & Dovie Fields
Independence, MO
Eric & Jaye Fralick
Overland Park, KS
Bob & Pam Franscella
Gurnee, IL
Bruce Goldberg
Greenwood Village, CO
Bob & Helen Jones
Berkeley Springs, WV
Bert & Donna Kennedy
Mesquite, TX
James & Leora Leasure
Eighty Four, PA
Carol McEwen
Wichita, KS
Ray & Paula Mahoney
Wethersfield, CT
Max Miller
Houston, TX
Esther Mitchell
Little Rock, AR
Joyce Nicoletti
Goodman, MO
Jack Peacock
Winston-Salem, NC
Matt & Marissa Peacock
Winston-Salem, NC
Fred D. Ray
Wichita, KS
Penny Reed
Des Moines, IA
Glen & Carolyn Robinson
York, SC
John & Jane Schleinzer
Aurora, IL
Stan & Diane Sewall
Poughkeepsie, NY
Lee & Jean Spalding
Wichita, KS
Kent Washburn
San Antonio, TX
Len & Enid Waska
Flatonia, TX
Janet Wasson
Highland, IN
Michael & Leegh Wyse
Albany, OR
Wichita Glass Gazers
Club Booth