NDGA 2009 Convention Information
July 11-12, 2009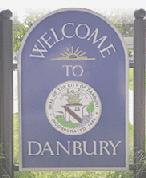 The site for 2009 was The O'Neil Center at Western Connecticut State University, in Danbury, Connecticut. This is a lovely 42,000 square foot facility, with adequate parking and convenient to both the Connecticut suburbs as well as New York City, upstate New York, New Jersey, Maryland, Delaware, eastern Pennsylvania and the New England states.
The 2009 Convention Chairman was Rosemary Trietsch, the current News & Views editor and a dealer from Albertson, New York.
Schedule of Events
The show and sale opened with Early Bird admissions at 8:00am Saturday morning. As in the past, Early Bird admission was at a premium, while General admission to the Convention, Show and Sale began at 10:00am.
Featured Authors
Our featured authors this year were Barbara and Jim Mauzy, authors of many familiar reference books on Depression Glass and quite a few other topics. Some of their other publications include: Peanut Butter Glasses, Mauzy's Cake Plates, Depression Era Kitchen Shakers, Mauzy's Kitchen Collectibles and PYREX: the Unauthorized Collector's Guide.
The Mauzy's presented a seminar on Saturday morning on the topic of African-Americana, the subject of their latest book. In addition, during the Convention they introduced their four latest books:
Mauzy's Depression Glass - 6th Edition
Mauzy's Comprehensive Handbook of Depression Glass Prices - 9th Edition
McKee Glass of the Depression Era
African-Americana
Seminars and Speakers
We've already mentioned that Barbara and Jim Mauzy presented the first seminar on Saturday morning, with a topic of "African-Americana." The presentation included a wide range of black memorabilia, including dolls, photography, kitchen items, etc.
The second seminar was presented by Len Waska, extending our knowledge of Wave Crest glass beyond his talk at the 2006 Convention. Enid and Len are better known throughout Texas as the "The Bookworm." They are the book dealer at most local shows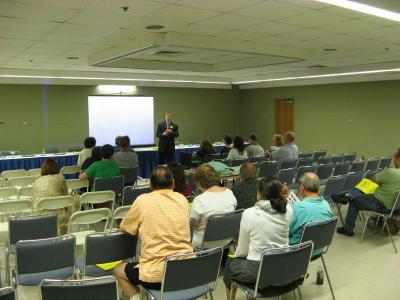 and are the people to go to when searching for that special antique reference. His talk, coupled with his display of fabulous Wave Crest glass, was of interest to all collectors of glass, regardless of their favorite pattern.
On Sunday, Ken Filippini, past president of the National Cambridge Collectors, gave a seminar about Carmen colored Cambridge. Most folks are lucky to see even one or two pieces of etched Carmen (red) Cambridge glass. The gold-encrusted pieces are even more scarce, and Ken has an entire collection of this beautiful glass. He presented a slide show on Sunday, and the two eight-foot tables of glass from his collection were on display all weekend.
A last-minute seminar featured Alex Wolk (above) speaking on the topic "Farber Brothers depression era glass in Lustrous chrome." Alex has a fantastic collection of Farber Brothers "Krome Kraft" pieces from all the depression era companies that Farber Brothers used. He shared his knowledge about this highly collectible glass/chrome combination in an interesting and entertaining presentation.
The final seminar was presented by Danny Cornelius and Don Jones. They continued our education on Early American Pattern Glass by exploring the "State Series" pattern. There was an EAPG pattern named for most of the states, and their display which accompanied the lecture consisted of sugar/creamer sets from each of the states, with a prominent display for our host state, Connecticut, featuring a full table service.
National Glass Organizations
The NDGA encourages all of the National Glass Organizations to participate in the NDGA Convention, and will provide space (conditions permitting) for any of the National Glass Organizations who wish to attend and staff a table to promote their group. This year we had representation from the Morgantown Glass Collectors Guild, the Museum of American Glass in West Virginia, and three local clubs: Hudson Valley DG Club, Big Apple DG Club and the Garden State DG Club, plus the National Reamer Collectors Association.
NDGA Annual Meeting
The Annual General Membership Meeting was held in conjunction with the Convention. It began at 5:30pm on Saturday. The meeting lasted about 1½ hours. The newly elected officers and Board members were introduced at this time.
Silent Auction
There was another Silent Auction to raise money for the National Glass Collection. This year, there were some unusual, decidedly non-glass items in the auction, including an authentic "blow pipe" used by glass workers at Beaumont Glass Works. There were a couple of sets of dishes and several piles of books. A nice sum was raised for the NDGA, distributed among the several funds.
Glass Displays
Each year at the Convention, collectors share their personal collections of glass and pottery with the rest of us. It is often the only opportunity that we have to see some of the rare and unusual items that are in private collections. This year was no exception. Also shown were additions to the National Glass Collection acquired since the last Convention. Here is a list of exhibitors and their displays. Click on the small "thumbnail" photo to see a larger picture, then hit your browser's "back" button to return to this page.
The National Collection received prominent space at the Convention in Danbury. A whole corner of the exhibit floor was dedicated to the National Collection, with displays from the Library Collection, some of the non-glass items and the newly created Pitcher Collection. See the page on the National Collection for photographs from Danbury.
| Exhibitor(s) | Display Title | |
| --- | --- | --- |
| Scott Smith | Green Parrot | |
| Ray and Paula Mahoney | Imperial Cape Cod | |
| Kenneth R. Filippini | Cambridge Carmen items | |
| Darlene Schoppert | Florentine I and II (Poppy) | |
| Joseph Muratore | Carnival Glass | |
| Christopher Trietsch | Collectible Marbles | |
| Rosemary Trietsch | Ruba Rombic | |
| Kent Washburn | Fostoria Navarre Crystal | |
| Kent Washburn | Technical drawings for Fostoria light fixtures | |
| Michael James Trietsch | Figural glass animals | |
| Judy Geller | Sportsman series By Hazel Atlas and others | |
| Barbara & Jim Mauzy | Sunflower pink | |
| Barbara & Jim Mauzy | Jade-ite kitchen glass | |
| Barbara & Jim Mauzy | African-Americana | |
| Len Waska | Wave Crest | |
| Jack Peacock | The cutting artistry of Clyde and David King | |
| Peggy Humphrey | Imperial Katy Green | |
| Peggy Humphrey | Tumble ups & Night water sets | |
| Peggy Humphrey | McKee Laurel | |
| Peggy Humphrey | New Martinsville Red Moondrops | |
| Mary & Goef Marsh | A Rainbow of Reamers | |
| Danny Cornelus & Don Jones | State Series by US Glass | |
| Alex Wolk | Farber Brothers depression era glass in Lustrous chrome | |
| Jim and Leora Leasure | Morgantown's Rainbow | |
| Carolyn Trietsch | Morgantown Crinkle in Pastel Colors | |
| John Toomey | Fenton's Plum Opalescent 1959-61 | |
List of Participating Dealers
Here is the list of dealers who have committed to exhibit and sell at the Convention in 2009. Each will be bringing their best merchandise and look forward to meeting members from the great northeast.
David & Linda Adams
Las Vegas NV
Rick Bakkum
Buffalo MO
Dale & Betty Buersmeyer
Pacific MO
Danny Cornelius/Don Jones
Port Washington OH
Jim & Margaret Davis
Springfield IL
James Dwire/John Toomey
Bolton CT
Ralph & Roberta Edwards
Franklin Square NY
Pat & Sharon Ervin
Sycamore IL
John & Dovie Fields
Independence MO
Pam & Bob Franscella
Gurnee IL
Gary Geiselman
York PA
Judy & Roger Geller
Brewster NY
Bruce Goldberg
Greenwood Village CO
John & Helen Guglielmo
Babylon NY
Helen & Bob Jones
Berkeley Springs WV
Bert Kennedy
Mesquite TX
Carol McEwen
Wichita KS
Ray & Paula Mahoney
Wethersfield CT
Pam & Fred Meyer
McKinney TX
Steven Moniz
Staten Island NY
Jack Peacock
Winston Salem NC
Matt & Marissa Peacock
Winston Salem NC
Penny Reed
Des Moines IA
Glen & Carolyn Robinson
York SC
Jane & John Schleinzer
Aurora IL
Diane & Stan Sewall
Poughkeepsie NY
Jean & Lee Spalding
Wichita KS
Larry Thompson
East Hartford CT
Rosemary Trietsch
Albertson NY
Kent Washburn
San Antonio TX
Janet & Wanda Wasson
Highland IN
Leegh Wyse
Corvallis OR