The NDGA Newsletter - "News & Views"
One of the major benefits of membership in the NDGA is the Organization's newsletter, named "News & Views". This publication is sent to all members, and contains news about the NDGA itself, as well as articles of interest to collectors of Depression Era glassware.
As of the Fall of 2008, the newsletter has been expanded, and the center four pages are organized as a pull-out section, with an article about glass, glassmaking, a glass company or a pattern.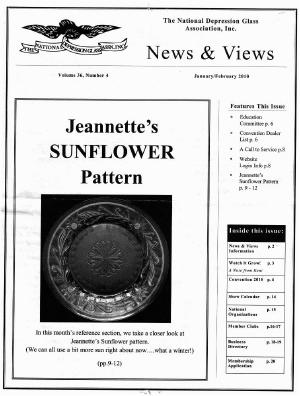 These articles are submitted for publication by members of the NDGA. THIS MEANS YOU. Our newsletter Editor has enough work to do without being expected to write a detailed article every month, so YOU take the time and write about your collection, about a pattern, about a piece you don't have but desperately want (and why), or just about any topic related to glass. PLEASE CONTRIBUTE.
Since it is a benefit of NDGA membership, we will not be publishing the contents of the most recent issues of the News & Views on this web site. But we have begun the tedious process of uploading articles from past issues of the newsletter. Some of the articles contain outdated information, but one must remember that they were written quite some time ago, before we had so many fine reference books available. So read them and enjoy !
CLICK HERE FOR THE INDEX TO PAST ARTICLES
CLICK HERE FOR THE INDEX TO COMPLETE PDF SCANS OF PAST ISSUES
The Newsletter belongs to the membership, and as one of the major goals of the NDGA is to educate ourselves and others regarding this wonderful glass that we all love, the informative articles published in the newsletter come from members from across the country. If you are a member of the NDGA, you should consider contributing to the Newsletter.
Sharing your thoughts, or your knowledge, or even a humorous buying experience is what makes the Newsletter come alive.
Maybe you have an interesting tale to tell about why you got interested in Depression Era glassware.
Or maybe you found a rare treasure and paid next to nothing for it.
Share your story or expertise with all of us.
Contact our Editor (
Editor@NDGA.net
) with your suggestions. The Newsletter needs any and all contributions from the membership.
Have YOU sent in an article yet?