1993 Convention - Little Rock, Arkansas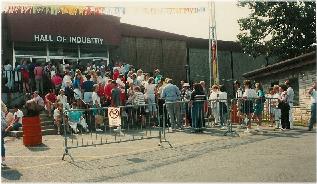 The nineteenth annual NDGA Convention was held at the Hall of Industry, in Little Rock, Arkansas. The Convention Chairperson was NDGA President Anita Wood. Local Coordinator was Esther Mitchell, and Display Coordinator was Marilyn Loveland. All three ladies are to be congratulated for a most successful Convention. Check out the line waiting to get into the show.
List of Seminars and Speakers for the 1993 Convention
There were three seminars presented in Little Rock, two on Saturday and one on Sunday. Speakers and topics were:
Dick Spencer - Heisey Glass Animals
Myrna & Bob Garrison - Imperial Glass
Robert McGinnis - Adam to Windsor
List of Dealers who participated in the 1993 Convention
These are the dealers who took the time and effort to bring their best glass to the 1993 Convention in Little Rock.
Second Time Around
Jay & Donna Upham
Jamestown, OH
Dr. Bob's Antiques
Bob & Judy Schmidgall
Arkadelphia, AR
Linda's Caravan
Linda Hukriede Riendeau
Grand Rapids, MI
Kent Washburn Antiques
Kent Washburn
San Francisco, CA
Hardtimes Glassware
Sam & Becky Collings
Brookfield, OH
John & Judy's
John & Judy Bine
St. Charles, MO
Glass And More
Dick & Pat Spencer
O'Fallon, IL
Neighbor's Antiques
Len & Arlyn Ols
Cleveland, OH
Classique Glass Company
Earl Johnson
Tulsa, OK
Yester-Daze Matching Service
Bob & Helen Gschwend
Pekin, IL
Diana & Janet's Glass
Diana Charles
Hagerstown, TN
Lots of Strange Things
Jim & Margaret Davis
Springfield, IL
Anita's End
Harry & Anita Wood
Odessa, TX
The Glass Rainbow
Mark Dreier
Denver, CO
Jerry & Linda Gordy
Davenport, IA
McEwen's Extras
Julian & Carol McEwen
Wichita, KS
Scotty's Antiques
John & Peggy Scott
Springfield, MO
K-J Antiques
John & Kathy Oppelt
Neenab, WI
Key's Glass Kottage
Calvin & Gwen Key
Hazel, KY

The Iron Kettle
Bob & Betty Conner
Augusta, KS
Art & Shirley Moore
Tulsa, OK
Helen Allen Antiques
Gene & Helen Allen
Overland Park, KS
Antiques, Glassware, Etc.
Bill & Hazel Daniels
Arnold, MO
D & B Antiques
Dan Kramer
Pekin, IL
Betty & Dale's Antiques
Dale & Betty Bass
Caney, KS
Max Miller Antiques
Max Miller
Houston, TX
Kitschy Cat Collectibles
Rose & Jim Curnutt
Western Springs, IL
Lorrie Kitchen &
Dan Tucker
Toledo, OH
Dennis Bialek
Hudson, NY
The House of Glass
Carol Clary & Gary Pikett
Houston, TX
Collector's Loot
Bob & Myrna Garrison
Arlington, TX
Donald & Jane Rogers
Wentzville, MO
Byron & Barbara Canine
Anderson, IN
Rae Patrick Enterprises
Pat & Sharon Ervin
Sycamore, IL
Nostalgic Treasures
Dale Riendeau
Grand Rapids, MI
J & J Glassaramics
Jack & Joyce Nichols
Ft. Walton Beach, FL
List of Displays for the 1993 Convention
Click on the thumbnail picture in the table below to see a larger version of the same shot. These pictures have been scanned from original 3x5 photographs (thanks to Myrna Garrison for the scans) so that everyone can appreciate the time and effort expended by our members to share their collections with everyone who attended. We apologize for the one missing photograph.
Name(s)
Hometown
Display Title
Thumbnail
Zoe Ann Morton
Little Rock, AR
Blue Mayfair

Carol McEwen
Wichita, KS
Ivory Laurel

Charlotte Purdy
Malvern, AR
Yellow Lorain

Karen Vaughn
North Little Rock, AR
Green Sandwich

Mary Jane & Richard Grimes
Little Rock, AR
Blue Royal Lace

Zoe Ann Morton
Little Rock, AR
Pink Dogwood

Neosha Avery
Little Rock, AR
Crystal Iris

Wilma Richter
Little Rock, AR
Pink Princess

Esther Mitchell
Little Rock, AR
Green Cameo

Wilma Richter
Little Rock, AR
Delphite Kitchenware

Myrna & Bob Garrison
Arlington, TX
Imperial Display

Anita Wood
Odessa, TX
Pink Cleo

Dorothy Fletcher
Little Rock, AR
Fostoria Holly

Ron Morgan
Benton, AR
Duncan & Miller Opalescent

Marilyn Loveland
Grain Valley, MO
Fostoria blue Vernon

Jeanne & Clyde Coleman
Jonesboro, AR
Cambridge Diane crystal

John Bangert
Little Rock, AR
Fostoria June

Heart of America Glass Club
Kansas City, MO
Fenton Display

Myrna & Bob Garrison
Arlington, TX
Imperial Seminar Display