NDGA 2013 Convention Summary
July 13-14, 2013 - Wellington, Kansas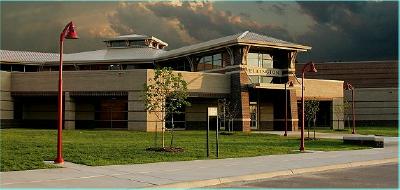 The 2013 Convention Chairperson was Pam Meyer. She has been planning this for quite some time, as she is also the Media Coordinator for the NDGA National Glass Museum.
The Convention was held at the High School in Wellington, Kansas, shown at right. Wellington is also the home of the NDGA National Glass Museum, and that is no coincidence.
2013 Wheat Festival and Parade
Where to start!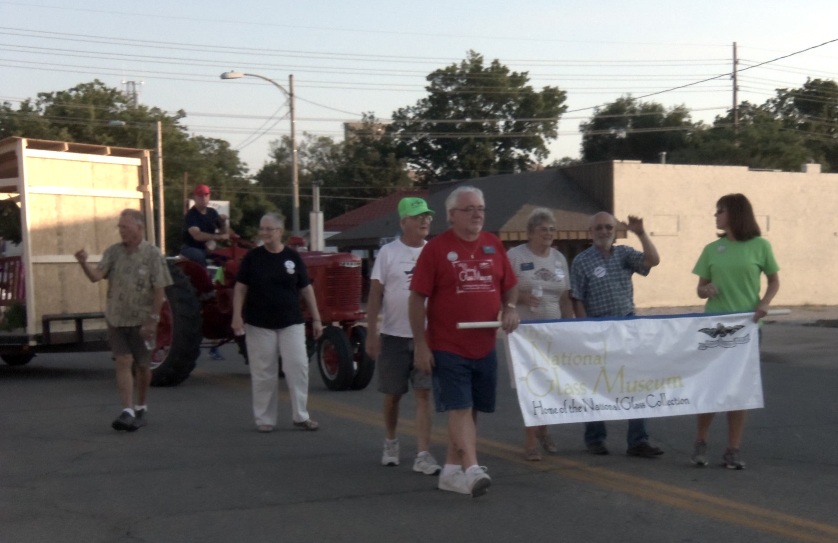 When we first started working on the 2013 convention way back in early 2012, we were brain storming with Shelley Hansel-Williams, head of the Wellington Chamber of Commerce & CVB who asked us (NDGA) to participate in the Friday night Wheat Festival parade. Of course we did by having a float in the parade!!!!! We also participated in "Picnic in the Park" where several members entertained the festival-goers with our rendition of the song YMCA, but substituted with NDGA.
Schedule of Events
The show and sale opened at 10:00am on Saturday, July 14 and ran until 5:00pm, after which there was a half-hour break, followed by the Annual Membership Meeting of the NDGA (about 1½ hours). Newly elected Board members and Officers were introduced and sworn in. All NDGA members may participate in the meeting. On Sunday, July 15, the Convention opened at 11:00am and closed at 4:00pm. You can find the complete schedule here.
Special Guest
Barbara Mauzy, Author of numerous Glass Reference Books
Barbara was asked to write a children's book about visiting the new NDGA National Glass Museum in Wellington. She arose to the challenge and wrote the book. This book is about a city girl and a country boy and what they had to endure during the depression era and how they were introduced to depression glass. Barbara has signed over all of her rights to NDGA so that any royalties from sales come directly to the Museum Support Fund.
Seminars and Speakers
Saturday
11:00 am--Leora Leasure--Mid Century Modern Glass from the Old Morgantown Glass Company
1:00 pm--Dean Lowry--Introduction to Glass for All Ages
3:00 pm--Barbara Mauzy--Passing on the Passion
Sunday
12:00 pm--Helen Jones--Canton Glass Company's Casual Line
2:00 pm--Barbara Mauzy--Passing on the Passion
National Glass Organizations
Each year, the NDGA invites representatives from other national glass organizations to participate in our Convention. The following organizations were represented in 2013, each with a table with membership information for their organization and other items of interest.
Tiffin Glass Collectors Club
Tom Maiberger

Old Morgantown Glass Collector's Guild
Sandy Walker

National Cambridge Collectors, Inc.
Freeman & Jeannie Moore

Heisey Collector's of America
Tom & Kathy Files
John & Trudy Mock


National Reamer Collectors Association
Dick Winne

Fostoria Glass Society of Tennessee
Pat Green & Gracia Bobbitt

Museum of American Glass in West Virginia
Bob Jones

Early American Pattern Glass Society
Jane Wainwright
Audrey & Frank Blosser

Live Auction
The 2013 Convention held a live auction again this year at the end of our Saturday night banquet. It was a fun auction with Bob and Pam Franscella being the auctioneers. They are fun and entertaining and they make the auction not only a great place to find a wonderful piece of glass but a very fun way to spend an evening.
Silent Auction
There was another Silent Auction during the Glass Show, to raise money for the National Glass Collection. Members contribute various pieces of glass or other items (books, etc.), to be sold in the silent auction, with the proceeds going to the NDGA National Glass Fund.
Glass Displays
Each year at the Convention, collectors share their personal collections of glass and pottery with the rest of us. It is often the only opportunity that we have to see some of the rare and unusual items that are in private collections. This year was no exception.
National Glass Collection



Amethyst Moon drops
Holly Lynn Fields - age 15
Indepencence, MO

Glass Animals
Addison Powell - age 10
Tulsa, OK

Swanky Swigs &Glass Eggs
Olivia Rose Stanley - age 11
Gardner, KS

Ultra Marine Swirl
Jonathan R. Fields,Jr. - age 16
Independence, MO

Waterford, "Waffle"
Adam Hilt - age 14
Wellington, KS

Blue Opalescent Hobnail
Angie Hilt
Wellington, KS

Cambridge Blue Apple Blossom
Peggy Humphry
Ely, MN

Cambridge Glass-Ebony &Ivory
Rick Jones
Princeton, NJ

Childrens Display
Linda Bredengerd
Wichita, KS

Cobalt Royal Lace
Ed &Carol Staley
Modesto, CA

Forest Green &Charm
Janis Lagpacan, Derby, KS
Jean Williams, Ft. Smith, AR

Fostoria American
Melissa Leslie
Wichita, KS

Old Morgantown Free Form
Brad Allen &Gene Cooper
Overland Park, KS

Heisey Yoeman #1184 in Flamingo c 1929
June Burke
Sun Lakes, AZ

Hocking Old Colony "Open Lace"
Janis McDonald
Wellington, KS

Indianas Old English
Dean Lowry
Houston, TX

Jadite Laurel
Carol McEwen
Wichita, KS

Jewel &Dew Drop
Brad Allen & Gene Cooper
Overland Park, KS

Keepers - Hard to find items
Margaret &Jim Davis
Springfield, IL

Lancaster Spinx &Brocade
Ronnie & Gloria Broadbent
Baton Rouge,LA

McKee &Jeannette Kitchenware
Peggy Humphry
Ely, MN

Miss America
Lisa Allton
Wellington, KS

National Reamer Collectors Association
Dick Winne
Arkansas

Niloak
Jim Perry
Arkansas

Pyramid
Paula Oldridge
Wellington, KS

Red Radiance
Dale Bass
Temple, TX

Tiffin Corolene
Linda Bredengerd
Wichita, KS

Tumble ups
Carol McEwen
Wichita, KS

Zipper
Brenda Nelson
Wellington, KS
List of Participating Dealers
Most dealers in the Glass Show portion of the Convention have been doing the shows for a number of years. The NDGA maintains a waiting list for dealers who wish to be considered. The list is maintained in date order, applications with earliest date received at the top. Prospective dealers may fill out the NDGA Dealer Application form. Prospective dealers must be a current member of the club in order to apply to do the convention show. Please click here to join the club.
Here are the dealers for the 2013 Convention.
Max Miller Antiques
Max Miller
Houston, TX


Rose Garden Collectibles
Jean & Lee Spalding
Wichita, KS

J & S Collectibles
Scott & Jennifer Smith
Broken Arrow, OK

The Fralicks'
Eric & Jaye Fralick
Overland Park, KS


Kitschy Cat Collectibles
Jim & Rose Curnutt
Western Springs, IL

Our House Antiques
Linda & David Adams
Las Vegas, NV

McEwen's Extras
Carol McEwen
Wichita, KS

Trudy's TNT Antiques
Trudy Norman
Lindale, TX

Red Apple Antiques
Dale & Betty Buersmeyer
Pacific, MO

Memories Antiques
Edward Sawicki
Dunellen, NJ


Curio Cabinet Antiques
Janet Wasson
Highland, IN

Thirties Premiums
David Hollingshead
Kansas City, KS

Depression Classics
Pam & Bob Franscella
Gurnee, IL

Helen Allen
Helen & Gene Allen
Overland Park, KS

Showcase Glass
Bert & Donna Kennedy
Mesquite, TX

Carolina Antiques
Jack Peacock
Winston-Salem, NC

Backward Glances
Helen & Bob Jones
Berkeley Springs, WV

Tucker's Treats & Antiques
Kay Tucker
Cottage Hills, IL

R & J's Antiques
Ron & Judy Druse
Topeka, KS

Rae Patrick Enterprises
Sharon & Pat Ervin
Sycamore, IL

Hattie's Place
Rick Bakkum
Buffalo, MO

A Few Old Things
Autley & Kathy Newton
Hammond, LA

Cat's Meow Glass
Ron & Diane Timmons
Springfield, OH

BNMC
Ed & Mary Walker
Castle Pines, CO

The Bookworm
Enid & Len Waska
Flatonia, TX

Net_tiques
Helene Meeks
Oregon, IL

JS Antiques
Jane & John Schleinzer
Aurora, IL

White Rose Antiques
Glen & Carolyn Robinson
York, SC

Sugar Tree Antiques
Nelda & Benny Brewer
Burleson, TX

John & Dovie Fields
Independence, MO

Leasure's Treasures
Jim & Leora Leasure
Eighty Four, PA

Hemmann's Krystal Haus
Cathy & Mike Hemmann
St. Clair, MO
OTHER CONVENTION ACTIVITIES
For those coming to the convention and feel like the local activities are not enough and the show/sale isn't going to be enough to take care of your glass "sickness" the following is a list of the area antique malls and shops.
Paramount Antique Mall
- 48,000 sq. ft., 225+ dealers
13200 W. Kellogg (Hwy 54), Wichita, KS
Open Monday - Friday 10-7, Sat. 10-6 and Sun. 12-6
316-722-0500

Paramount East Antique Mall
22000 sq. ft.
10187 SW Hwy 54 (East Kellogg), Augusta KS
Open Monday - Friday 10-7, Sat. 10-6 and Sun. 12-6
316-775-3999

A Legacy Antique Mall
105 S. Emporia, Wichita, KS
Open Monday - Friday 10:30-5, Sat. 10:30-6 and Sun. 10:30-5
316-267-2730

Andover Antique Mall
656 N. Andover Rd,
Andover, KS
Monday - Saturday 10-6 and Sun. 1-5
316-733-8999

Collections Antiques Shop
12316 E. 61st St. North
Thursday-Saturday 10-5
316-744-8069

Delano Antique Mall
1642 W. Douglas, Wichita, KS
Open Tuesday-Saturday 10-7
and Sunday 12-5
316-265-0186

Hewitt's Antiques & Shopkeepers Mall
228 N. Market, Wichita, KS
Open Monday-Saturday 9:30-5 and Sun. 1-5
316-264-2450

Paper Moon Antiques
1940 W. 13th St, Wichita, KS
Open Wednesday-Saturday 10-5
316-440-4560

2 Attics Antique Mall
1534 E. 61st St. North, Park City, KS
Open Monday - Friday 10-6, Sat. 10-5 and Sun. 1-5
316-201-1828

Bondie's Old Town Antique Mall
827 E. Central, Wichita, KS
Monday-Saturday 10-5 and Sun. 1-5
316-267-0900

Flying Moose Antique Mall
9223 W. Kellogg, Wichtia, KS
Tuesday-Friday 10-7, Sat. 10-5 and Sun. 1-5
316-721-6667

Pigeon's Roost Mall
601 N. State St., Augusta, KS
Open Monday-Saturday 1-5 and Sun. 12-4
316-447-2279

Oldies-n-Goodies Antique Shop
923 W. Douglass
Wichita, KS 67213
Tues: 12-6 - Wed thru Sat: 10--6 - Sun: 12-5
Closed on Mondays


Pink Door What-Not Shop
1316 W. Douglas
Wichita, KS
Tues-Sat: 11-7 Closed Sun & Mon


Ashby's Antique Mall
110 N. Main, Blackwell, OK
Open Monday-Saturday 10-5 and Sun. 12-5
580-363-4410

T's Treasures of Yesterday & Today
1542 E. 61st St. North, Park City, KS
Open Wednesday & Thursday 11-4, Fri. & Sat. 1-5
316-744-0023
Lots of good shopping to make everyone happy!
HAPPY HUNTING!
The F. Price Crossman Memorial Trust Collection of Steuben Glass
at the Wichita Art Museum
The Wichita Art Museum presents a growing collection of glass that focuses on Steuben. The unique assemblage includes a donated private collection of more than 200 goblets and other pressed glass and a growing collection of historic and contemporary examples of Steuben Glass. The Wichita Art Museum is located at 1400 W. Museum Blvd., Wichita, KS.
The museum hours are Tues - Sat 10-5 and Sun 12-5. Closed on Mondays. Admission is $7.00 adults, $5.00 for seniors (60+) and $3.00 for students with ID and youth (ages 5-17). Children under 5 are free. SATURDAY - FREE ADMISSION.