Latest News ...
May 5, 2018: Convention 2018 - Book NOW!
Live Auction and Dinner
Saturday July 7th will be our paid dinner and free live auction, where there is never a dull moment. The theme for the dinner is "A Masquerade Ball." We will have a great time with food, music, and auction shenanigans. We will be serving a Louisiana buffet dinner from 6 to 8 pm. Complete the registration form TODAY because responses are due by Monday May 21.

The auction is open to everyone following dinner from 8 to 10 pm. This event benefits our wonderful Museum. Donations are still be accepted.

Exhibits and Seminars
While the tables are filling up, we are still accepting exhibits of members' collections. This is your chance to show off what you have been working so hard to assemble. One of the NDGA's highest goals is to educate and inform its members and the public. If you can participate as an exhibitor or seminar speaker, please contact Keely Stockman by email glassconvention@gmail.com or call 504-444-7486.
April 15, 2018: Make your plans!
The National Glass Museum has opened after a winter break and is ready for visits and tours. Please call the Museum 620-326-6400 to check availability if you plan to visit.

Since today is "tax day", just a reminder that if you shop on Amazon, use smile.amazon.com and direct your donation to NDGA.

Of course, summer is not that far away, and that means planning for 2018 Convention. Mark your calendar and plan to join us at the 2018 convention in Kenner, LA!

If you're a Facebook user, make sure to post your comments there.
March 1, 2018: Museum re-opens!
The National Glass Museum will again open for visits and tours this Thursday, March 1, and we're all set for Spring!

In addition to the beautiful display of milk glass in the front window, Janis McDonald has again created a beautiful table setting near the back of the museum. This time it's Hocking Glass Company's Old Colony "Open Lace" in pink.

Please call the Museum 620-326-6400 to check availability if you plan to visit.
December 18, 2017: End of Year news
If you still have some shopping to do on Amazon, make sure you click on this link first so that it records information to Amazon that results in a donation back to NDGA. Alternatively, you could bookmark smile.amazon.com in your browser for future use.

Have you sent in your Annual Fund contribution? If not, you can complete the Annual Fund Response Form and mail it with your check, or use the Paypal Giving Fund for making your donation. Check out the options on the Annual Fund page for more information.

It's not too early to make plans for July 2018. Mark your calendar and plan to join us at the 2018 convention in Kenner, LA!

Just a reminder that the Museum will be closed during the winter months. This gives us time to clean and organize the Museum. It also helps our volunteers by saving them a trip during potentially poor winter weather.
November 15, 2017 - Check out the latest jewelry
We have more jewelry available! You can contact Pam Meyer at meyerantiques@juno.com or at 972-672-6213 if you are interested in a special piece. If we don't have something like you want already made up, we may be able to find a piece of broken glass that will your needs and send it to our jewelry lady to have it custom-made for you. Prices will depend on the cost of the material at the time of the order and if you want a simple piece of a full wire wrapped piece plus shipping to be determined at the time of purchase.

Check out the latest selection on our jewelry page.
October 15, 2017 - Convention 2018
Now is the time to start planning for NDGA 2018!

The members of the Crescent City Depression Glass Society want to welcome you to the Greater New Orleans area for some Southern Hospitality. Come to our wonderful venue at the Ponchartrain Convention center in Kenner, Louisiana for two amazing days of glass and camaraderie with great dealers and collectors, auctions and seminars, and shining displays of glass collections from all over the country. We already have wonderful displays promised and are looking for more.

Our theme colors are purple, green, and gold of Mardi Gras. These colors were established in 1872 and came to symbolize Justice, Faith, and Power. What kind of creativity could you bring to a display, items donated to our auctions, and even your glass-hunting outfit?

Make sure to check our convention page for the latest details.
September 1, 2017 - Amazon Reminder
Surely you have noticed the link to Amazon.com on the left hand side. Why is it there? NDGA is registered with Amazon.com as a non-profit organization elgible for donations.

Amazon donates 0.5% of the price of your eligible AmazonSmile purchases to the charitable organization of your choice.
AmazonSmile is the same Amazon you know. Same products, same prices, same service.
Support NDGA when you shop at smile.amazon.com

It's even easier now if you remember to always start your shopping at smile.amazon.com.
July 29, 2017 - Election Results
We are pleased to report the results of this year's election:

President: Pam Meyer
Vice-President: John Fields
Secretary: Betty Buersmeyer
Director-at-large: Pam Franscella
Director-at-large: Karyn Hilliard
Director-at-large: Ed Staley

By-laws update: Approved

Thank you for supporting this organization.
November 1, 2016: Latest Addition to Museum
Some of you have been to the Museum but not recently, others have yet to visit! Please consider coming by to see our latest acquisitions.

It is with great pleasure and excitement that we will soon have displayed, a wonderful part of the glass industry. We were given a glass mold with plunger for a Fostoria Colony #2412 1/2 two part relish dish. This is wonderful alone, but we also got a punty stick and rest, a blow pipe, and three tools to work glass. This will go along with a goblet mold the museum already has displayed. Wouldn't it be wonderful if we had that two part relish to show how it fit into the mold? I'm on a quest to find that Colony two part relish to display along side the actual mold so that people can see show it works. A picture is worth a thousand words. If you have the piece, and would be willing to donate it to go along with the mold, please contact Pam Meyer.
September 6, 2016
It's time for the ANNUAL FUND DRIVE! Wait a minute, you say. Isn't that usually in the spring? It has been in the past but this year the Annual Fund Drive has been moved to the fall because the membership year has been changed from July 1 through June 30 to January 1 through December 31.

You were generous in your continued support in 2015 and we thank you. We trust you will be pleased to learn those contributions were mostly allocated to support and enhance NDGA's National Glass Museum. The work of NDGA is ongoing and ever evolving. The need for this year's Annual Fund Drive is no exception. Please help further NDGA's mission for education and preservation of American glass.

You should have received your Annual Fund via US mail. If not, you can complete the Annual Fund Resonse Form and mail it with your check, or use the Paypal Giving Fund for making your donation. Look at the Annual Fund page for more information.
December 10, 2015: End of year - already! ...
At the 40th NDGA Annual Convention in 2014 we had Ornaments made to commemorate the NDGA National Glass Museum and Paperweights to commemorate the 40th anniversary of our convention. These were made out of the beautiful Ruby Glass by the Crystal Memories Company out of Tiffin, OH and the Mosser Glass Company in Cambridge, OH respectfully. Although we have sold many of these items, we still have a number that we are storing. Since we need the space the Museum Board of Trustee and the NDGA Board of Directors voted to allow us to discount these items by 20% making the Ornaments $28.00 and the Paperweights $32.00. Just in time for Christmas gift giving or decorating your tree! We would love to ship you one or more of these beautiful pieces. The cost of boxing and postage will run $7.75. If ordering more than one item it would, of course, cost accordingly. Please contact Pam Meyer at meyerantiques@juno.com or phone at 972-672-6213 if you wish to purchase one or more.

Planing continues on the 2016 convention to be held in Tiffin, OH, MO. Check the convention page for the latest information.

You may also be doing some end-of-year tax planning. Your donations of glass for the national collection are always appreciated, as well as items for resale in the gift shop. If you're considering a cash donation, we are registered with Ebay Giving Works that allows you to make a donation via PayPal with NDGA receiving 100% of the proceeds.

And if you're an Amazon shopper, make sure to click on our link to Amazon.com so that NDGA receives a referral credit.
February 15, 2015: News & Views column
We're instituting a new column that we hope will both educate our readers and help out our collectors. Most (we believe this should be all, but there may be an exception) of us have collections that are missing a "part". It may be a creamer withour a sugar, a bottom without a lid, a saucer without a cup ... you get the idea by now.

Check the latest issue of the News & Views for the current requests. You'll also find directions on how to submit your input. With your help, these lonely pieces will find their lost mate.
December 21, 2014: Support your Museum!
The National Glass Museumj, located in Wellington Kansas, has seen a lot of visitors this year. All of our volunteers have done an outstanding job this year greeting visitors and helping to spread the word about the museum. We had the opportunity to recognize our Volunteers and Donors at an appreciation party in early December. Thank you everyone!!!

It seems like everyone is busy with planning for the holidays, and so are we. The Museum is decked out in color for the season, and ready to welcome visitors.

The December/January issue of the News & Views has a cover story about preserving our past.The NDGA National Glass Museum for the past year or so has been taking broken pieces of glass collected from dealers at shows or just items that we find that have been damaged beyond use and turning them into pendants or earrings.

Many items can be purchased from the Gift Shop at the museum. Jewelry items along with many other items are often available at glass shows and sales throughout the country. Check out some of our selection here.

<
November 1, 2013: We're on TV!
We've all seen the ads to support Public Broadcasting. Now, here's a really good reason.

During the July 2013 Convention, television station KTWU located in Topeka Kansas, spent some time videotaping at the Convention and Museum. The result was broadcast as the October 10, 2013 program of Sunflower Journeys. It is a 27 minute program with two other stories. Our story begins 10 minutes into the program and lasts for 8 minutes. Make sure you are using supported software to view the program.

Many thanks to Pam Meyer and others for making this happen. Let us know what you thought of the program.
October 1, 2013: One year later
We did it.
It was only a year ago a ribbon cutting ceremony was held to celebrate the Grand Opening of the NDGA National Glass Museum located at 117 S Washington Ave. in Wellington KS.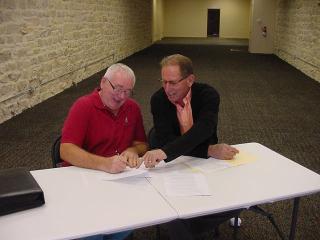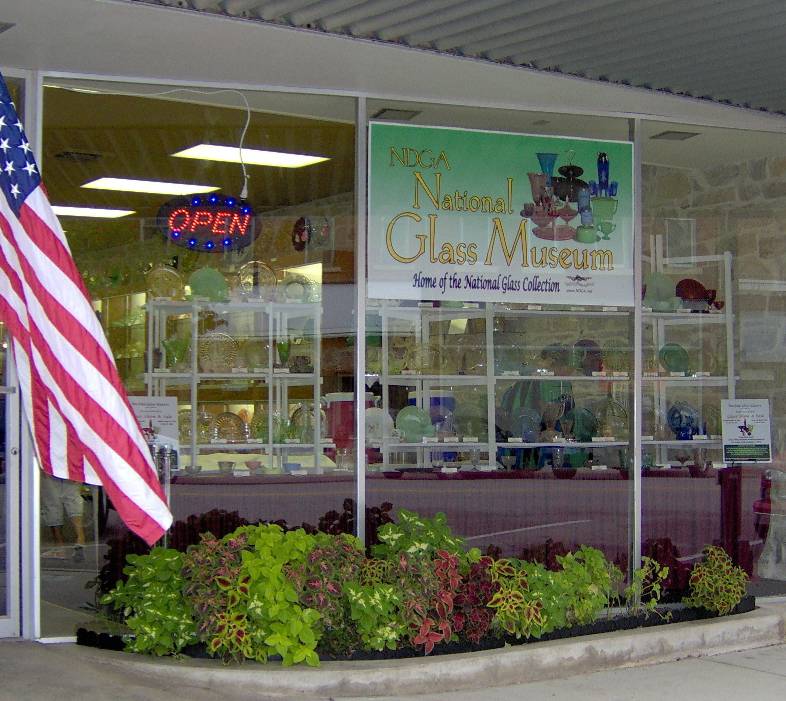 This past year has seen the Museum grow from an empty building to one that houses a collection of glass from the 1800's to the 1970's, representing a large number of the companies that were in existence during those times. It also has a working reference library for the public to use in their research of glassware. The museum is staffed by volunteers, who are always willing to help answer questions.
The museum will help in serving the two main goals of the organization, education and preservation of all American made glassware with an emphasis on the Depression Era.
NDGA is a 501(c)(3) organization with the museum opened to the public at no charge. The museum is supported by donations and proceeds from the gift shop where you may purchase glass items, along with t-shirts, tote bags and post cards. A donation jar is also available to anyone wishing to help support the museum.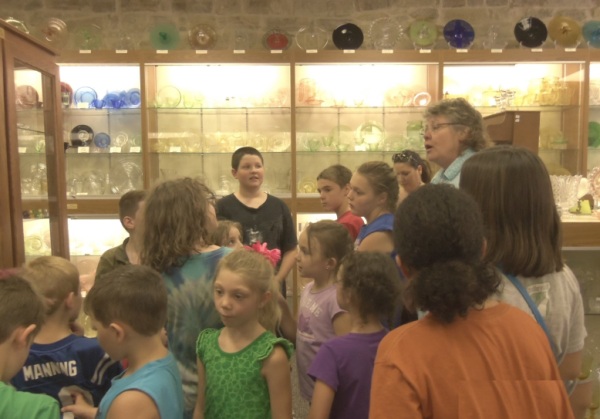 The Museum is opened Thursday, Friday and Saturday between the hours of 11:00 A.M. to 4:00 P.M., with additional hours available by appointment. Please call 620-326-6400 or 316-524-1553 for those arrangements.

---
During the 2013 NDGA Convention, Leegh Wyse (NDGA Historian) worked with groups of students to help them appreciate the history of glass. She developed materials and gave several "Children's tour" of the museum during convention.
The children then went on to making rock candy, which just like glass, needs the correct ingredients fired at the correct temperature to create a product. Yuum!
September 1, 2013: Involving the next generation....
One of the highlights of 2013 NDGA Convention was the participation by guest author Barbara Mauzy. She presented a session titled "Passing on the Passion" on Saturday and repeated on Sunday. Barbara also wrote a book "Child of the Great Depression" (ISBN #0985967870).
Are you a depression glass collector? Have you had trouble getting your children or grandchildren to appreciate depression glass and its significance in American history. Well here is the perfect resource for the young reader. Written and illustrated by well known glass author Barbara Mauzy, this book will help young new collectors to appreciate the significance of depression glass; what was the Great Depression, why did it happen, how does the glassware relate to the times, etc... That and much more is included in this great new book designed specifically for the young collector. Your purchase of this book helps to support The National Depression Glass Association and The National Glass Museum.
Remember, the holidays are coming. Contact Pam Meyer to order your copy, and perhaps a second one as a gift.