Latest News ...
Febuary 14, 2016: Valentine's Day
Have you added the 2016 Convention to your calendar?

Today is the day for lovers and includes lots of red and pink. What glassware will you use today? Is it pink American Sweetheart by Macbeth Evans or pink Miss American by Anchor Hocking or some other pink pattern?

Just a reminder that the NDGA National Glass Museum is closed during the winter months of January and February and will be ready for you in March!
January 1, 2016: Museum Hours
Just a reminder that the NDGA National Glass Museum is closed during the months of January and February. This allows for the unexpected changes in weather, as well as museum work. We will be cleaning glass and updating the displays during this time. We'll be ready for you in March!

Include a stop at the museum as you make your vacation plans for 2016 as well as the 2016 Convention in Tiffin Ohio.
December 10, 2015: End of year - already! ...
At the 40th NDGA Annual Convention in 2014 we had Ornaments made to commemorate the NDGA National Glass Museum and Paperweights to commemorate the 40th anniversary of our convention. These were made out of the beautiful Ruby Glass by the Crystal Memories Company out of Tiffin, OH and the Mosser Glass Company in Cambridge, OH respectfully. Although we have sold many of these items, we still have a number that we are storing. Since we need the space the Museum Board of Trustee and the NDGA Board of Directors voted to allow us to discount these items by 20% making the Ornaments $28.00 and the Paperweights $32.00. Just in time for Christmas gift giving or decorating your tree! We would love to ship you one or more of these beautiful pieces. The cost of boxing and postage will run $7.75. If ordering more than one item it would, of course, cost accordingly. Please contact Pam Meyer at meyerantiques@juno.com or phone at 972-672-6213 if you wish to purchase one or more.

Planing continues on the 2016 convention to be held in Tiffin, OH, MO. Check the convention page for the latest information.

You may also be doing some end-of-year tax planning. Your donations of glass for the national collection are always appreciated, as well as items for resale in the gift shop. If you're considering a cash donation, we are registered with Ebay Giving Works that allows you to make a donation via PayPal with NDGA receiving 100% of the proceeds.

And if you're an Amazon shopper, make sure to click on our link to Amazon.com so that NDGA receives a referral credit.
November 1, 2015: Happenings at the Museum...
August 5th brought a big turn out as Dennis and Ara Ann Duty of Wichita brought some of Dennis's toy trains and railroad memorabilia down to share with us, including some of the railroad china and glasses he had acquired.

On the recent September First Friday, Angie Hilt of Wellington demonstrated the Rock Candy making process. She showed how it is similar to the glass making process, using sugar insted of sand.

We had a group of Red Hat Ladies from Winfield who came for a group tour. They kept us busy answering questions and enjoying the glass. We always have extra volunteers on hand to accomodate groups so that no one goes away without being able to ask their questions ... and the volunteers are getting very good at answering questions.

We look forward to seeing you - don't forget to stop and see our museum when you're driving through Kansas.
September 21, 2015: Wellington "Fall Fest" - coming October 9-10th
This year the Wellington "Fall Fest" and Homecoming falls on October 9-10th. The Museum will be participating in this event with a beautiful basket give away. All anyone has to do to win is visit the Museum during the weekend and sign up for the drawing. The basket has a beautiful green Crackle glass pitcher and six tumblers, a Museum t-shirt and matching tote, Museum post cars and a jar of Olene Wright's famous jam. There may be other additions before the big drawing.

Also during this time we plan to hold an "Excess Inventory Sale". After processing many boxes and tubs of glass this past weekend we find that there is more gift shop inventory than we can possibly store for any length of time so let's see about freeing up space and bring in support funds. The sale will be held Saturday October 10th only from 9:30-2:00 or till customers quit coming. There is a 5K race downtown that morning and there will be lots of folks and activity on our block.

For anyone wishing to come purchase glass from the "Excess Inventory Sale" we will definitely have a lot of Royal Ruby and Forest Green. There will be many other items as well. The gift shop will also be open with all the shelves filled to the brim with wonderful finds. We hope you will make the effort to come to Wellington for all the fun and action during the "Fest". You can go on line to the Chamber's website www.wellingtonkschamber.com to find out all the activities that are planned for this special event. We hope to see you there!!

Please give me a call if you have any questions about this activity!!

Pam Meyer
meyerantiques@juno.com
(972) 672-6213
August 16, 2015: Election Results
The results of the NDGA 2015 election are as follows:

President - Danny Cornelius
Secretary - Linda Brendengerd
Director at Large - David Adams, Betty Buersmeyer, John Fields, and Cynthia Hillman
The change of the By-Laws was approved.

There were 462 ballots mailed out, and 305 returned, a 66% response by the membership.

The Nominating Committee would like to thank all those who ran for office, and all the members who took the time to vote.

All officers and administrators are listed on our page: About The NDGA.
July 17, 2015: Kansas City done - Tiffin is next!
It was a great time for everyone in Kansas City Missiouri at the 41st NDGA annual convention.

Mark your calendar and make plans to join us next July 16-17 in Tiffin Ohio. We'll be adding information to our convention page as it becomes available.
July 1, 2015: It's Almost Here!
Co-chairs John Fields and David Hollingshead and their team have been busy for months getting ready for the 2015 Convention, and now it is almost here.

In case you don't see it on ABC and NBC television in the Kansas City metro area, here is the TV commercial that will be airing.

Spread the word and encourage your friends to attend.
June 4, 2015: Are you ready?
Have you RSVP'ed for the Thursday shopping and Friday night reception (see the latest schedule)?

Have you sent in your response to the Annual Fund?

Have you looked at the latest information about Convention 2015? This page has been updated with additional information about the Live Auction and some new events on the schedule.

Have you made your hotel reservations for Kansas City?

Have you sent in your registration information?

Are you ready to have fun?

Remember - Everyone is welcome! *** Bring a friend.
April 19, 2015: Annual Fund
By now, everyone should have received their mailing of the Annual Fund materials.

This endeavor is so very important to our organization; and I hope you will take the time to join in the support of the NDGA and all of their projects.

The cover letter and Annual Fund Donation Response form can be found on our Annual Fund page.
April 3, 2015: 2015 Convention Planning Continues
Check out the updated 2015 Convention page. You'll find an updated schedule of events, the registration form for the Saturday night banquet, a listing of other attractions in the area and other updated information.

If you have not made your hotel reservation, I would encourage you to do so as soon as possible, in order to get the special NDGA rate. The Holiday Inn is our host hotel and is located just 2 miles from the KCI Airport. The Holiday Inn offers free shuttle to and from the airport and also offers free shuttle within a 5 mile radius, enabling you to shop and dine. The Holiday Inn is offering a special NDGA rate of $59.00 per night for a king and $69.00 for a double queen. The central number of the hotel to make your reservation is (816) 801-8400.

Make your plans NOW to join us in Kansas City in July 2015!
February 15, 2015: News & Views column
We're instituting a new column that we hope will both educate our readers and help out our collectors. Most (we believe this should be all, but there may be an exception) of us have collections that are missing a "part". It may be a creamer withour a sugar, a bottom without a lid, a saucer without a cup ... you get the idea by now.

Check the latest issue of the News & Views for the current requests. You'll also find directions on how to submit your input. With your help, these lonely pieces will find their lost mate.
January 15, 2015: Make your plans!
It may be January, but you should be making your plans for July. Yes, the 41st Annual Show and Convention will be here soon. John Fields and his team are busy getting everything arranged.


✔ Mark the dates on your calendar.
✔ Check out the 2015 Convention page for more details.
✔ Make your hotel reservations.
December 21, 2014: Support your Museum!
The National Glass Museumj, located in Wellington Kansas, has seen a lot of visitors this year. All of our volunteers have done an outstanding job this year greeting visitors and helping to spread the word about the museum. We had the opportunity to recognize our Volunteers and Donors at an appreciation party in early December. Thank you everyone!!!

It seems like everyone is busy with planning for the holidays, and so are we. The Museum is decked out in color for the season, and ready to welcome visitors.

The December/January issue of the News & Views has a cover story about preserving our past.The NDGA National Glass Museum for the past year or so has been taking broken pieces of glass collected from dealers at shows or just items that we find that have been damaged beyond use and turning them into pendants or earrings.

Many items can be purchased from the Gift Shop at the museum. Jewelry items along with many other items are often available at glass shows and sales throughout the country. Check out some of our selection here.

<
November 1, 2013: We're on TV!
We've all seen the ads to support Public Broadcasting. Now, here's a really good reason.

During the July 2013 Convention, television station KTWU located in Topeka Kansas, spent some time videotaping at the Convention and Museum. The result was broadcast as the October 10, 2013 program of Sunflower Journeys. It is a 27 minute program with two other stories. Our story begins 10 minutes into the program and lasts for 8 minutes. Make sure you are using supported software to view the program.

Many thanks to Pam Meyer and others for making this happen. Let us know what you thought of the program.
October 1, 2013: One year later
We did it.
It was only a year ago a ribbon cutting ceremony was held to celebrate the Grand Opening of the NDGA National Glass Museum located at 117 S Washington Ave. in Wellington KS.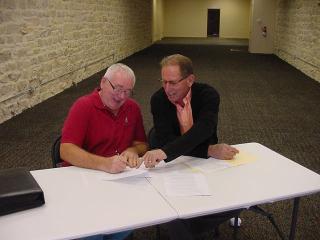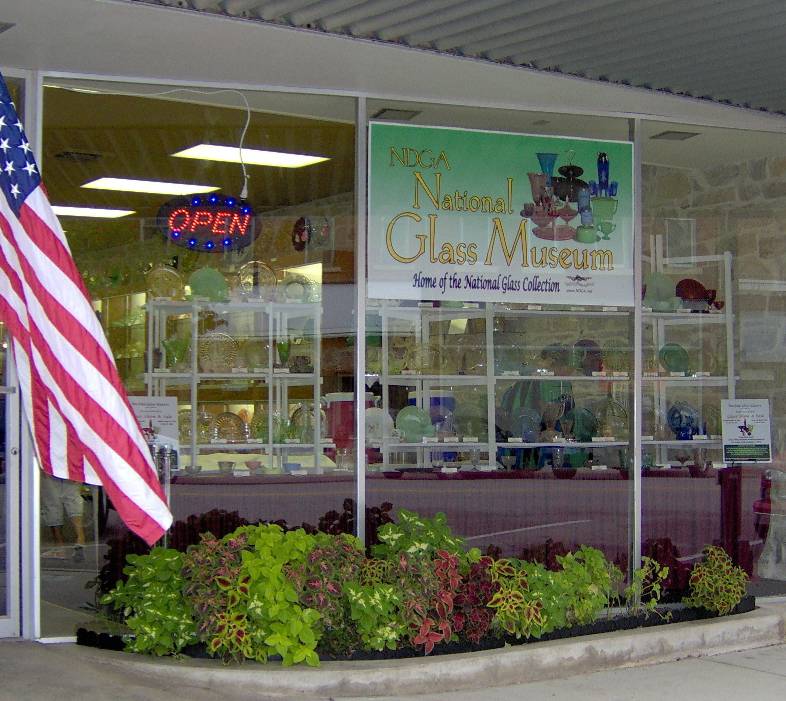 This past year has seen the Museum grow from an empty building to one that houses a collection of glass from the 1800's to the 1970's, representing a large number of the companies that were in existence during those times. It also has a working reference library for the public to use in their research of glassware. The museum is staffed by volunteers, who are always willing to help answer questions.
The museum will help in serving the two main goals of the organization, education and preservation of all American made glassware with an emphasis on the Depression Era.
NDGA is a 501(c)(3) organization with the museum opened to the public at no charge. The museum is supported by donations and proceeds from the gift shop where you may purchase glass items, along with t-shirts, tote bags and post cards. A donation jar is also available to anyone wishing to help support the museum.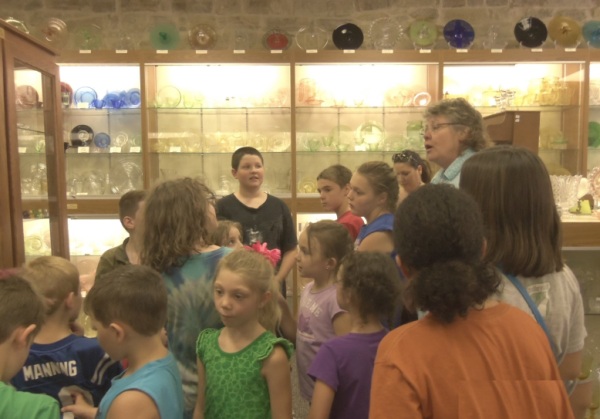 The Museum is opened Thursday, Friday and Saturday between the hours of 11:00 A.M. to 4:00 P.M., with additional hours available by appointment. Please call 620-326-6400 or 316-524-1553 for those arrangements.

---
During the 2013 NDGA Convention, Leegh Wyse (NDGA Historian) worked with groups of students to help them appreciate the history of glass. She developed materials and gave several "Children's tour" of the museum during convention.
The children then went on to making rock candy, which just like glass, needs the correct ingredients fired at the correct temperature to create a product. Yuum!
September 1, 2013: Involving the next generation....
One of the highlights of 2013 NDGA Convention was the participation by guest author Barbara Mauzy. She presented a session titled "Passing on the Passion" on Saturday and repeated on Sunday. Barbara also wrote a book "Child of the Great Depression" (ISBN #0985967870).
Are you a depression glass collector? Have you had trouble getting your children or grandchildren to appreciate depression glass and its significance in American history. Well here is the perfect resource for the young reader. Written and illustrated by well known glass author Barbara Mauzy, this book will help young new collectors to appreciate the significance of depression glass; what was the Great Depression, why did it happen, how does the glassware relate to the times, etc... That and much more is included in this great new book designed specifically for the young collector. Your purchase of this book helps to support The National Depression Glass Association and The National Glass Museum.
Remember, the holidays are coming. Contact Pam Meyer to order your copy, and perhaps a second one as a gift.