Cambridge Portia
by Mark Nye
Glass Review - September 1987
"Portia - a new service "lace on Glass" was the banner of a May, 1932 advertisement in a Pittsburgh newspaper, placed there by Kaufmann's, a local department store. Quoting from an article in the

June, 1932 issue of China, Glass & Lamps: "The ware came from Cambridge Glass Company and the Portia is among the leading acid-etched patterns on tableware and stemware made by that factory." Time has proven this to be a true statement.
Many consider it in poor taste to discuss a lady's age but in this case I feel all will be forgiven. Portia was most likely "born" in late 1931 or early 1932, based on the previously cited ad and the fact the etching does not appear in the 1930 Cambridge catalog or the 1931 supplement but is shown on supplemental pages issued in 1932. Portia remained in the Cambridge line until sometime between September, 1950

and early 1953. Thus, for approximately 20 years, Portia was one of the Cambridge "girls" and in fact, assumed the role of a "Grande Dame."
The first catalog showing of Portia included three pages with as many stemware lines: Nos. 3121, 3124 and 3126. A fourth page was devoted to items from the 3400 Line including several that are seldom seen today - the 3400/50 four-toed cup and saucer, seven items from the ball shaped line (including the 3400/108 cocktail shaker with chrome lid), the 3400/93 ivy ball and the 3-piece Frappe set No. 3400/41. Also on this same page was shown the No. 119 basket etched Portia.
Between its introduction in the early 1930's and 1940, Portia also appeared on additional stemware lines, Nos. 3035, 3120, 3l30 and Stradivari. By 1940 No. 3120 was no longer being decorated with Portia and No. 3124 stemware had been discontinued.
Portia played a dominant role in the 1940 catalog with 21 catalog pages and 354 listings for Portia on crystal blanks in its accompanying price list. This does not include the special treatments: gold encrustation on crystal blanks - 179 listings and gold encrustation on Crown Tuscan blanks - 22 listings for a total of 555 catalog items of Portia available in January, 1940!
Portia dinnerware was done using blanks from the 3400 line with the place setting including five sizes of plates from the 6" bread and butter to the 10½" service plate. Each place setting also included a cup and saucer (available in two styles), an A.D. cup and saucer, cream soup and saucer, cranberry, fruit saucer and a 5" cereal. Serving and accessory pieces included 11 different pickle, celery or relish dishes, 5 sets of salt and pepper shakers, 4 oil bottles, butter and cover, at least 11 different bowls, assorted bonbons, handled plates, platters and comports - all from the 3400 line.
Complimenting the stemware were various tumblers from the 3400 line and to serve beverages there were at least three jugs including the 3400/152 Doulton pitcher. Also from the 3400 line for use as table accessories were 5 candelabra and one candlestick.
Other lines of blanks were used in conjuction with the Portia etching but to much less extent than the 3400 line. You will find Portia on Gadroon, Tally Ho, Pristine and Martha blanks but the selection is limited to accessory and serving pieces.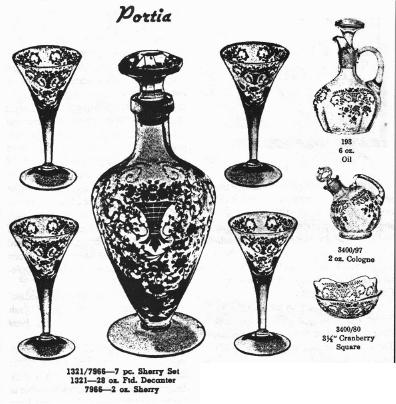 The balance of the 1940 catalog listing for Portia consisted of items not associated with specific lines and included 21 vases, 9 additional candelabra, candlesticks or epergnes, cigarette boxes, more salt and pepper shakers, tumblers and assorted items. A real challenge for a collector would be to find all 21 of these vases plus the 2 from the 3400 line. If anyone is willing to accept the challenge, I will provide detailed information on what you are looking for, including illustrations.
Nine years later, the 1949 catalog only contained 8 pages of Portia etched ware. A basic dinnerware place-setting utilizing the No. 3900 or Corinth blank was available as was two lines of stemware, Nos. 3130 and 3121. The place setting consisted of bread and butter, salad and dinner plates and the cup and saucer. Sufficient serving, accessory and decorative pieces, primarily from the 3900 line, were available for an elegant meal service.
For those who enjoyed a cocktail prior to dinner, the Pristine No. 101 32-ounce cocktail shaker and the No. 7801 4-oz cocktail etched Portia, were provided in 1949. The sherry drinkers were not overlooked - for them there was the No. 1321/7966 7-pc. sherry set, made up of the No. 1321 28 oz. decanter and the No. 7966 2 oz. sherry glass, shown at right.
While Portia in color is not unknown, it is most often found on crystal blanks. No. 3126 stemware in Forest Green and Heatherbloom are known, as is No. 3035 stemware with carmen bowls bearing the etching gold encrusted. Heatherbloom stemware etched Portia has also been reported. A Heatherblooin 3400 dinnerware service etched Portia has been seen as have sufficient pieces in Amber, Gold Krystol and Light Emerald to suggest dinnerware sets in these colors were also produced. Portia will also be found from time to time on the darker colors of Carmen and Royal Blue and in these cases will be gold encrusted. As mentioned earlier, Portia will also be found on Crown Tuscan blanks and here again, the etching will be gold encrusted.