Cambridge Daffodil
by Mark Nye
Glass Review - May 1987
"Daffodil ... newest of the Cambridge etchings. Daffodil is crystal in its loveliest, most elegant form. It is a new, fresh design, aglow with brilliant light. And the graceful shapes make Daffodil especially appealing for fine table settings. Daffodil is among the royal family of Cambridge etchings nationally advertised to help you sell."
(China, Glass and Decorative Accessories, February, 1952.)
This same advertisement appeared in the January, 1952 issue of Crockery & Glass Journal. The Daffodil etching shared a full page in both trade journals, with the rock crystal engraving Lynbrook and in the center page was the caption "Featured This Spring in Leading Magazines".


Based on the preceding advertisement, it would appear Daffodil was probably introduced to the trade at the January, 1951 Pittsburgh trade show where it shared the honor of being the "new kid on the block" with the now well-known Cambridge Square pattern. Daffodil remained in the Cambridge line only until the summer of 1954, the time of the initial plant closing.
As an active pattern, production did not resume with the reorganization and reopening the following year. In 1956. however, this etching, along with several others, was made available through a replacement service. The following comes from a 1956 Cambridge price list:
"To further improve our service to our customers, we have inaugurated another CAMBRIDGE GLASS first by providing inactive listings. This means to you that you can assure your customers that they will always be able to obtain replacements for their fine CAMBRIDGE glassware patterns. In the regular course of business we shall accumulate your replacement orders over a period of time so that we may ship such orders at least twice a year. We shall be glad to quote you prices on inactive listings upon request. However, in view of the increased cost of producing small quantities of glass, you may reasonably expect prices of inactive patterns to run 20% to 25% higher than on similar active items. Please remember that inactive DOES NOT MEAN discontinued."
The Daffodil line was a small one, thirty-three listings for flatware and hollow ware along with one stemware line and its eleven items. Price lists from the period indicate this etching was done only on crystal blanks and there is no evidence to contradict these statements. Daffodil stemware is the No. 3779 line and is a complete line, ranging from a 1 oz. cordial to the 9 oz. tall goblet. In addition to the latter, there is a 9 oz. low goblet. Daffodil was not a dinnerware line, there is no dinner or service plate; however, there is a Daffodil etched cup and saucer, bread and butter plate and an 8½" square salad plate.
Other items in the line included accessory and serving items such as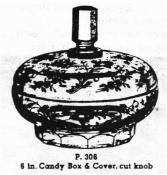 relishes, creamers and sugars, oil, bowls, comports, mayonnaise sets, vases and candlesticks. Many of these are shown in the illustrations that accompany this article.
We do not nave a Cambridge price list from 1952: however, in February, 1953 Daffodil stemware was selling for $24 a dozen retail while the cup and saucer was listed at $42 per dozen. The most expensive piece in the line was the 3400/141 jug retailing at $93 per dozen or $7.75 each. The least costly items were stemware and bread and butter plates which were in the stores at $2 each.
In the fall of 1953 these prices had risen to an $8.50 price tag on the jug with the stemware going for $2.25 each. Before you say "How cheap!" think back to what people were earning per week in 1953. You'll quickly realize Cambridge glassware was not inexpensive - and for very good reason - it was (and is) high quality ware, made to exacting standards.