Cambridge Roselyn
by Mark Nye
Glass Review - February 1987
Roselyn is a late Cambridge etching, first appearing in the Cambridge line in late 1949 or early 1950. Apparently this etching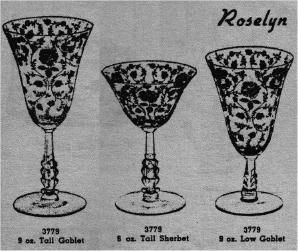 remained as a stock pattern until the time of the initial plant closing in 1954 as it is listed in the October 1953 Cambridge price list. Evidently Roselyn was a casualty of the closing, as price lists from

the reopen period make no mention of it as an open stock pattern. During 1956, at least, it was available on stemware through a matching service.
When the pattern first appeared in the 1949 Cambridge catalog, 50 items including stemware were shown. Some four years later, a price list dated October 1953 itemized 63 pieces. Compared to some of the earlier etchings, Roselyn was not a large line and as far as it is known, only one line of stemware, No. 3779, was ever decorated with this etching. The No. 3779 line of stemware consisted of nine stemmed items and two footed tumblers and Roseyln is to be found on all, including the two styles of goblets, tall and low.
No Roselyn etched dinner plate was ever made; there was however, a cup and saucer, bread and butter plate, and a salad plate. The balance of the line consisted of accessory, serving and decorative items. There is no indication Roselyn was etched on to anything other than crystal blanks.
The majority of Roselyn, other than stemware, will be found on one of three blanks: #3400, #3900 or Corinth and Pristine. Blanks from the #3400 line were used for the butter dish, three bowls, two relish dishes and two bonbons as well as the bread and butter and salad plates. When it came time to adapt the Roselyn etching to the latter two plates, Cambridge elected to use a border pattern with a single flower in the center of the plate, a most attractive use of the etching motif.
From the Pristine line, Roselyn will be found on the P.290 oil bottle, the P.306 candy box and cover and the P.101 32 oz. cocktail shaker (above, left). There were also creamers, sugars, mayonnaise sets and shakers from the Pristine line etched Roselyn.
Fifteen of the 63 items on the 1953 Roselyn listing utilized #3900 blanks. These included three jugs, Nos. 115, 116 and 118; full and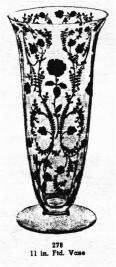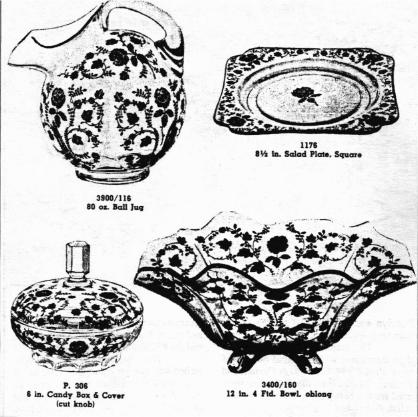 individual size creamers and sugars; three styles of celery and relish dishes, Nos. 120, 125 and 126; and the #3900 ice pail with handle.
There are vases and candlesticks etched Roselyn but not to the extent found with the older etchings. Included are vases Nos. 274, 278 (at left), 1237 and 1238; the one and two light "keyhole" candlesticks, Nos. 646 and 647; and last but not least the No. 1338 three lite candleholder.
In the fall of 1953, the following pieces etched Roselyn were selling for $105 per dozen or $8.75 each: 3900/116 ball jug, 3900/120 celery and relish, and the Pristine 101 cocktail shaker. The bread and butter plate was priced at $2 a dozen, while stemware was selling for $27 a dozen, regardless of the size, goblet or cordial for example.
Very little Roselyn is seen in the market place today and this is probably due to two factors. First, the quantity produced was most likely not very large and second, being a pattern of the early 1950's, much of what was sold still remains in china cabinets of the original owners.
We close this month with the text of a November 1950 Cambridge advertisement that featured a Roselyn etched goblet in the foreground and in the background was the Wallace sterling pattern, Rosepoint.
"Where elegance is good taste ... Cambridge etched crystal.
Do you aspire to be a perfect hostess ... with the finest of table appointments for your family and guests? Then please do consider Cambridge Etched Crystal. Of beauty rare, this exquisite American handmade glassware is truly the crowning touch for festive settings, and the most appreciated of bridal gifts. The delicate lace-like designs are etched on clearest crystal and high-lighted for extra brilliance. Choose from eight exclusive open stock patterns, available in complete settings, moderately priced.
Cambridge Bridal Place Settings --- Goblet, Sherbet, Cocktail and Salad Plate in your bride's chosen Cambridge Etching. Attractively packaged for convenient giving, and for protection.
The Cambridge Glass Company, Cambridge, Ohio"