Cambridge Chantilly
by Mark Nye
Glass Review - January 1987
"The distinctive Chantilly, a design of exceptional delicacy and refinement..."
To continue the above, taken from the October, 1939 issue of House and Garden:
"Both Chantilly and Blossom Time are exceptionally light in weight and appearance, and harmonize perfectly with any type of decoration. Available in over 150 pcs., at unusually modest prices."
Precisely when Chantilly was introduced is not known but it was sometime during late 1938 or early 1939 and by the time the previously cited advertisement was published, Chantilly was well on its way to becoming established as a major Cambridge etching, one that was to endure the test of time.
During its almost twenty years in the Cambridge line, five different types of stemware were decorated with Chantilly and there were, at consecutive times, two different dinnerware lines. In addition, there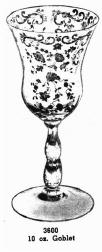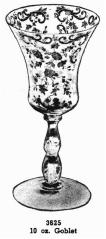 was a wide selection of decorative and accessory pieces offered with the Chantilly etching.
There is evidence to indicate Chantilly was being etched onto the stemware lines Nos. 3600 and 3625 very early in 1939. By June of that year, the No. 3600 line was being offered to the trade etched Chantilly with a gold edge, etched Chantilly and gold encrusted, as well as etched Chantilly with no further adornment.
It may have been around this same time, or perhaps not until 1940-41, that Chantilly was etched onto a seldom seen line of Cambridge stemware, No. 3138. This line, which has a molded "lady leg stem", is also known with two rock crystal cuttings and its only Cambridge catalog appearance is in a rock crystal catalog issued in May, 1940. The No. 3138/Chantilly combination has not been found in Cambridge documents or advertising and is known only through the existence of actual examples that have recently been discovered. This apparently was a short lived line, cut or etched, since little is found today.
Recent research has produced evidence that it was probably sometime in 1942 that Chantilly was first used on No. 3775 stemware. However, an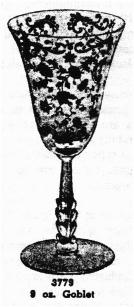 earlier date cannot, at this tune, be ruled out The last line of stemware to be introduced with the Chantilly etching was the No. 3779 and this combination was brought out sometime between June. 1949 and September 1950. It, along with Nos. 3600, 3625 and 3775 stemware, remained available etched Chantilly until the summer of 1954 and the initial plant closing. During the reopen period, only stemware from lines Nos. 3600 and 3625 were available from open stock with the Chantilly etching.
During its years in the Cambridge catalog. Chantilly was used on two major types of dinnerware: Martha or No. 3600, and Corinth or No. 3900. The first to be used was the Martha line and there was a full dinnerware line as well as accessory, serving and decorative items produced for several years. It is highly likely the Martha line was introduced concurrently with Chantilly in late 1938 or early 1939. For all practical purposes, the Martha line or shape was discontinued during the mid to late 1940's.
The Corinth line was brought out in 1949 and, in addition to other etchings, was available in a full dinnerware service etched Chantilly. Both the Corinth and Martha lines feature a 10½ inch service or dinner plate besides the regular 9½ inch dinner plate and both can be found etched Chantilly. The Corinth line remained an active Cambridge blank until the final plant closing.
Apart from the two lines just described, selected items from several other well-known Cambridge shapes or lines were used in conjunction with Chantilly. In order as to the relative number of items etched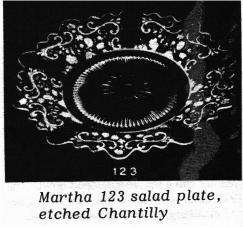 Chantilly, these are No. 3400, Gadroon and Pristine. Items to be found from the No. 3400 line etched Chantilly are primarily jugs, decanters and tumblers. Pieces from the other two lines used in conjunction with the Chantilly etching consisted mainly of bonbons, bowls and relishes.
Over the years the availability of Chantilly varied. In the fall of 1939, advertisements were saying "available in over 150 pcs." and when the January 1940 price list was issued, there were 182 listings for Chantilly. By June, 1949, there were only 83 catalog entries for Chantilly, including 32 for stemware but this increased to a total of 106 pieces being offered in September, 1950. The Chantilly etching made the transition to the reopen period but in reduced amounts. The last of the Cambridge price lists, issued in 1958, carried only 76 Chantilly listings, including the Corinth 10½ inch service or dinner plate and stemware.