Westmoreland's Thousand Eye
by Grace Allison
Glass Review - December 1986
The Thousand Eye pattern wasn't a new pattern when Westmoreland introduced their line, but basically a variation of an older well-known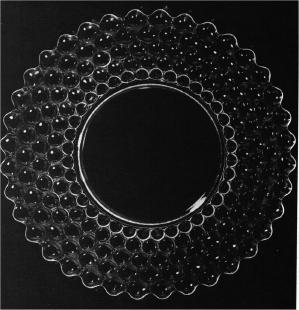 pattern.
About 1874 Adams & Co. made the Thousand Eye, or their No. 11 line, in such pieces as square plates in three sizes and an oblong covered dish; later they added pieces to this line. This company's Thousand Eye pattern may be identified by the three round knobs that form the handle on the covered dishes, as well as forming the stems of their comports.
The 1888 catalog of Richard & Hartley Company of Tarentum, Pa., illustrated their Thousand Eye Line, or No. 103 pattern, in 24 pieces including a Beehive twine holder, salt and pepper shakers, 5", 6" and 8" nappies, creamer and sugar, low covered dish and a round tall covered candy dish. All of these pieces were made in crystal, amber, blue, canary and opalescent. Richard & Hartley's pieces of Thousand Eye were scalloped at the top and base, whenever the design permitted.
As the Westmoreland Glass Company once advertised:
"Handmade 'Thousand Eye' crystal by Westmoreland has long been a favorite of the discriminating hostess. Truly American in concept and lineage, this sparkling crystal, through its simplicity of design. accentuates both beauty and utility."
This Thousand Eye line was introduced by Westmoreland in the early 1930's in crystal; and their 1934 brochure illustrated 34 pieces: - the 8" handled basket, 10" round relish (with dividers), Turtle cigarette box and Turtle ash trays, cup and saucer, 4½" and 5 in" nappy, low creamer and sugar, 7½" handled Bell nappy, 5" footed comport, salt and pepper shakers, 5" candlestick, 11" Bell bowl in the round, triangular, or oblong shape, and a 6", 7", 8½", 10", 14" and 18" plate. Also they made 9-oz. and 12-oz. tumblers, footed parfait glass, 8-oz and 12-oz tumblers, ginger ale, whiskey, footed cordial, footed wine, footed cocktail, footed sherry, footed claret, high footed and low footed sherbet and a footed goblet.
This lovely pattern was soon available in complete luncheon or dinner service, as well as several individual pieces such as the 14-inch and 18-inch torte plates, baskets, bowls, a buffet set, nappies, beverage set, and a 7 inch and 12 inch Ivy ring.
A women's group at a small church in Greensburg, Pa., purchased the dinner service in the Thousand Eye pattern at Westmoreland in sufficient quantities so that whenever there was a wedding in their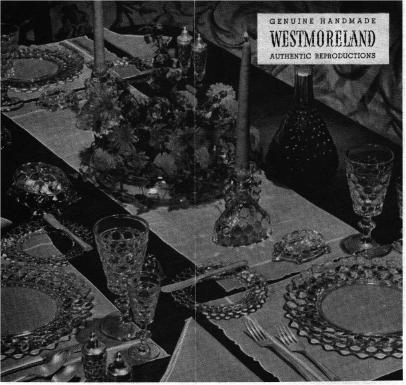 church they could serve a special breakfast. That was many, many years ago. But in more recent years the women hadn't had an opportunity to use their special Thousand Eye table service due to the change in wedding ceremonies, traditions, etc. Since the church needed an organ and had an offer to match whatever money the parishioners raised, the ladies' group of the church sold their complete set as their effort in the fund raiser. This special set is being placed in a museum at Westmoreland Glass that the Rosso family is establishing at McKeesport, PA.
The Thousand Eye pattern was made in milk white glass in the 50s when milk white glass table service was so very popular; but catalogs of the mid 60s, 70s or 80s did not illustrate the Thousand Eye pattern except in the Turtle Cigarette Box and as a Fairy Lite.
The Turtle cigarette box, or, as some called it, the Turtle covered candy dish, was made in black glass in the mid 1960s.

Mini or Fairy Lites were very popular in the 1970s and the Westmoreland Thousand Eye Fairy Lite, which was introduced in 1977, was made in ruby, crystal, multi-colored, crystal with Mother-of-Pearl, blue and brown that first year. In 1979 this company offered a Ruby, Mother-of-Pearl and Coral Fairy Lite in the Thousand Eye pattern with the notation:
"It is said that the night has a thousand eyes. Light a candle, put it in your 'Thousand Eye Fairy Lite' and count the 'eyes' reflecting into the night"