Cambridge Candlelight
by Mark Nye
Glass Review - December 1986
"Modern table linens, china and silver, require glassware that blends into the general motif of the new fashions. "Candlelight" does that perfectly. It is modern without being modernistic and classic without being entirely Grecian. Its thin but sturdy stem, flares brim, delicate etching and long curving lines are all created in the new spirit of modern table settings.
"Candlelight" also represents a new treatment in etching: lightly done, it gives a polished appearance, very different and delightful. A complete table service or a single decorative or useful piece will be highly cherished.
This pattern will be available in open stock for many years, affording opportunity for additions and replacements."
Thus we are introduced to the Cambridge Glass Co.'s Candlelight etching thru a quote from an original company advertisement dating to 1936-37. A few years later, another Cambridge advertisement had this to say about the pattern:
"A pattern of shimmering lights, aglow along lace like traceries, distinguish this lovely and tasteful American handmade etched crystal."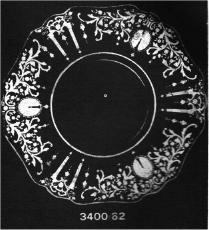 The plate etching Candlelight was created by Cambridge sometime between mid 1934 and December 1935. The earliest known reference to this etching is a patent application for the No. 3114 stemware filed on December 16, 1935. Other information has been found that indicates the pattern was put into production sometime during 1936.
The Cambridge catalog of January 1940 contained seven pages illustrating this etching and the price list that accompanied this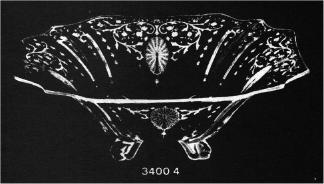 catalog had 128 listings for Crystal Candlelight. This same price list also included a listing of 99 Crystal blanks available with the Candlelight etching gold encrusted.
The June 1949 catalog contained five pages, encompassing 56 different item numbers, of Candlelight illustrations. Sometime after this, a supplemental page showing Candlelight on #3776 stemware was issued.
A price list issued in October 1953 makes no mention of Candlelight. Thus, as an active pattern it was discontinued sometime between June 1949 and October 1953.
Candlelight was etched onto three stemware lines, Nos. 3111, 3114 and 3776. This etching was first used on the Nos. 3111 and 3114 lines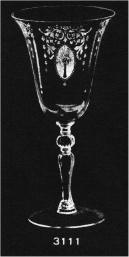 in the 1930's and this combination continued to be available into the 1940's. The No. 3776 line was introduced in the early 1940's and along with No. 3111 remained available, but perhaps not on a continual basis, etched Candlelight thru the first years of the 1950's. Several major Cambridge tableware lines were, to varying degrees, etched Candlelight but not all at the same time. During the 1930's and the early to mid 1940's, the majority of the blanks available with this etching were from the #3400 line, supplemented with a limited number of pieces from the Tally Ho, Gadroon and Pristine lines. Based on currently available information, it would appear that during the early years, Candlelight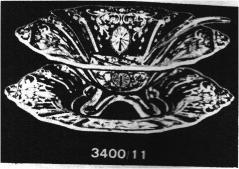 was not a complete tableware line since no 3400 line dinner plate is listed. Other place setting pieces, such as cup/saucer, bread & butter plate, and salad plate, all from the 3400 line, were available as were a wealth of accessory and serving pieces, along with decorative items such as vases, candlesticks and candelabra.
In the late 1940's until its discontinuance, the blank of choice for Candlelight was Corinth (or 3900) line. At this time, a dinner plate was produced, making it a true table or dinnerware line. There were fewer pieces of Candlelight available in the later years but enough remained to serve the needs of a hostess quite nicely.
While not known in transparent colors, Candlelight was etched onto Crown Tuscan blanks and then gold encrusted. One could spend a lifetime attempting to put together a collection of Candlelight etched Crown Tuscan vases as there were 15 different ones produced, none of which are readily found today.
It remains somewhat of a mystery why more advertising material for this pattern has not been found. It must have sold reasonably well to have remained in the Cambridge line for some 15 or more years; yet, how was it promoted? Another question regarding Candlelight is "Where is it?" For a pattern of 15 years duration, very little is seen today. It is by no means rare, it is just that it is not as abundant or easy to find as you would think it should be.
Seasons Greetings and Best Wishes for the New Year. I can't think of a nicer way to celebrate the Holiday Season than seating guests at a table set with gold encrusted Cambridge Candlelight!