Heisey Etchings
by Louise Ream
Glass Review - November 1986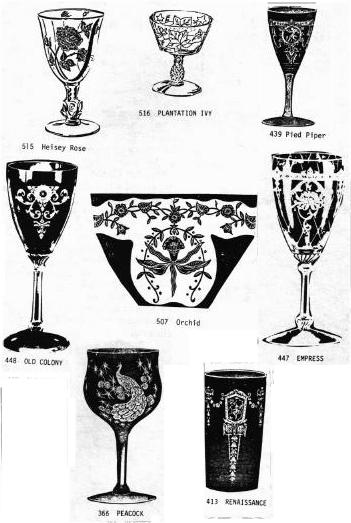 When Heisey etchings are mentioned, most people think first of the most popular etchings in the Heisey world today - Orchid and Heisey Rose. Without a doubt, these are the two most in demand. There are several reasons for their popularity, one being that they were made as recently as 1957 when the company went out of business and so were still in the China cabinets of housewives of that period. Many of those people or their heirs are still adding to sets, especially if they have learned how valuable these etchings have become in recent years.
An avid collector can find at least 233 different items in Orchid and 114 in Rose. This can keep them busy searching for many years. Books have been written on these patterns and are available from the National Heisey Glass Museum in Newark, Ohio.
There are several different methods of etching glassware, but all of them are based on the same principle - the action of acid on glass.
The different types are needle, pantograph. plate, double plate, matte and silhouette, (sometimes also referred to as deep plate). Carvings are somewhat similar to etchings but were actually done by sand blasting.
Plate etchings were by far the most popular and were introduced in 1916 and made until the factory closed in December, 1957, when the only three remaining were Orchid, Rose and Plantation Ivy. The latter was made for a fairly short time and never attained the same popularity as the Orchid and Rose.
Probably the favorite early plate etching, 1916-1928, is Peacock which was put on at least 49 pieces which included two complete stem lines, plates, jugs and a variety of sodas. It is most often seen on the #3308 Bob White stem and only occasionally on #3333 Old Glory.
Pied Piper (1922-1942) is another popular early pattern etched on about 30 items including #3350 Wabash stems, and several jugs, plates etc. This is fairly plentiful today.
Another pattern which is quite popular today is #447 Empress, made on #3380 Old Dominion stems and a variety of other items including candlesticks, for a total of 80 items. These include at least 28 items in #1184 Yeoman, a pressed pattern. Empress was one of the first etchings to be put on colored glass. These colors being crystal, sahara, moongleam, flamingo and marigold.
Immediately following in 1930, Old Colony was put into the line and was made until 1939. This was used on a wide range of patterns including four stem lines: #3380 Old Dominion, #3389 Duquesne, #3390 Carcassonne and #3397 Gascony. Pressed patterns included 59 items in #1401 Empress and 25 items in #1509 Queen Ann. Colors were crystal, flamingo, sahara, moongleam and alexandrite. In all, at least 168 pieces were etched with Old Colony etch.
These are only a few of the myriad etchings done by Heisey.
All of these etching pictures and most of the information is taken from Etchings and Carvings, a book written by Louise Ream along with Tom and Neila Bredehoft and published in 1977 by Heisey Collectors of America. It is now out of print and since the printer has destroyed our plates a lot of work has to be done before it can be reprinted.