Fenton's Robert Barber Collection
by Ferrill J. Rice
Glass Review - September 1986
The contribution made by Robert Barber to the History of Fenton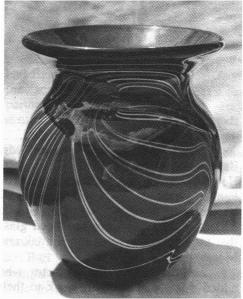 Glass is of only a few short years. Yet, to a large group of Fenton Art Glass Collectors it is a major contribution.
The Glass Art Society of America, in 1973 and 1974 met at The Fenton Art Glass Company for professional meetings and to do experimental glass blowings. Robert Barber participated in these meetings and in January of 1975 became "glass artist in residence" at Fenton.
Robert Barber did not go to Fenton as an unknown. He had been a student in Physics at the University of Wisconsin where his interest in glass grew from a need to craft special laboratory glassware. Fortunately for Mr. Barber the University at Madison had some outstanding glass artists to instruct and encourage him in his study.
After leaving Wisconsin, Barber joined the faculty at Ohio University where he taught glass blowing and ceramics. Here he remained for two years and then he established his own studio in southeastern Ohio. where he created studio pieces for sale at special shows and through gallery dealers.
Before going to work for Fenton, Robert Barber had shown in a number of exhibitions. Among his many awards are the following Jury and Purchase Awards.
JURY AWARDS
1st and 2nd Toledo Glass Nationals
4th, 5th and 6th Southern Tier Nationals, Corning N.Y.
Pittsburgh Plate Glass Foundation Award, Designer/Craftsman 1972
PURCHASE AWARDS
Brooks Memorial Art Museum, Memphis, Tennessee
Lincoln War Memorial Museum, Lincoln, Nebraska from Toledo Glass National
Beaux Arts, Columbus, Ohio, Museum Purchase Award
His work may be seen in a number of museum collections, including those of the Corning Museum of Glass and the Milwaukee Art Center.
Of all the glass made by Robert Barber probably none is more well known than "The Robert Barber Collection" produced while he was working at the Fenton Factory. That collection was reviewed for you in the February 1985 Glass Review.
Not so well known are the sample pieces made by Barber while he worked at Fenton. Mr. Frank Fenton has informed me that Mr. Barber preferred working larger pieces (note that all of the "collection" is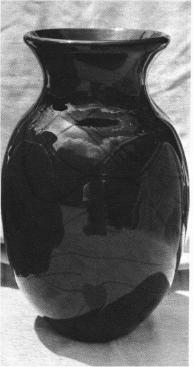 of good sized pieces).
The original brochure on the "Barber Collection" stated:
"The beauty of his work lies in part in the fluid nature of his designs and colors. Fascinating figuring, executed in both transparent and translucent materials, imparts a feeling of "in motion" to his finished glass pieces. Since the glass craftsman's duty is to coerce his lively medium into stable art forms, a knowledge of the physical characteristics of molten glass is a great advantage.
"Barber's background in physics plays a significant role in his artistic work. He feels he must make demands upon the glass without compromise. Something of his will must be communicated as a distinguishing part of each finished piece."
All this is apparent in the sample pieces that may be found of his work all from Fenton are unsigned; the only identifying marks will be their similarity to known pieces from "the collection" and will be marked with Fenton in the oval with the year 1975 or 1976.
Fenton colors from those years are most widely known also, but occasionally strange colors are found. In the author's collection (besides the large piece on last months' cover) a piece of tan with lavender and blue swirl (a slag of various glasses), a tan with orange and blue swirls, a rosalene Hanging Heart Chalice with black Hearts and Opal Foot, and the two pieces seen here. Both of the two tan pieces as well as the red piece with Hanging Hearts seen here are blown in the same mold. The red with the white pulled feather design seen here is a much shorter piece. Both red pieces seem to be the glass we now know as Patriot Red.
The jury is still out on Mr. Barbers contribution to the world of glass. He was a young man when he worked for Fenton. What his future contribution will be we have no idea. But, for Fenton collectors, his stay there produced glass that they believe rivaled the Karnak and Mosaic made in 1925 and 1926.
Fortunate is the collector who added a few pieces of his work to their Fenton collection.