Westmoreland's English Hobnail
by Grace Allison
Glass Review - June 1986
Westmoreland's English Hobnail pattern, which was made in full table service, is a well-known pattern, first introduced by Westmoreland's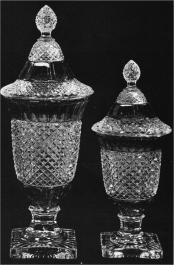 predecessor, Westmoreland Specialty Company about 1915 as their No. 555 Line and made at that time in crystal, amber, canary and light blue glass.
Minnie Kamm describes the English Hobnail or 555 Line as being "characterized by the uniform squares generally set diamond-wise, each with steep sides, the fiat top cross-scored to leave four tiny nubs standing up."
While Gene Florence describes English Hobnail in his book Depression Glass as having "a center motif with rays of varying distance from the center. Hobnail tips are more rounded" than those in the American Hobnail pattern.
A 1917 trade catalog illustrated several rose bowls, an ice tub, an oblong pickle dish, a small handled round basket, an 8" round plate, a handled bon-bon and many nappies, in flaring, round and square shapes.
Between 1925 and 1931, English Hobnail pattern was made in amber, crystal, blue, green, rose, topaz, Belgian Blue and Moonstone. Also, some pieces were made in crystal with black stems.
A Westmoreland catalog of the mid-twenties illustrates nearly 70 pieces of English Hobnail including a toilet bottle, cigarette jar with cover, a covered marmalade jar, high-footed and low-footed sherbet, ginger ale glass, covered powder box, covered candy jar, flower vase, flip jar with cover, ice tub, one-half gallon pitcher, quart pitcher, two-handled baskets, cup and saucer, pickle dish, square, cupped and round Bell nappy, 5½", 6½", 8½", 10" and 14" plates, individual footed nut, oblong spooner, footed bowl, 3½" and 9" candlesticks, flared and bell bowls, footed compotes and two-handled comport.
A 1926 company advertisement referred to the No. 555 Line as a reproduction of old Sandwich glass; but Westmoreland later advertised it as English Hobnail.
Plate No. 85 in Ruth Webb Lee's Handbook of Early American Pressed Glass Patterns (copyrighted 1931) illustrates two bowls and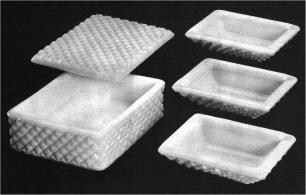 a set of salt and pepper shakers on a rectangular tray - all pieces of the 555 Line.
And, at one time this company made a miniature set called a "Master Condiment Set" which consisted of a salt cup, tall pepper shaker and vinegar cruet on a small rectangular tray.
English Hobnail crystal was made from the late 1920s through the 1970s. In the 1960s this pattern was made in Golden Sunset, amber and crystal with a flashed-red trim. During the late 1940s through the 1970s it was also made in white milk glass.
Interesting pieces in an advertisement of the 1960s included cruets, decanters, a 38 ounce pitcher, claret, wine glass, cordial and cocktail glasses, finger bowl and plate, three-part grill plate, three-part relish dish, covered cigarette box, high hat, low hat, coaster, ash tray, grapefruit dish, 2-light candelabra, three-footed candy dish, 12" celery and 15 piece punch set.
New colors - peach, light blue and dark blue (some of which were frosted) were introduced by Westmoreland during the 1970s and used in making some English Hobnail pieces.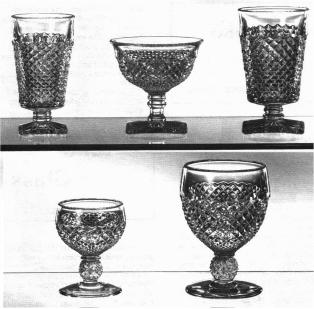 At full production of English Hobnail Westmoreland handmade 137 pieces which were available as a complete luncheon or dinner service, with round or square plates, and with a choice of round-foot, square-foot or barrel-shaped stemware, illustrated in the photo at right. With an open stock pattern of 137 items it was an interesting aim of housewives and collectors to acquire the needed pieces to fill their china cupboards with luncheon or dinner service sets, with options of accessory pieces.
A 1927 trade journal article "Water Lamps For Vari-Colored Water" describes the many types and styles of lamps that Westmoreland made at that time, such as lamps with glass bases for "water lamps" and smaller lamp bases, reproductions of Colonial and early American styled oil lamps.
These table and boudoir lamps included several of the English Hobnail pattern, some of which could be used as oil lamps or as electric lamps, since Westmoreland shipped an electric socket attachment with each lamp.
These water lamps had hollow bases which could be filled with colored water, especially the crystal glass bases. The base of the 6½" English Hobnail lamp was a good base to use as a water lamp, whether it was crystal, green, pink or Roselin glass, as it had a round, rose-bowl type area at the top of a footed base.
Westmoreland also made boudoir lamps in an 8" vanity lamp and a 9" candlestick lamp (electric only) in this pattern.
And always, over all those years, Westmoreland's 555 Line, like all their glass, was made by the same meticulous handmade methods that were used when this company began making glass nearly 100 years ago.