Milk Glass Candlewick
by Virginia Scott
Glass Review - April 1986
Since about 1974 I have been very involved in researching Imperial's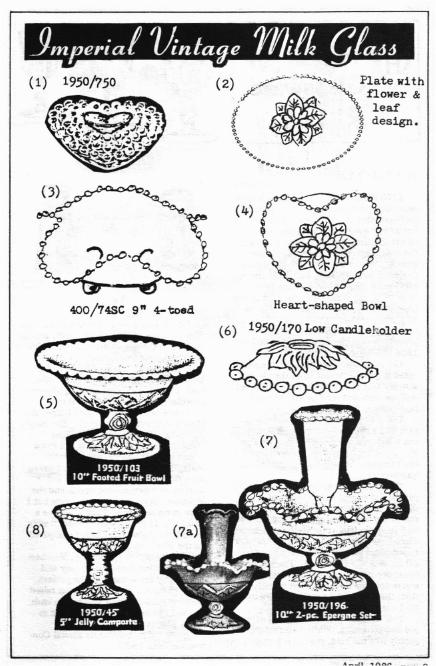 Candlewick pattern. During those years I have had quite a few letters from Candlewick collectors asking if milk glass pieces they had found could possibly be Candlewick. Most letters were accompanied by photographs of pieces. Until recently I knew very little about Imperial's milk glass and had little information. I had known for some time that the Candlewick 3-piece nested heart-shaped tid-bit or ashtray set, 400/750 (No. 1) had been made in milk glass. The smallest heart in this set was also made in milk glass in 1976 as the Bellaire Glass Festival souvenir. Inquiries to Imperial about the milk glass hearts elicited the reply that the set was made in Candlewick molds. However, it was further stated that Imperial did not consider the milk glass set to be Candlewick because Candlewick is a crystal pattern. Imperial used the number 1950/750 for the milk glass set.
Recently three Candlewick collectors have shared Imperial Milk Glass Catalog D with me. This catalog shows the 1950/750 heart set and several other pieces that resemble Candlewick. Our illustration shows five pieces from Catalog D and three other pieces that have been reported to me but which are not shown in any Imperial catalogs I have seen. It should be noted, however, that my stock of catalogs has quite a few gaps. I have copies of only two milk glass catalogs, Catalog D and Catalog F. Accurate dates for these have not been ascertained but it is thought that Catalog D was put our in the late 1940's and Catalog F in the mid-1950's.
Now to our illustration. No. 2 shows a sketch of a milk glass plate which was displayed at the 1985 Imperial Glass Collector's Society Convention. A collector sent me a picture and wrote, "The plate has a satin finish. It is the same as other Imperial milk glass pieces I have seen marked 'Original Doeskin Finish'." The plate seems to be just like Candlewick except for the flower and leaf design in the center.
Several people have reported another milk glass piece with the flower and leaf design. No. 4 is a 9" heart-shaped bowl just like Candlewick 400/49H except for the center design. One collector found this bowl decorated with pink roses and green leaves hand-painted just under the rim on the inside of the bowl. The plate and heart bowl are the only pieces reported to me which have this flower and leaf design, but it is quite possible there may be others.
No. 3 is an illustration of Candlewick 400/74SC square crimped 4-toed bowl. Only one has been reported to me in milk glass. This bowl was made from about 1937 to 1941. 400/74SC bowls have been reported to me in more colors and decorations than any other Candlewick piece. So far as we know, the 400/74SC bowl and 400/750 nested hearts were the only Candlewick molds used "as is" for milk glass.
The remaining pieces shown on our illustration are from Catalog D. No. 5, the 1950/103 footed fruit bowl, is shaped like the Candlewick 400/103 bowl and has the beaded edge, but there is a leaf design on the bottom of the bowl and the design is repeated on the foot. The stem is entirely different from Candlewick. This bowl is shown on a 1955 ad which shows Imperial's "Olden Opaque" glass in blue and custard. A collector recently sent a picture of the blue bowl.
The epergne, No. 7, is like the fruit bowl except that the edge of the bowl is crimped. The "lily" or insert vase fits into a candle cup in the bowl. This piece is shown on the cover of Catalog D with a plain scalloped top (No. 7a) and inside with a beaded top (No. 7).
A mushroom candleholder with a beaded bottom and a leaf design around the candle cup is in No. 6. This mold 1950/170 has been used twice for souvenirs for Imperial Glass Collectors Society's Conventions. The 1978 souvenirs were blue and pink carnival and the 1984 one was white carnival.
No. 8 shows a 5" jelly compote, 1950/45. The compote has a beaded top rim but otherwise shows little resemblance to Candlewick.