Jade-ite: Lions in Glass
by Uni and Keith Marbutt
Glass Review - March 1986
March is a great month for Lions and we happen to have two of them in Jade-ite. As you can see both seem to be taking it easy, hopefully our March weather will do the same.

Two different companies and two different periods of time are represented here - our lion on the left was made by the Summit Art Glass Company in 1980.
Russ and JoAnne Vogelsong formed this company in 1972 and beginning with the purchase of their first mold, planned their goals in glassmaking. In time their one mold was added to until 45 molds graced their line. Six years later the Vogelsong's arranged to purchase an additional 50 molds from retiring Joseph St. Clair, a veteran glass presser. These molds were special - among them were items from the Holly and Cactus patterns by Greentown, Fan and Feather and Chrysanthemum Sprig by John Northwood and the popular covered animals by McKee.
By August of 1980, Russ and JoAnne had expanded their line to include limited editions (an item of glass produced from a mold created specifically to fill a certain number of colors or orders. When that amount is fulfilled the mold is destroyed usually to insure the value and collectibility of the piece). These molds were made for Summit Art by the Island Mold Company of Wheeling, WV. All of the glassmaking and pressing during those years was done for Summit by various glass companies.
Russ and JoAnne carefully oversaw each production and handled all the orders themselves, but a void existed for them. It was filled May, 1984 when they opened their own factory in Ravenna, Ohio. Now able to make and press their own glass, the possibilities of glass creation and color experimentation is endless. With the purchases of additional molds from Westmoreland and Imperial only the Vogelsong's know what awaits us!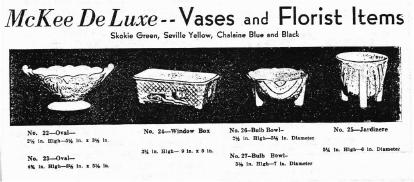 The Summit Lion was made as a limited edition in the early 1980's and is called "Oscar the Lion". Twenty-four colors of Oscar were made and then the mold destroyed. This particular Oscar is made of a rich green opaque. He is 4½" long and bears the company trademark of a V inside a circle.
Our second lion is embossed on the front and back side of this 9" x 5" rectangle planter made by the McKee Glass Co. of Jeannette, PA. This window box was produced in the early 1930's and made in several colors including "Skokie Green". The company's trademark of "McK" inside a circle is stamped on the bottom. These planters are not easy to find in good shape but well worth the effort.