Jade-ite: Westmoreland 's Mint Green
by Uni and Keith Marbutt
Glass Review - December 1985
Glass doesn't always have to be `old' to be collectible or sought after. Such is the case with Westmoreland's "Mint Green" milk glass, circa 1979.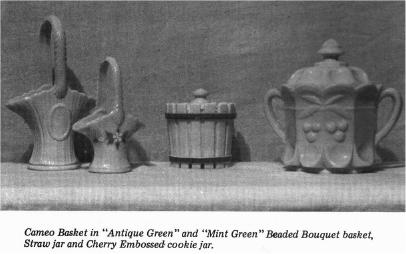 Now closed, the Westmoreland Glass Company, founded in 1889, produced beautiful handmade glassware for nearly 100 years. Famous for their milk glass, this pastel green shade of milk glass was produced and sold for only two years, 1979 and 1980.
Unique in color, "Mint Green" was not Westmoreland's first attempt to create a green milk glass. In 1970, Master Chemist Dwight V. Johnson blended his chemicals to produce a slightly darker, more olive color called "Antique Green". He adjusted his formula for mint green in 1979.
Due to glass trends and public taste, mint green just wasn't appealing enough to survive the market - thus it's very short run.
Their Mint Green line was extensive! From animals to the traditional 1881 Grape, Westmoreland's quality shows in each piece. Items include:
ANIMALS: small butterfly, large butterfly, duck, Love birds, owl, robin on nest, swallow on branch.
ASHTRAYS: Ball, 4½" square English Hobnail, 8" square English Hobnail, 5" round, 6½" round.
BEADED BOUQUET: (A decoration of hand applied small white flowers) egg, bud vase, covered candy, heart plate, treasure chest, straw jar, jewel box, cameo covered candy, basket, heart jewel box, 6" vase, sweetmeat
BELLS: large Beaded Bouquet, small Beaded Bouquet, small bird
DOGWOOD: (A decoration of Dogwood Flowers) - heart plate, puff box, jewel box, trinket box, treasure chest, covered candy, egg, vase, basket, bud vase.
LIGHTS & LAMPS: "Mini Lights - Candle/Glass globes atop a glass pedestal: Butterfly, Del Rose, Dogwood, Birds, Strawberry, Beaded Bouquet, Christmas. "Picture Frame Mini Lite"/Beaded Bouquet. "Fairy Lite"/Beaded Bouquet. "Mini Electric Lamps"/Beaded Bouquet, Beaded Bouquet Tiffa w/Scallop edge, Roses Tiffa w/Scallop edge, Beaded Bouquet picture frame.
MISCELLANEOUS: Beaded Bouquet Slipper, Beaded Bouquet decorative egg.
PLAINWARE: Candlestick, 2 styles, cupped bowl, sweetmeat, covered candy, bud vase, covered sugar, Dogwood Embossed basket, hands, covered honey, cookie jar - Cherry Embossed, Open Lace Edge bell bowl, Open Lace Edge candlestick, Shells & Dolphin covered candy.
1881 GRAPE: puff box, 9 and 15" vase, 3 piece Epergne set, candlesticks, oval bowl, crimped candy, handled nut, snack server.
The following list of items we've obtained but ARE NOT in the Westmoreland catalogs as the previous items are. We think most are experimental pieces although some could be catalog supplement or dealer incentive items:
5" round ashtray w/yellow roses
1881 Grape crimped candy w/Dogwood decoration
1881 berry bowl
1881 10½" dinner plate
1881 8½" luncheon plate
10½" plate w/Harvest decoration
8½" plate w/Christmas decoration
Tid-bit tray
Plain treasure chest
Yes, Westmoreland also made "Soft Mist" but we'll tell you about that later.
Needless to say, Westmoreland glass in any color is becoming increasingly harder to find at their once reasonable prices. To date, we've been notified twice to "Get it NOW before it's GONE" and, thanks to Trudy Sparks, a past Gift Shop Manager at Westmoreland, we GOT IT! ... but not one of each, so we are still searching.