McKee Jades
by Uni and Keith Marbutt
Glass Review - October 1985
1853 - one hundred and thirty-two years ago! It was during that year that the McKee & Brothers Glass Co. was founded in Pittsburgh, PA. Then in 1888, thirty five years later, the company moved to a smaller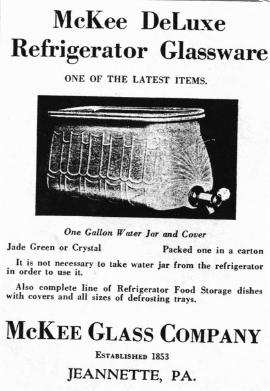 town which took its name from the wife of McKee's founder, Jeannette, PA. In 1903 they reorganized and became known as The McKee Glass Co. By the 1930's our country was in the midst of the Depression. These were the years that the majority of McKee's wares were made.
There were two shades of Green Opaque. "Jade Green" was first in 1930 and followed by "Skokie Green" in 1931, the latter being slightly darker in appearance. Both types are very opaque and often firey around the edges. Nearly every item bears the company trade mark, a capital M, small C, capital K, inside a circle.
Our jades had a production span of approximately ten years and hundreds of handmade wares were produced. McKee delved into several glassware fields, i.e. dinnerware, kitchenware, occasional pieces, specialty items, etc. It is McKee's kitchenware that we'll list:
CANISTERS:

48 oz. Square "Utility": coffee, Flour, Sugar, Tea w/tin lids
28 oz. Square "Caddy": Coffee, Tea, Sugar, Cereal w/tin lids
64 oz. Round w/glass cover: Cereal
48 oz. Round w/glass cover: Coffee
32 oz. Round w/glass cover: Sugar
16 oz. Round w/glass cover: Tea
48 oz. Round Column w/tin lid
20 oz. Round Column w/tin lid

BOWLS:

Beater Bowl
3-piece Deluxe Mixing bowl set: 9", 7½", 5"
4-piece Mixing bowl set, rather bell shaped:
Egg beater bowl w/lip
4½" Cocotte (nappie)
6" low spouted bowl
4½" Swirled cracker bowl
11½" Deluxe mixing bowl

MEASURES:

Quart batter jug
2 cup pitcher, plain
2 cup pitcher w/flower design on bottom
1 cup 2-spout measure, plain
1 cup 2-spout measure w/flower design on bottom
4 cup tall measure without handle

REFRIGERATOR DISH:

7" w/flanged lid - flower design
6" w/flanged lid
4" x 8" rectangular
4" x 4" square
Square box w/glass lid

SHAKERS:

4½" Square: salt, pepper, sugar, flour, soap powder
4½" Modernistic, arched sides: salt, pepper, flour, sugar, spice, S, P

REAMERS:

Sunkist - large, heavy, embossed w/Sunkist
Lemon - small, footed, pointed center
Orange - small, footed, embossed "McK", rounded center
Grapefruit - large w/flat center
Orange - large, footed, unembossed with large, rounded center

MISCELLANEOUS:

Oblong baker
Round salt box w/ metal hinged lid
Pedestal cake plate
Oblong salad or Ice Cube tray
Rectangular "Drippings" box
Round, covered coaster holder w/6 coasters
St. Dennis cup & saucer
Refrigerator water jar & cover
Quarter pound butter box and deep cover
Pinch jug w/stopper
Rolling pin, 2 styles
10½" cake icing tray
Tumbler
Footed Waldorf egg cup or orange juice
Small custard w/design
Small custard without design
As you can see McKee offered a wide variety of kitchen accessories. They really catered to the 1930's modern woman! This glass, and their other pastel opaque wares were the rage of the country then. Its popularity helped McKee survive the lean years during the depression.
Keep in mind that this is not a complete listing. McKee was known for being a "specialty company" and produced many special items for others. We'll cover that subject in a future article.