Fry Glass
by H. C. Fry Glass Society
Glass Review - September 1985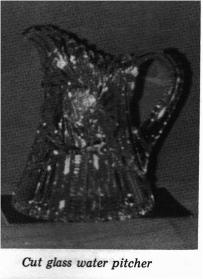 What is Fry glass? This is perhaps the question we hear asked most often. Many collectors and dealers overlook pieces of Fry glass due to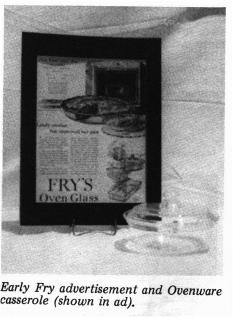 the lack of published information. Therefore, a study club has been formed for the purpose of researching and preserving a history of the company and the glassware.
The H.C. Fry Glass Company was chartered in Pennsylvania in 1901 as the Rochester Glass Company and in 1902 changed its name to that of its founder. Henry Clay Fry was well established as a fine quality glassmaker, having worked in the glass industry since 1856. Mr. Fry and his colleagues chose a site high on a hill in Rochester on which to build a new modern glass factory.
In the early years the Fry company produced outstanding cut glass and blanks (pitcher, above left). One such piece was the Rochester punch bowl which stood nearly five feet tall and was the largest piece of cut glass of its time. As the market for cut glass diminished, the company introduced new lines of wares - the most well known being its ovenware (below, left), first lime green and later opalescent. Ovenware was advertised as "a dish for every oven use." The line included pie plates, cake plates, casseroles of every variety, custard cups and many other items. These pieces were all embossed with the FRY name and the mold number and size. Pearlware serving pieces including meat platters, relish dishes, coffee and tea pots, and snack sets, are opalescent and unembossed.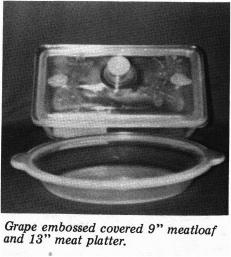 A third line of opalescent ware was a fragile art glass commonly called "Foval" (pictured at right). This superior quality glass was sometimes trimmed with delft blue or jade green stems, bases, handles, as well as Rockwell silver decorations. This art glass was unsigned. Concerns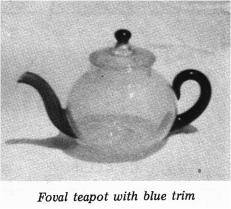 among collectors center around some unverified "false" Fry pieces that are signed.
The Fry company also produced a fine line of tableware (picture at end of article) in a wide range of colors, such as rose, blues, greens and other hues. The quality of this colored glass compares to luncheon ware of other companies of the same period and its difficult to recognize.
Numerous other glass products were made by Fry. Among these were laboratory glass, reflector lenses, gasoline pump globes and insulators.
The company closed in 1933 due to economic pressures. In its brief history the Fry Glass Company had produced glassware of outstanding quality.
The Society is looking for materials in the form of letters, catalogues, ads and company memorabilia for a projected book.