Jade-ite
by Uni and Keith Marbutt
Glass Review - September 1985
One often wonders, "Where do I begin?" when approaching a subject. In this case, the subject is a favored topic in many of our conversations - Jade-ite!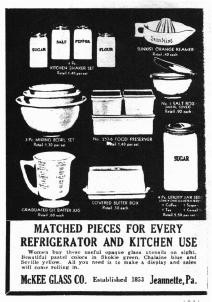 The term "Jade-ite" or "Jadite" is used by collectors to describe the type of glass they collect Actually, it covers a wide variety of colors, shades and textures. Basically, Jade-ite is a green milk glass, but, be it light or dark, opaque or semi-transparent, we tend to use this term to cover it all. Let's talk about their differences and their makers.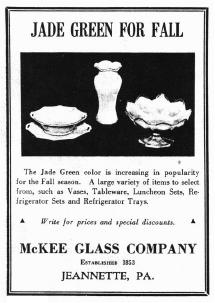 The kitchenware of the 1930's is the first type that comes to mind when jadeite is being discussed. Although many companies produced this glass prior to the Depression Era, it was during those years that Jade-ite really flourished.
The McKee Company of Jeanette, PA introduced their line of "Skokie Green" Kitchenware in 1931, though their "Jade Green" tableware and occasional pieces were brought out in 1930. Skokie Green is a shade lighter than Jade Green and, of course, being Kitchenware, was made thicker to endure its use. Later on kitchenware was produced in Jade Green too. McKee also blended the color Jade Green with black. A very attractive combination resulted: the luncheon set "Clico". McKee marked nearly all of its glass with their trademark "McK" inside a circle.
The Jeannette Glass Company also of Jeannette, PA introduced their line of opaque glass Kitchenware in 1932, calling it "Jadeite". Nearly identical to McKee in coloring, Jeannette's Jadite was primarily used in kitchen items. A few experimental pieces were made from some of their dinnerware moulds but evidently did not prove to be popular. The Jadite came in two distinct shades, light and dark, and except for a few of the earlier items, none were marked with the company's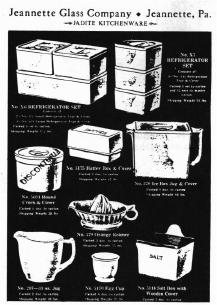 trademark, a "J" inside a triangle.
Another company popular for its kitchenware and accessories, as well as their vast production of dinnerware lines, is the Anchor Hocking Corporation of Lancaster, OH. Introduced in 1945, Anchor Hocking called its new "Heat Resistant" tableware line "Jade-ite". It is easily identified. Nearly every item is clearly marked "Anchor Hocking", "Fire King" or combinations of the two. Its color doesn't vary, although some of their mint green milk glass will be firey around the edges, possibly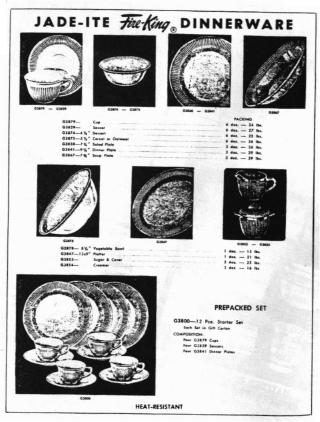 due to the temperatures at which it was made. When compared to the jade-ites of other companies its particular coloring and thickness holds no likeness.
Not many companies could have produced a finer occasional or accent glass than the Cambridge Glass Company of Cambridge, OH. Their colors are rich and luxurious. They introduced "Jade" in 1924, a soft green opaque that almost leans toward blue. In 1927 Avocado, a name pinned by collectors was produced. This color appears more yellow or pea green. Both colors produced lovely items, some decorated with gold or silver.
As for dinnerware lines, the Fenton Art Glass Company of Williamstown, WV and the New Martinsville Glass Manufacturing Company of New Martinsville, WV were front-runners. Their "Jades" are a more mellow, semi-transparent green. In 1928 Fenton described theirs as "Translucent Jade" while in 1931 New Martinsville simply called theirs "Jade". Both companies combined their Jade with black glass which proved successful.
The lamp category goes to the Mantle Lamp Company of America, Alexandria, IN (makers of Aladdin Lamps) and to the Houze Glass Company, Pt. Marion, PA. Aladdin lamps were produced during the 20's and 30's. They called their glass "Moonstone Art Glass" which came in Opaque Green or Jade. During the same time period Houze produced their lamps in "Jadine", frequently putting their trademark "houzex" in the base.
Children's items, pots and vases? Akro Agate of course! The Akro Agate Company of Clarksburg, WV, famous for their marbles, manufactured a dozen different styles of children's dishes, pots, vases, puff boxes, etc. No official color name is known but their many shades of opaque jades are full and bright. Most items are marked with a Crow flying through an A with a marble in its beak and claws.
Depression Era companies weren't the only ones to produce our glass. Jade-ite, and its forms, has been taken up by a number of companies since, some in fact, are producing it today. Companies like Summit, Boyd, Mosser, Kanawha and Westmoreland have not only produced Jade-ite from old moulds, but have created new moulds too.
By no means have we attempted to list all the areas that a Jade-ite producing company experimented in. We have tried to mention what the companies were or are most noted for. Nearly all the companies mentioned delved into other fields of glass, i.e. accessories, lamps, children's items, things made popular by other companies - no harm in trying! We are still learning- our search goes on.
No matter how you spell it who made it or what shade it is, each item is collectible and a treasure for tomorrow.