Westmoreland's "Princess Feather"
by Grace Allison
Glass Review - July 1985
The name "Princess Feather" is an old pattern name. As early as the mid-1860's Bakewell, Pear and Company produced a pattern in crystal and opal which they called "Rochelle," and which they later called "Princess Feather". And, at some time, Sandwich Glass also made a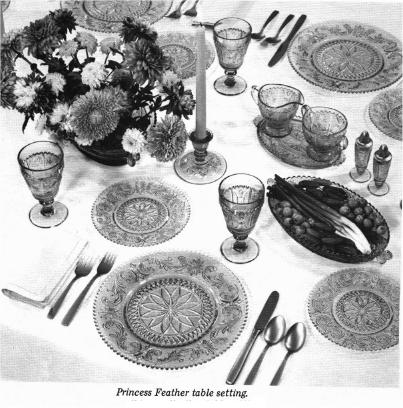 "Princess Feather" pattern.
In Pattern Glass Primer, Mollie Helen McCain lists the U.S. Glass Company as a producer of "Princess Feather" or "Rochelle" or "Lacy Medallion" (all the same pattern) during the 1880's.
Just when Westmoreland Glass Company first introduced their "Princess Feather" pattern to the public has not been established. However in Hazel Weatherman's book Colored Glassware of the Depression Era No. 2 a page from Westmoreland Glass Company's 1924 catalog is illustrated, showing their No. 201 line - later known as "Princess Feather".
Westmoreland's Princess Feather definitely differs from earlier versions of this pattern, as can be noted by glancing at the covered candy dish illustrated on page 50 of American Pressed Glass and Bottles by Albert Revi and the cream pitcher illustrated on page 32 of Minnie Kamm's A Third Two Hundred Pattern Glass Book and then checking the accompanying photographs.
The background of the Westmoreland Princess Feather pattern consists of tiny dewdrops arranged in horizontal rows. On top of the dewdrops is a feathery scroll, a flower similar to a Daisy and a cluster of "pleats" of graduated lengths and pointed at each end (as the pleat is described by Minnie Kamm). In other words, the feathery scroll is flanked by a flower design on one side and a cluster of "pleats" on the other side.
The 1924 catalog that illustrated Westmoreland's Princess Feather line, announced this pattern was being made in pink, aqua, green and crystal and illustrated such items as 5" and 6" round nappies, flat puff box, 4½" finger bowl, 12" round nappy, 6½" finger bowl plate, 5 oz. ginger ale glass, 10 oz. ice tea tumbler, 8 oz. footed tumbler, high footed champagne glass, 3 oz. high footed cocktail glass, high footed sherbets, wine goblet 4½" lip-edged grapefruit dish, 8", 10½" and l3" plate, footed sherbet and 8oz. footed goblet.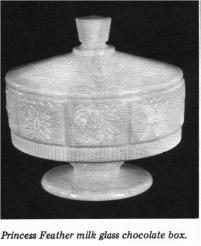 But it was not until 1939 that Westmoreland advertised their No. 201 line under the name Princess Feather.
Over the years new pieces were regularly added to this pattern and during the 1960's it was reissued in the color Golden Sunset crystal in table setting pieces - 10½" plate, 5" bread and butter plate, creamer and sugar set on a tray, cup and saucer, 8 oz. goblet, wine glass, divided relish tray, wine decanter, salt and pepper shakers and a console set which consisted of low footed candleholders and a lip-edged oval bowl.
Note the other accessory pieces of Princess Feather made in Golden Sunset crystal as illustrated in the catalog page below, as well as the photo of the round covered chocolate box (right) in milk glass. The lid of the chocolate box was apparently made with a plain lid as well as with the Princess Feather pattern (or was the pattern on the "inside" of the lid and doesn't show through on milk glass).
Princess Feather pattern pieces of milk glass should be available to the collector and could have been made during the post war years when milk glass was so popular.