Greentown Smoker's Set
by Jerry D. Garrett
Glass Review - February 1985
The Indiana Tumbler and Goblet Co. pressed glassware to be sold to wholesale houses, jobbers and chain stores. They also sold glassware to companies to be used as premiums. Greentown glass was not, generally, sold to the public by the factory.
Butler Brothers was a wholesale house based in Chicago, IL. They purchased all types of merchandise, direct from the manufacturers and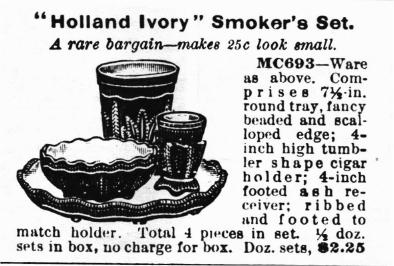 printed catalogs listings all the items they had available. These were sent out to chain stores across the country, as well as to local merchants nation-wide. Butler Brothers purchased Greentown glass to sell in their catalog.
Many times a smart salesman would use his imagination and combine two or three items, give it a different name and make it more marketable to "meet the times."
In the 1902-1903 Butler Brothers catalog, this ad made its appearance. "Holland Ivory" Smokers Set. As the ad states, it makes 25¢ look small as the merchant only paid 18¢ for the 4-piece smoking set. Of course he had to purchase a dozen sets, which came in two boxes, but there was no charge for the box.
How much imagination can one have? The 7½" round tray, fancy beading and scalloped edge, was just a chocolate Cactus pattern plate. The 4" high tumbler shaped cigar holder was just what they said - a chocolate Cactus tumbler. The 4" diameter footed ash receiver was a chocolate Cactus sauce dish, while the ribbed and footed match holder was, in reality, a chocolate Cactus toothpick.
At today's prices the smokers set would sell for $250-$300. How's that for "ingenuity?"