Fostoria Sun-Ray and Glacier
by Glenita Stearns
Glass Review - February 1985
In 1935 Fostoria introduced their lovely SUNRAY pattern. At the same time their lovely GLACIER was manufactured in the same molds, with the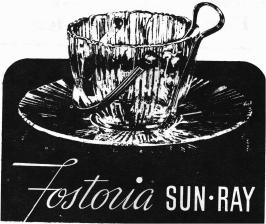 ribs frosted in their Silver Mist treatment. Either pattern set a beautiful table and were made of heavier than average crystal. Sunray and Glacier were less expensive than some lines of Fostoria, a consideration in those depression days, and found favor with many partly for this reason. Today either pattern is difficult to find. They were discontinued in the mid-forties.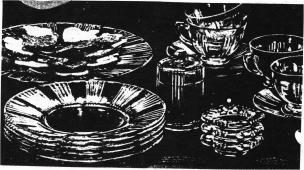 Over 80 pieces were manufactured in these patterns, and in 1935 the following prices were advertised: Goblets, $3.85 per dozen; cream soup and underplate $9.30 a dozen and 6 inch plates were $3.75 a dozen.
A few pieces of Ruby Sunray were produced. These include the ice bucket, two, three and four-part relish dishes and 16, 12 and 11 inch plates. Though probably made in other colors of the era (azure, green and amber for instance) I have never seen a piece in any of these colors.
One of the most delightful of the pieces in these patterns is the condiment set. Consisting of two cruets and two covered mustard jars with spoons, the pieces sit on an 8½" tray shaped to hold them, with the Sunray pattern on the tray as well as on the condiment pieces. A four inch tall salt and pepper set were made, also a 2¼" individual set and a salt dish.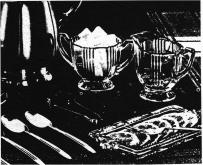 A covered cigarette jar and square ash trays were available in this pattern, and a decanter, just over 9" tall. It comes on a 10" oblong tray and six two-ounce whiskey tumblers made up as a very attractive bar set.
As with many Fostoria patterns, unusual pieces can be found. The 4" high bowl with two handles and a lid is a great Onion Soup bowl, though it was advertised as "also suitable for a candy dish." That would seem a more practical purpose.
The cheese or butter dish is 6" long and just under 3½" wide, it's squarish shape complementing the straight lines of the Sunny pattern. The two quart jug can be found with or without an ice lip, and do notice the unusual shape of the stemware.
Either Sunray or Glacier are fascinating patterns to collect. Part of the fascination being in the searching out of these patterns so often unrecognized.