Fenton's "Barber Collection"
by Ferrill J. Rice
Glass Review - February 1985
The years 1975 and 1976 brought some great glass to collectors. Every glass house did their utmost to add their bit to the remembrance - both for the time past and for the future - as America celebrated the Bi-Centennial. The Fenton Art Glass Co. was not to be outdone. In 1975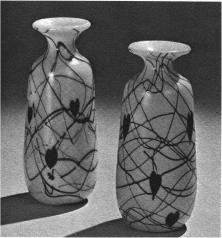 they introduced what was called "The Barber Collection". Introduced in a limited number of pieces in each of four items, two of the introductory pieces were "Hanging Heart" pattern.
Originally used by the Fenton Company in 1925, at the height of the Art Nouveau period, the company had not used this method of decorating glass for fifty years. Each piece is "a consummate expression of glassmaking artistry". The "heath" and "trailing vines" are actually hand applied glass that is added to the piece by a skilled worker. The tool used to add this glass is somewhat like a crochet hook and the worker shapes the hearts and strings the lines of glass around the shaped object. Upon reheating this decoration of glass becomes a part of the total glass object.
The two "Hanging Heart" vases in Collection I were made in bittersweet (shown below and at right) and turquoise. Collection II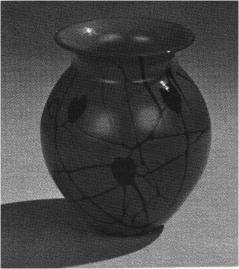 included three vases in "Hanging Heart" pattern. One was an 11" custard vase decorated with blue hanging hearts and sepia filigree (shown at left) while the other two were custard and turquoise iridescent with black hearts and trailing vines. These two "Barber Collections" were limited production; but the January, 1976 catalog included two pieces in each of turquoise and custard "Hanging Hearts". Included in each color were the 20¼" Mariners Lamp, a 70 oz. pitcher, an 8" square vase, and a cruet. The custard then had the 5" rose bowl, a barber's bottle, tall basket, 6" vase and a 5" vase. The turquoise had the small 5" basket, a 7" square vase, 4" vase, bottle and 4" rose bowl. Thereby a collector could have twenty pieces of "Hanging Hearts" made by Fenton in 1976 and have 5 pieces in turquoise and the same five pieces in Custard and another five pieces of each color, all different.
The footnote on the catalog page declared a third collection would be presented in a few months. But the next collection never appeared. Apparently the world was not prepared for this triumph of the glassmaker's art. "Hanging Hearts" was not a profitable venture and the company was forced to discontinue its production.
Today, of course, some of the most sought after glass is that "Hanging Hearts" or "Trailing Vines" in Karnak Red, Antique Green, Oriental Ivory and Turquoise Blue made by the Fenton Art Glass Company, circa 1926. A Fenton collector dreams of owning a piece of Karnak Red. But, truthfully, Oriental Ivory is the most difficult to find. Very few people have even seen a piece of this elusive glass made by Fenton. Or maybe it is that, unlike Karnak Red, it is not a color that is so easily attributable to Fenton.