Erickson Glass 1943-1961
by Barbara Shaeffer
Glass Review - January 1985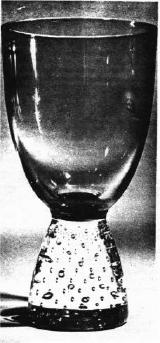 Erickson glass was always made of the finest lead based metal of silica and potash. In general, it was a heavy cased glass. Carl Erickson's (1899-1966) artistic creations were designed in many forms, sizes and colors. One of his characteristic used was the bubble design for bases as seen in the photo. Most were clear bases but some colors are known.
Erickson glass was hand-formed so no two pieces could be alike.
Many honors were bestowed on Carl Erickson of Bremen, Ohio, and his glass. Many dignitaries were presented pieces or made special orders.
The Smithsonian Institution of Washington, D.C. commissioned him to duplicate complex glass fixtures in old fashioned laboratories. The Old Sturbridge Museum in MA ordered copies of some of its famous glassware pieces. Other museums which have used his duplicating skills include Metropolitan Museum of Art, Corning Museum of Glass and the Ohio State Historical Society Museum.
Many of his glass creations have been selected for display at several distinguished museums. In 1953 a traveling display of his glass was shown throughout Europe and the United States.
His dream of contributing to modern art glass was so firm that as retirement loomed ahead for him he refused to pass the Erickson line to hands that might cheapen the product by lowering the standards of production so he dismantled his factory in 1960 and sold the plant in 1961.