More on Colored Candlewick
by Virginia Scott
Glass Review - January 1985
In my December, 1984 article, I related that 1937 to 1941 Candlewick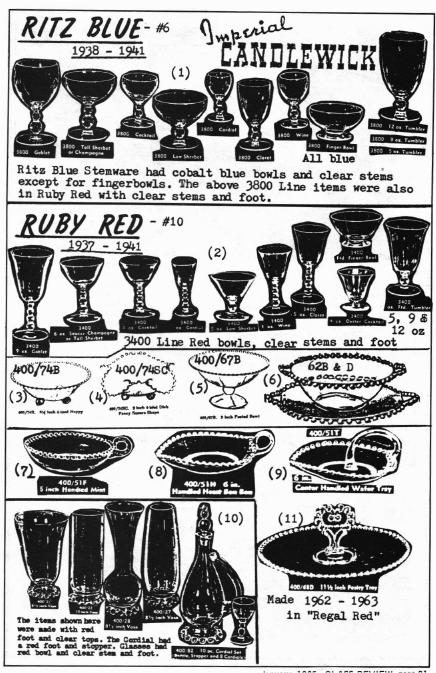 Price Lists have recently been discovered in the flies of Imperial Glass Corporation by Mary M. Wetzel, a Candlewick researcher and author. These price lists have proven to be a valuable source of new information about the production dates for and the Candlewick items made in two shades of blue and in red. Viennese Blue, a very light blue was discussed last issue. Ritz Blue, a cobalt color, and Ruby Red, a rich ruby, will be discussed here.
RITZ BLUE CANDLEWICK
In 1983, after attending the Imperial Glass Collectors Society Convention, I went by the factory. There I saw for the first time three sizes of 3800 Line Candlewick stemware with cobalt blue bowls and clear stem and foot. These items had been found in the old glass stored in the Imperial basement "morgue" after Imperial went into bankruptcy.
The newly-found price lists contain information about the cobalt blue Candlewick. The official name is "Ritz Blue" and the color is identified on the lists by the prefix No.6. Ritz Blue Candlewick was offered only in 11 items of 3800 Line Stemware on the lists. Ten items had blue bowl and clear stem while the finger bowl was made in solid blue. The primary production date was 1938, with one additional item added in 1939 and one in 1941. The listing follows:
2 bead stems: goblet, tall sherbet, cocktail, wine and cordial.
1-bead stems: 5 oz, 9 oz. and 12 oz. footed tumblers.
No beads: finger bowl, all blue.
Claret added in 1939
Low sherbets added in 1941 (see No. 1)
It should be noted here that a few other items of cobalt blue Candlewick are known. At the Candlewick Seminar held at the Imperial Glass Collectors Society convention in 1983, a cobalt plate with a center metal handle was displayed. It is also known that 400/450 nested sets of Candlewick ashtrays were made at some time. We have no official information about these at this time.
RUBY RED CANDLEWICK
Collectors have known about red Candlewick for quite a few years. Both 3400 Line and 3800 Line Candlewick stemware has been found as well as items in solid red. The price lists give official information about the pieces made.
Red Candlewick made during 1937 through 1941 is identified as Ruby Red. No. 10. 3400 and 3800 stemware lines were made with Ruby Red bowl, clear stem and clear foot. Several items were made in solid red and some crystal items were made with a red foot. The No. 10 prefix was used in front of the 400 line number for all red items; example: 10/400/74B. When the item had a red foot, the prefix was put between the 400 line number and the item number; example, 400/10/21. A listing of Ruby Red items follow:
STEMWARE:
3800 Line: 11 items. The same 11 items shown on the illustration for Ritz Blue were made with Ruby Red bowls (see No. 1).
3400 Stemware: 12 items. 4-bead: goblet, tall sherbet, wine, cordial, cocktail, claret. 1-bead: low sherbet.and 5 oz., 9 oz. and 12 oz. tumblers. No beads: finger bowl and oyster cocktail, both all red (see No. 2).
ALL RED:
400/62B 7" nappy, handled; 400/62D 8½" handled plate (no. 6); 400/67E 9" footed bowl (no. 5); 400/74B 8½" bowl; 400/74SC square crimped bowl (no. 3 and 4).
CRYSTAL WITH RED FOOT:
Vases: 400/21 8½"; 400/22 10"; 400/27 8½" bud; 400/28 8½".
CORDIAL BOTTLE:
400/82 with red foot and stopper. Also offered as a 10-piece Cordial Set with 8 3800 cordial glasses (see no. 10).
Collectors have found at least four other Candlewick items in red or red and crystal. The 400/68D 11½" pastry tray (no. 11) has been found by quite a few. Myrna Garrison, a Candlewick researcher, has a 1962 Imperial brochure which shows four Imperial handled trays each in different colors. The Candlewick 400/68D tray was shown in "Regal Ruby". Mary Wetzel found a note in Imperial files that the 400/68D 12" center handled tray in Ruby was discontinued January l, 1963.
Our illustration shows three other Candlewick pieces which have been found in red with applied clear handles (no. 7, 8 and 9). We have no official information as to when these were made. Since 400/51T and 51H are not shown in catalogs until about 1943, they could not have been made until that time.
If any readers have found other pieces of Viennese Blue, Ritz Blue or Ruby Candlewick, please write me about them. I have done research on Candlewick since 1973 but I am sure there are still many things to learn.