Heisey's Satellite (#1632) and Lodestar (#1632)
by Louise Ream
Glass Review - January 1985
While Satellite and Lodestar are shown only in the 1956 catalog (the last one), Supplement 32A, a price list from January, 1955 shows the Lodestar pattern in dawn.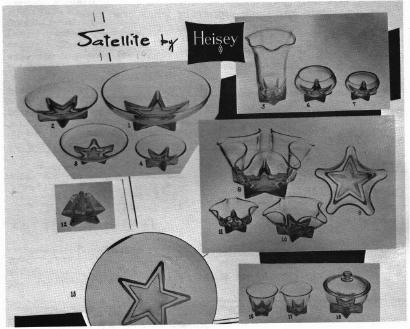 All of the Satellite pieces have a star shaped bottom which is frosted, giving a very lovely effect. In the catalog it states, "Frosted star appears to be made from solid ice." Many pieces from the Newark area are unfinished and do not have the frosted star. Without this last process, the items seem quite commonplace as it is the frosted star which makes the difference. Much of this pattern was sold at the factory when they were liquidating. Most of the items are marked.
The pattern, when made in dawn (smoke color) was called Lodestar and the star on these was not frosted. It is the only pattern known whose name changed because of the color.
Almost everything in the line bore the No. 1682 number, however, the 8" crimped vase was numbered No. 1626, and the one light candle block was numbered No. 1548. These items have not been seen frosted.
In the 1956 Catalog the new Dawn glass was decribed as "a versatile 'smoke' or 'charcoal' color that blends easily with any color scheme". It probably was not popular when it was made. As a collectible today, most dawn commands a good price. It is a "love" or "hate" color and was probably made before its time.
The 1632 double candlestick was originally known as pattern No. 1510 from 1950-1953 and later became part of the Lodestar pattern. It is rarely seen in crystal.
Sugars and creamers are pictured without handles but they are often seen with handles.
A cupped item in Satellite was called a cigarette urn but this is not listed in dawn. It appears to have been made in the same mould as the 7 oz. juice. The pitcher, crimped vase, straight vase and covered candy jar were all made from the same mould. however, the covered jar is only known in dawn. A 4" nappy made cupped in crystal was made straight in dawn.
Items added as part of the Lodestar line were the No. 500 Octagon tray and the No. 1487 Coleport tumblers. In crystal, the tumblers are No. 1486 Coleport.
Satellite is a pattern which has not come into its own as it should because it is such a beautiful pattern and such fine glass.