Farber Brothers Inserts by Cambridge
by Phyllis Smith
Glass Review - September 1983
It has become quite obvious over the years that the Farber Bros. Company of New York used a considerable amount of glass made by the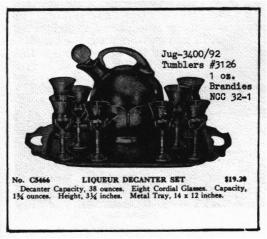 Cambridge Glass Company in their various holders. It is also obvious that they did not use Cambridge glass exclusively so it cannot be said that all glass in Farber holders were made by Cambridge. Glass from several companies was also used.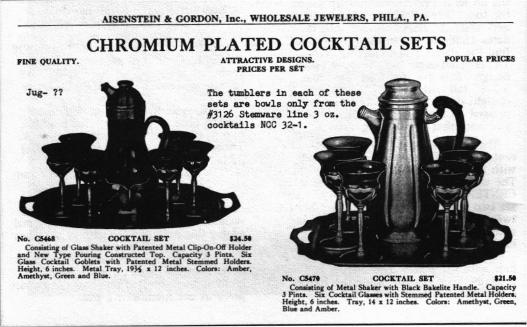 Since there seems to be an ever-growing number of collectors interested in these Farber Bros. items, we thought perhaps you would be interested in seeing the accompanying pages taken from a 1935 issue of a wholesale jewelers catalog issued by Aisenstein and Gorden, Inc., Philadelphia, PA. These pages were first reproduced in the April, 1978 issue of the Crystal Ball, monthly newsletter of the National Cambridge Collectors, Inc., along with an article by my husband Bill Smith. With his permission, the following is taken directly from his article:
"In the description of the various items or sets, there is no reference at all to the Farber Bros. Co. of New York or to the Cambridge Glass Co. There are several items that mention the "Patented Metal Clip-On-Off Holders." This method of inserting glass into metal holders was patented by the Farber Bros. Co. and having established this point we will couple this information to the discussion that was presented by Mr. Eugene Henn at our 1975 NCC Convention. In his talk Mr. Henn brought out the fact that Farber Bros was one of the largest buyers of custom work from the Cambridge Glass Company and that it was also one of the companies that did a very great deal toward keeping Cambridge working during the depression era.

Other companies also supplied custom fitted parts for Farber attachment, but whereever we can identify a particular shape as being from a Cambridge mold or when we can identify a color as Cambridge, we can accept fairly comfortably the opinion that the item was produced by Cambridge. In these following pages we can see that all of the items shown have a distinct similarity to other item components of Cambridge manufacture. The color references from this black and white printed page does not help us much, but some credence can be allowed in the fact that all of the colors mentioned are colors that were produced by Cambridge.

We were unable to directly associate the Bon Bon dishes and Compotes to any particular catalog reference. It is interesting to note that the Farber Brothers Company did utilize the Cambridge Nude into their wares in a comparatively short time after this stem was introduced by Cambridge.

Many of the items shown on these pages can be identified from our (NCC) 1930-34 Catalog. Wherever possible reference notations have been placed beside the items shown."
Additional information concerning Farber inserts by Cambridge can be found in an article by Gwen Shumpert which appeared in the Crystal Ball in May, 1976 and originally in the Glass Review in April, 1976.
In the event that any of our readers have additional information about these inserts we would be interested in hearing from you.