Decorated Candlewick - Part V - More Cuttings
by Virginia Scott
Glass Review - June 1983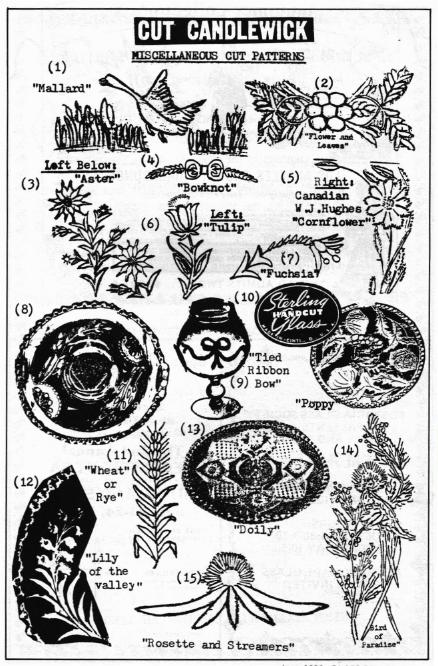 As mentioned in my May article, Imperial files list only six cut patterns on Candlewick; Floral, Starlight, Valley Lily, DuBarry, Princess and Fantasy. A few of the many other cut designs that have been reported by candlewick collectors are discussed in this article. Most of the names used for the cuttings are mine or from the collectors.
In 1977, when I visited Imperial, Ms. Lucille Kennedy told me that Imperial put other cuttings, including No. 1, on Candlewick. She also said that Candlewick "blanks" were sold to other companies and that many were cut by those companies. It is known that Sickles and Cam-Bell in Bellaire put cuttings on Candlewick blanks.
I have called the cutting in No. I "Goose and Cattails" in my book and newsletters. I have recently learned that the name Imperial used for the cutting was "Mallard". This cutting has been reported on many different Candlewick pieces including plates, stemware, cups, sugar and cream sets, candleholders, pastry trays, tall cake stands and punch sets. I have a cigarette box which has gold beads and "Mallard" cutting and also have the cut on a rectangular ashtray, no gold beads.
"Flower and Leaves", No. 2, has been reported on plates, cups, sugar and cream, punch bowl and other pieces. There seem to be several variations of this pattern, usually in the ovals beside the large 5-petaled flower. One variation has berries there instead of leaves.
Many other flower patterns have been found. One collector wrote me that she had over 100 pieces of Candlewick, including stemware, with the No. 3 cutting. In my book I named this cutting "Aster", but collectors call it by other names including "Carnation", "Sunburst" and "Spider Mum".
"Fuchsia", No. 7, has been found on several items. I believe this to be an early cutting, since I have it on a 400/74SC 4-toed bowl, an early piece.
"Tulip", No. 6, has been reported on only one piece, a handled 6" bowl.
"Corn Flower", a pattern that has been put on Candlewick and many other patterns of glass by a Canadian cutting company, W. J. Hughes, is shown in No. 5. The design is beautifully detailed with slender, graceful line stems, rounded pointed leaves and a 12-petaled flower which often has a cross-hatched center.
Pastry trays were favorite Candlewick pieces used for cut designs. No. 10 shows a 400/690 pastry tray cut with a Poppy design. This piece is marked "Sterling Handcut Glass". Sterling Glass Company, a Cincinnati, Ohio business, advertised in mid-1940's magazines. No. 13 shows another intricate cut on a pastry tray.
The Lily of the Valley design in No. 12 was also found on a pastry tray. This very realistic design is not to be confused with Imperial's "Valley Lily" which was a more stylized design. The same lily of the valley design (No. 12) has also been reported with silver overlay.
No. 8 shows an 8½" plate with turned up handles. This plate also has a 5/8" frosted band and frosted beads.
The design in No. 9, called "Tied Ribbon Bow" by a collector, has been found on several Candlewick items. The illustration shown here, "Victorian Globe", was found in a 1946 shopping page ad. The piece resembles Candlewick but has never been found in any Candlewick catalog. Ads stated that the globe could be had with several cuts, including lily-of-the-valley, floral, wheat or a monogram. Other ribbon designs are shown in No. 4 and 15.
"Wheat" is shown in No. 11. The lovely "Bird of Paradise" cutting, No. 14 was found on a 400/105 Candlewick celery dish. It should be noted here that many, many other cut designs, not shown, have been found on Candlewick. These include other floral designs and cut large and small frosted dots.
I will be taking part in a Candlewick Seminar at the Imperial Glass Collector's Society Convention, Oglebay Park, Wheeling, West Virginia on June 25. I hope to see many of you there.