Cambridge's Caprice
by Phyllis Smith
Glass Review - March 1983
The Caprice pattern is one of the best known and widely collected of all the lines produced by the Cambridge Glass Company during its many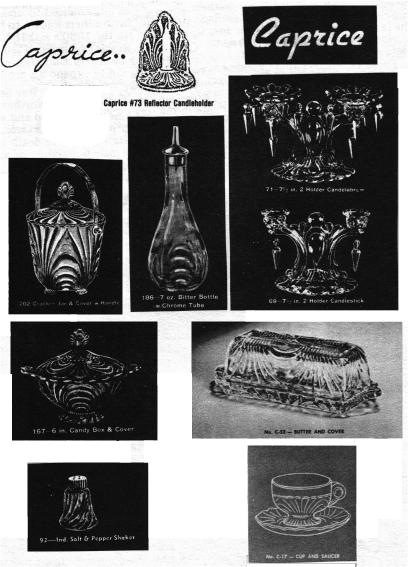 years in business. It has been featured in articles so often over the years that it would be hard to believe that anyone who collects glass of any kind would not be familiar with this lovely pattern.
The Caprice line was first introduced early in 1936 and included approximately 250 different pieces during the entire period of production. It was produced in the popular Moonlight Blue color from 1936 until sometime prior to October, 1953. According to a series of articles written by Bill Smith which appeared in the Cambridge Crystal Ball newsletter in early 1977, the crystal color was produced from 1936 until the time the company closed their doors in 1958.
The colors of LaRosa (pink), Pistachio (light yellowish-green) and Mocha (pale amber) were used from early 1938 through October, 1943. Luncheon sets consisting of a large cake/sandwich plate, 4 salad plates, 4 cups and saucers and a creamer and sugar were produced in these colors.
A few pieces, such as the 3½" and 4½" vases, 3-lite candlestick and the 3 oz. oil, were made in Milk Glass during the period of 1950-53. A few other Caprice items have been found in the colors of mandarin gold, emerald (dark) green, royal blue, amethyst, crown tuscan, violet and an odd looking shade of pale amethyst, but there are so few of these pieces that we do not have any real information about them. Pieces in the mandarin gold and emerald green colors are plentiful enough as to not be considered rare.
Since so much has been written concerning the Caprice line that I thought perhaps it would be interesting to explore a few of the pieces not often seen. Caprice, for the most part, is easily collected. of course the dinner plate is hard to find in the moonlight blue, but it does turn up at shows once in a while. The price is high (as is all sought after glassware these days) - but as the saying goes "you get what you pay for". The following items are a few of the more elusive pieces you might want to keep your eyes open for!
The little No. 73 Reflector Candleholder is rare, but not impossible item to find. The NCC Museum (National Cambridge Collectors Museum in Cambridge, OH) has one on display in crystal. They were produced in crystal, moonlight blue and milk glass. They were first produced in 1941 but we do not know how long a time they were in production.
Finding a No. 202 cracker jar and cover with handle is not an easy task. I believe one will be pictured in the new Cambridge Color book that is in the process of being readied for the printer by the NCC. It looks like the ice bucket, but when you find one you will realize that the cracker jar is slightly different in size.
I feel sure there is a No. 186 seven-ounce Bitters bottle out there somewhere. As of this moment, we have not seen one. It's hard to believe that something so simple would be so difficult to find.
The No. 71 Candelabrum and No. 69 candlestick have been seen. A very similar stick (2-lite) has also been seen with what looks like the little shell ashtrays fastened to the top of each candle pocket The NCC Museum has one of these with the shell on display in moonlight blue. These are not plentiful -- only about half a dozen have been reported.
I have seen the Caprice punch bowl in crystal and it is beautiful. It has been several years ago that we passed one up because the price was too high (we'd snap it up now at the same price -- gladly) and there are no photos that I can share with you. However, if you can picture in your mind this No. 167 Candy Box, without the cover and handles and enlarged to a size that would hold 5 quarts and be 15" across the top, then you will know what the punch bowl looks like! It was made in crystal only. Needless to say, this is a very RARE item. They were produced late in the life of the company and evidently not many were made.
The quarter pound butter dish is another item that should be more plentiful than it is. We saw one recently at a show and it is not an item that jumps out at you and hollers "Cambridge." In fact, it could easily be overlooked on a table full of glass. Perhaps some of you will be lucky to find this as a "sleeper" at a show or flea market. If not, be prepared to pay somewhere around $100 if you want one. They were made only in crystal.
Most Caprice salt and pepper shakers are easily recognized, but this little No. 92 individual shaker is easy to overlook. It is rather tiny and just has the swirl type pattern rather than the usual Caprice swirl and twirl. It comes in moonlight blue and crystal.
In a 1953 Price List of the Cambridge Glass Company we have seen reference to the "open handled cup" in this line. All of the cups we have seen have the closed handle like the one shown here which is difficult to use. We have no photo of the opened handled cup and no idea of what it looks like, so if anyone reading this has seen such a cup, we'd appreciate hearing from you. According to the price list it will be found in crystal only.
Caprice has been produced by the Imperial Glass Company and in most instances is easily distinguished from that made by Cambridge. The Imperial colors of antique blue, sunshine yellow, light green and amber are totally different from the Cambridge colors. However, they did produce Caprice in crystal and their version of moonlight blue, and it is very hard, if not impossible, to tell Imperial from Cambridge. The Imperial moonlight blue is slightly different in hue, but unless you have it side-by-side with the Cambridge it is very hard to tell the difference. Since Imperial is no longer producing this line and quite possibly never will again, my personal feeling on collecting this pattern in either crystal or moonlight blue is "if you can't tell the difference, then what makes the difference?" They are both quite collectible now.
Caprice pieces found in the Carmen (red) color were all produced by the Imperial Glass Company. No reference has been found that the Cambridge Glass Company ever produced Caprice in Carmen.