Cambridge by Imperial Glass Company
by Gwen Shumpert
Glass Review - December 1982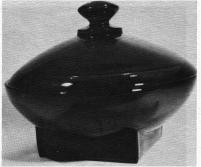 A few years ago, my husband, Billy, and I walked into a jewelry store in South Mississippi, and saw a ruby Cambridge Square covered candy box sitting on a top shelf. The owner of the store was delighted to sell an item that was "old merchandise," and said that he had some more red pieces like this if we were interested;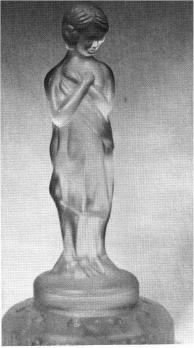 were we ever interested! Down from the back of the shelf came a couple of large ashtrays and a pair of low candle holders, all ruby Cambridge Square. Some of the prices had the gold and black foil label; my joy was unspeakable! That is, until I got my bifocals focused on that label. It did say: "Genuine Handmade Cambridge"; but, it also said: "by Imperial." The candy box is shown at right.
Another familiar Cambridge item is seen at right, the lovely Draped Lady flower frog in frosted crystal. This, too, is by Imperial , complete with the label, which does not show in the photo.
Next, at right, is the Imperial "Cambridge" swan, 6½" in cranberry stained crystal and the label is easily seen. These swans were produced in cranberry stained, frosted, and plain crystal; sizes 10", 8½", and 6½".
In case you've wondered if the Imperial color is close to the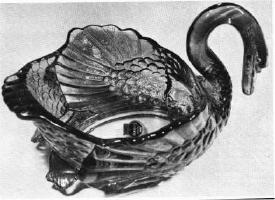 original Cambridge color, let me assure you that their Moonlight Blue compote seen in the photo below and left is the same shade of blue as my real Cambridge Moonlight Blue items! Also available in Moonlight Blue were several items in the "Caprice" pattern. The pictured items, along with 8 pieces of Caprice, Calla Lilly candleholders and the Seagull flower frog are pictured in a 1962 Imperial catalog.
The little 3" nut cup (lower left) is not Cambridge's 3400/71, 3",4-footed one; but was made by Imperial and packaged as a 4-piece amber salt dip set in a clear plastic box, very attractive! This was a 1966 item along with Caprice 4-piece Amtique blue salt dips and a 4-piece crystal set in the Mt. Vernon pattern.
Since we are looking at Cambridge by Imperial, I just have to include some beautiful carnival pieces. The photo top right shows the Everglades pattern, a 10" bowl in Aurora Jewels (cobalt blue), produced in 1970-1972, marked IG on the base.
The bottom two photos at right are also the Cambridge Everglade pattern and were produced in Sunset Ruby, red carnival, in the late 60's and early 70's. The 6" covered candy box has the Imperial trademark on the inside of the lid.
The last item, shown below, is the very desireable Rams Head bowl, (Cambridge's 3500 Gadroon 9" Ram's Head bowl). This Imperial Aurora Jewels (cobalt blue carnival) has the IG trademark on the base; and, yes, they made the matching 6" Ram's Head candleholders, a very beautiful set, to add to a CAMBRIDGE BY IMPERIAL collection.