Those Morgantown Maidens
by Barbara Shaeffer
Glass Review - October 1982
The lovely "maidens" shown on these pages appear on glass made by Old Morgantown. Not a lot is known about this company.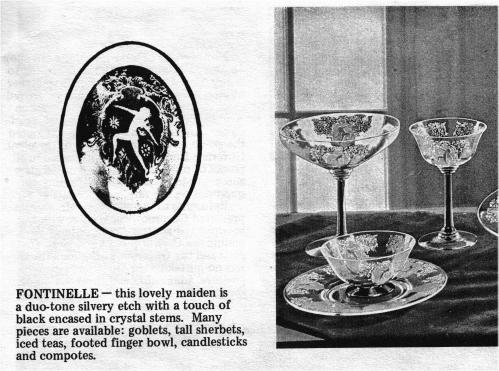 In the late 1960's a 1931 catalog reprint was published by Jerry Gallagher of Minnesota. He presented the first documentation of dozens of patterns and colors made by this firm located in Morgantown, West Virginia.
In 1974 Hazel Marie Weatherman included a chapter on "Morgantown" in her Colored Glassware of the Depression Era 2. She documented the background of the company that ceased operations in 1965.
A Morgantown Glass Works was founded in the late 1890's but was reorganized in 1903 and became the Economy Tumbler Company. For many years blown tumblers were the factory's major product. As the demand for a general line of glass rose, the company changed its name to match their diversification. In 1924 the company marketed its wares under the "Old Morgantown" label. In 1929 the name Morgantown Glass Works was assumed once again.
Sometime between 1931 and 1965 another reorganization created the name "Morgantown Glassware Guild".
On April 2, 1965 Mr. Samuel K. Haden, President of the Morgantown Glassware Guild, Inc. sent a letter to all their customers, announcing that Fostoria Glass Co. of Moundsville, West Virginia, had purchased the factory and that Fostoria would operate Morgantown as a subsidiary.
However, according to Mr. Gallagher, Fostoria did not produce any Old Morgantown lines - only their own at the plant from 1965 to 1971 when the factory was sold. Hazel Marie Weatherman reports that in 1972 the plant was producing lamp globes as the Bailey Glass Company.
In October, 1981, I visited the factory site to find it closed and unoccupied.
Old Morgantown glass came in several colors besides crystal - Ritz Blue, Spanish Red, Steigel Green, Orange, Black, pastel shades of pink, green and yellow.
The stems they created are varied -- triangles, squares, button, twisted, golf-ball, etc. Their optics and etchings were lovely but I want to show a few of their "maidens" from the 1930's. These can be found today at shows.