Colored Candlewick: Part I
by Virginia Scott
Glass Review - October 1982
Candlewick, Imperial Glass Corporation's No. 400 Line, was introduced in 1936 and has been made continuously since. Only about 30 items are being made in 1982. Candlewick has been made mainly in sparkling, clear crystal. However, some pieces have also been made in colors. Through my years of researching this pattern, and writing about it, I have become especially interested in learning more about the colored pieces.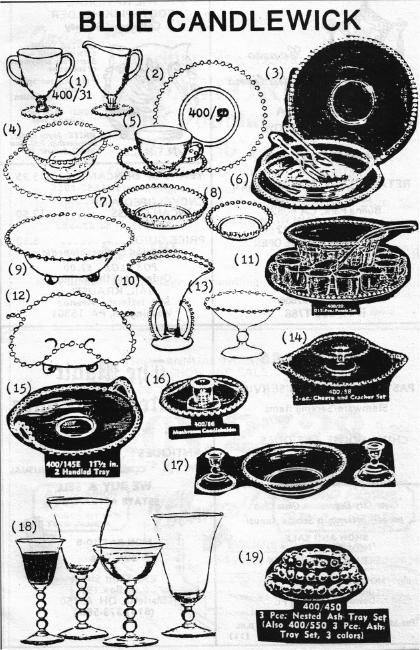 I have found that there is almost no official information about colored Candlewick at Imperial. I visited the company in 1977 and asked about the colors. Miss Lucille Kennedy, Imperial's Marketing Manager, said that very little is known about what colors were made or when they were made. She did tell me that she knew about light blue Candlewick because a friend had a set. "Our records here are often incomplete" Miss Kennedy told me.
So, I have almost no "official" information about colored Candlewick. I have been collecting information on colors, most of which is reported to me by collectors who have written about their "finds" and have often sent pictures. For the next several articles, I plan to write about colored and decorated Candlewick. If any of you readers have pieces or colors not listed, please do write me about them.
Light blue Candlewick seems to be the most plentiful of the colored, both as to the amount made and the number of different pieces made. Let me say here that the Candlewick is a very pale shade of blue but should not be confused with "blue tint" that is sometimes found. A collector, Gloria Grimaldi, CA, shared a letter she received from Mr. Carl J. Uhrman, then President of Imperial in 1969. She had asked about some blue salad plates she had and also about some pieces which seemed to have a "blue tint". Mr. Uhrman wrote, "A small group of Candlewick items was made in light blue from 1938 to 1940." No listing of items was given by Mr. Uhrman.
In reply to the question of blue tint, Mr. Uhrman said, "Unfortunately, all glass will change color if exposed to direct sunlight over a period of time, as when displayed in a store window. Pieces which have changed to amber tint were made before 1939 - ones with the bluish tint are of later production." Although Mr. Uhrman did not specifically say so, I would suppose that the changes would be due to the formula of the glass mix. Old glass often turns lavender when exposed to sunlight.
I believe that light blue Candlewick included table-setting pieces -- plates, cups, saucers, fruit dishes, as well as quite a few serving and decorative pieces. It is my guess that stemware was also made, but none has been reported to me so far.
LIGHT BLUE CANDLEWICK:
Plates: 8" salad, 8½" handled, 7" and 8" with indents, large approx. 14", with frosted beads, 17" punch set underplate.
Bowls: 5" handled, 6" nappy or fruit, 10" salad bowl (No. 10), punch bowl (No. 11), 6" mint, round handles, large bowl with frosted beads (in a set with plate above), 400/74B 4-toed bowl (No. 9), 400/74SC 4-toed bowl (No. 12), individual jelly, sugar or nut (No. 8), 400/23 mayonnaise set (No. 4), no ladle. Plain-handled cup with saucer.
Serving pieces: 400/88 cheese and cracker set (No. 14), flat top compote with bulge-bead stem, 400/31 footed cream and sugar (No. 1) with beaded foot and plain handles, 400/145E 2-handled tray with turned-up handles (No. 15), compote, 400/63B, with bulge-bead stem.
Vases: 400/87F Fan with frosted beads and 400/87R with rolled-over top, both with solid glass arched handles edged in small beads (No. 13).
Candleholders: 400/80 1-bead stem (No. 17), 400/86 Mushroom (No. 16). Console sets: 400/13 flat-bottom bowl (No. 17), mushroom candleholders.
At the bottom of our illustration are four items of 3400 Line stemware. These items were made in solid Ultra Blue, a light aqua, during 1977 to 1980. Verde green, Nut brown and Sunshine yellow were made at the same time. All were solid color.
No. 19 illustrates the 400/550 nested Candlewick ashtray set. This set was made from 1942 to 1961 in three colors -- blue, yellow and pink. The smallest ashtray, 400/440 4" was an aqua blue color. During World War II, the colored set was decorated with patriotic designs. The blue ashtray had a "V" for Victory and stars in the bottom. In 1977, 400/550 ashtray sets were made in solid Ultra Blue. It is known that nested sets were also made in a dark cobalt blue at some time, date unknown.