Sears Glassware - 1929-1931
by Virginia Scott
Glass Review - May 1982
In this article, I will show some pieces and patterns of glass which appeared in Sears Roebuck and Co. catalogs from 1929 to 1931. I have chosen patterns which will seem, I am sure, quite familiar to collectors of Depression Era glass.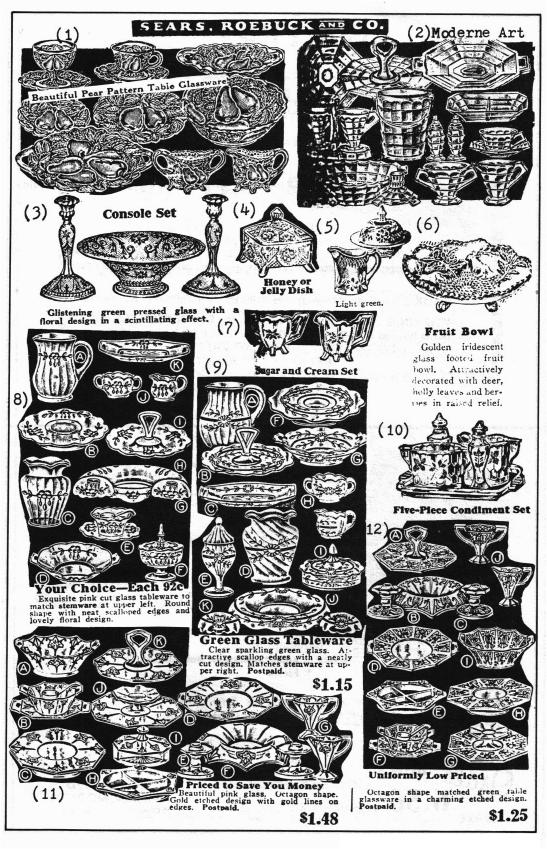 Most collectors will recognize the glassware set shown in No. 1 as Indiana's Avocado pattern. A set of six salad or dessert plates in this pattern was shown in the Sears Spring 1929 catalog for $1.25. The 41-piece set shown here was in the 1930 catalog. The glass was described as Sparkling Green, early American in design and with the lovely Pear Pattern pressed in the glass. The set consisted of six each cups, saucers, sherbets with plates, salad plates, 6" plates, a 9-inch salad bowl, pickle dish, large cake plate and sugar and creamer. The complete 41-piece set was said to be "greatly underpriced" at $4.98.
Illustration No. 2 shows another Indiana Pattern known as Tea Room to collectors. This pattern was offered in the Fall 1930 catalog as Moderne Art. The 15-piece set consisting of cups, saucers, salad plates, sugar, creamer and handled sandwich tray was $2.98. The catalog suggested that the set be bought right away, leaving the other pieces console set (98¢), lunch tray (49¢), ice tub (89¢), sugar, creamer and tray (68¢) and pickle dish with salt and pepper (82¢) to be bought later.
The console set in No. 3 is easily recognizable as Indiana's Sandwich pattern. This set was green and appeared in the Fall 1929 catalog for 98¢. Also familiar is the footed, square Honey or Jelly Dish, No. 4. This is the Higbee honey dish, an old pressed pattern, and was offered in crystal for 42¢ in several catalogs.
The 5-piece Floral and Diamond Band set, No. 5, was in the 1929 catalog and also included a covered sugar. No. 6 is the Stag and Holly golden iridescent footed fruit bowl. The bowl was offered in several catalogs from 1928 to 1931 for as little as 56¢. The sugar and creamer set in No. 7 is a familiar one, often seen at flea markets. This one, in crystal with cut star pattern, was 62¢. A Honeycomb pattern 5-piece condiment set was 79¢ in the 1930 catalog. A 21-piece set of Honeycomb, made by Federal, was offered in several catalogs for as low as $2.98.
Scalloped dishes with cut designs were offered in both pink and green in several catalogs (No. 8 and No. 9). I believe these may be McKee's Scallop Edge pattern. Each piece of the pink, No. 8, was offered at 92¢ while the green, No. 9, was $1.15. Notice that a few of the pieces differ in the two sets.
The sets shown in No. 11 and No. 12 are octagon-shaped and could possibly be McKee's Octagon Edge. However, the cone-shaped sugar and creamer are not shown in Weatherman II with Octagon Edge. They are more like Westmoreland's Doreen. The green dishes, No. 12, were etched and sold for $1.25 each piece. The pink dishes, No. 11, have a gold-etched design and gold lines on the edges and were $1.48 each piece. These two sets were shown in 1929, 1930 and 1931 catalogs.