Cambridge Daffodil
by Phyllis Smith
Glass Review - March 1982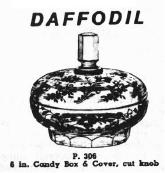 An advertisement in the November 1951 issue of the Ladies Home Journal magazine, proclaimed the following:
"DAFFODIL ... a new etching by Cambridge. DAFFODIL ... the word literally sings of Spring! After winter it seems we need a reminder that spring is close at hand. What better way to get the feeling of a warm spring day, than to find a lovely 'Daffodil' etched upon a beautiful piece of Cambridge glass."
The magazine advertisement further stated:
"Can't you just tell by the looks of this gorgeous new wtched crystal that Daffodil's for you? What an exquisitely lovely, fresh design! Such richness in the glow of its traceries! Such deep from within sparkle that bespeaks Cambridge quality, Daffodil is truly crystal in its finest, most elegant form. You'll be thrilled to own it . . . you'll be proud to give it. Priced most moderately . . . in the best stores."
Our research indicates that production of this pattern ended with the closing of the Cambridge Glass Company in 1954. It was not returned as a production line during the brief period the factory was re-opened in 1956-58. To our knowledge it was made in crystal only, with the possibility that some pieces might have been gold encrusted.
You will not find Daffodil etched pieces at every antique show or flea market you attend. But it is a pattern of such beauty that it will be well worth your time to seek out. A piece of Daffodil added to your collection will surely be like a "breath of Spring."