The Paden City Glass Manufacturing Company
by Jerry Barnett
Glass Review - October 1981
The Paden City Glass Mfg. Company was founded at Paden City, West Virginia, in 1916. The company was to survive for 35 years only, closing forever in 1951. But in the time that the Company existed it created some of the most interesting, and most talked about glassware ever made in this country -- the elusive Paden City glassware held in such high esteem by collectors today.

No. 182 Vase with Lela Bird plate etching.
From the very beginning Paden City was a very successful, and a very aggressive company; so aggressive in fact, that in the first year of its existence the company paid off its construction debts and turned a healthy profit! That initial success may be owing in part to the fact that Paden City began the production of glassware with a goodly number of molds from the newly (1915) closed Higbee Glass Company ... and with a mold maker who had been urged away from the New Martinsville Glass Mfg. Co. nearby.
The result of these two factors is that early Paden City glass is very difficult to identify, being either from old Higbee molds or New Martinsville look-alikes. Fortunately Higbee marked its ware. Paden City never did. The New Martinsville look-alikes are more difficult to identify, but there is good catalog coverage from this period of Paden City's production. (See Paden City, The Color Company by Jerry Barnett). And furthermore, the company soon opted for greater originality and began to produce ware which is distinctly of their own design.
Over the years Paden City's concept of design changed very little. There are examples of Paden City molds being changed only slightly to create new patterns of dinnerware. This constancy in using the same design concepts created what is identifiable today as the "Paden City style". The Paden City style is very obvious in the shapes of items, no matter what the pattern may be, and in the listing of items comprising a line of dinnerware. Cups, tumblers and other items, tend to be cupped at the top, giving them a slightly barrel-shaped appearance, generally speaking. Certain items in a line of dinnerware (glassware of the same pattern) are more-or-less unique to Paden City. The three-toed mayonnaise bowls are a fine example of this. The cheese and cracker with a domed lid is probably even a better example. These items are common to Paden City;s scheme of things but are seldom found in the line of ware from other companies.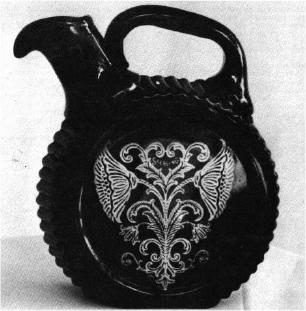 Glades pattern cordial decanter in Ruby with a silver overlay of the Oriental Poppy decoration. Pieces with silver overlay are usually grossly overpriced because of the silver, especially if it states "Sterling" as this item does.
Paden City's foremost virtue is not however, the unique items or shapes it made. It is rather in the fact that the items made by Paden City can be found in unexpected colors. Paden City's array of colors is no greater then that of any other company, but the colors were handled with a virtuosity not equalled by many. A ruby colored sugar pourer is an example. A turquoise reamer is another. The company left no lists of what items were made in what colors, so today the list of Paden City surprises seem endless.
Colored glassware came into Paden City's repertoire very early - Black glass (that which is erroneously called black amethyst today) and an opaque white called Opal (so called milk glass) may well have been made from Paden City's beginning. Whatever the case, before Paden City was very old, several colors were routinely being made. Transparent pink, light green and an unspecified shade of light blue were advertised in the early 1920s. Other colors were likely in production by then as well. Unfortunately these pale transparent colors have come to be known as "depression glass" colors. The facts are that Paden City and other companies were making these colors before the Great Depression and further, Paden City;s beautiful handmade glassware has nothing more in common with "depression glass" than does the beautiful handmade glassware of Heisey, Cambridge and others.
Paden City produced two shades of pink; one called Rose and the other called Cheriglo. The Rose version of pink is a deeper shade than Cheriglo and tends toward the red end of the color spectrum. Cheriglo, on the other hand, is a true pink which is soft and clear, and allows all the brilliance of the glass itself to come through. Cheriglo was so well known in its time that its name became synonymous with that of the company. The trade papers of the era often mention the color with no reference to the company knowing full well that everyone knew who made the color.
The red glassware made by Paden City is by any standard superlative. The company called this color ruby. A trade paper of the time states: "... an unusually beautiful ruby shade. The color is not only diffused with utter precision, but is of an unique deepness and purity." This color enjoyed the accolades of the glass industry for years, and luckily for today's collector the company produced a lot of glassware in this color.
The company's cobalt color, which was called Royal Is just as fine as the ruby. Royal seems not to have been as popular or as well known as ruby, but the color is just as remarkable. It is a rich, deep blue, but manages to hold a high degree of transparency in spite of that - a wonderful example of tho glassmaker's art.
Other Paden City colors are: light green (four shades); amber (two shades); Forest green (a name Paden City used to describe their dark green); Emeraldglo (a dark green with a yellow tint); Mulberry (a deep, interesting amethyst); yellow (a true yellow described as expensive by former Paden City employees); at least six shades of light blue from thin, watery to aqua); and of course crystal. Occasionally other colors can be found such as a pale amethyst or a very weak pink. It is not clear what these odd findings represent. Perhaps they are experimental colors, discontinued short run colors, or rejects. No one knows.
By way of decorating glassware Paden City used deep plate etchings as a mainstay. This is a second factor contributing to the popularity of Paden City's glassware today. The plate etchings cover a wide range of mythical motifs, bird, animal and floral schemes. Those etchings which have birds as the central motif are very similar at first glance and can be easily confused by the unwary. Likewise, when these etchings have been modified or produced to fit smaller items of glassware they can be confusing to the uninformed. But a careful collector should have no difficulty in determining which bird belongs with which flock. And remember a plate etching does not identify the pattern of the glassware the etching is found on. Just as with the Rosepoint etching by Cambridge, the same Paden City etchings can be found on several different patterns of the company's glassware.
For reasons which are not fully understandable, Paden City's glassware is for the most part elusive today. The word scarce can be honestly applied to much of it, and there are some items which were made by the company which are in the fairest sense of the word, rare. There are two probable causes for the scarcity of Paden City glass. First, the company was heavily involved in the production of hotel and restaurant ware.It is entirely possible that the production of giftware and dinnerware for the home use was far more restricted than heretofore believed. And second, Paden City is known to have exported glassware to the West Indies and other places. No records survive to give any indication of how extensive these exportations were, but they must be considered as a factor in the scarcity of the company's ware today.
Paden City has been incorrectly credited with the creation of certain solid glass animals. While it is absolutely true that some animals in question were made at Paden City, the company cannot be credited with their creation or origination. Paden City Glass Company routinely did private mold work for other companies. It is in exactly this manner that Paden City was involved in the production of some, but not all, of the solid glass animals. The animals in question are, in fact the creation of the Barth Art Company, founded by Harry G. Barth! Under a private mold work arrangement with Barth Art, some of the solid glass animals were cast at Paden City. Some were also cast at the Indiana Glass Company of Dunkirk, IN. For the sake of accuracy and American glassmaking history, the attribution of the solid glass animals formerly ascribed to Paden City belongs to the Barth Art Company. Paden City glass has virtue enough without being given the credit for something which they did not create.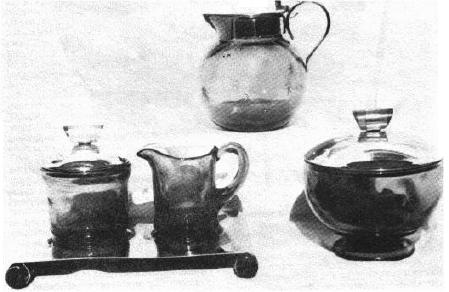 The picture above shows Paden City's Symphony pattern items in metal mountings. The mountings were added by the National Silver Company. Literally hundreds of separate items in the Symphony pattern were mounted in metal frames by this company. The color of the glassware is thought to always be Emeraldglo.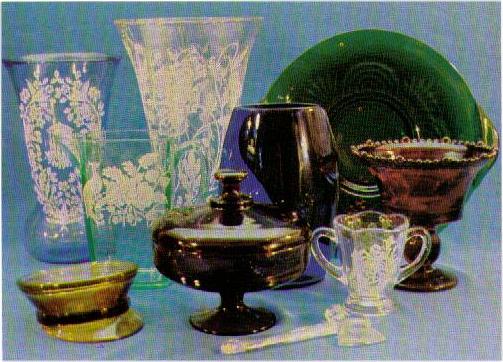 Famed for its color as much as its diversity of patterns and items, Paden City produced some of the most collectible glassware ever. Shown above are: No. 184 10" Vase in medium blue with the Utopia plate etching; No 184 12" Vase in Cheriglo with the California Poppy plate etching; Largo pattern double handled plate in Forest Green; No. 7 Batter Pitcher in light green with the Peacock and Rose plate etching; No. 182 Vase in Royal (cobalt); No. 555 candy dish in Ruby; Military hat powder box in amber; No. 503 candy dish in Mulberry; Triumph pattern sugar in crystal with Cupid plate etching; and hatchet.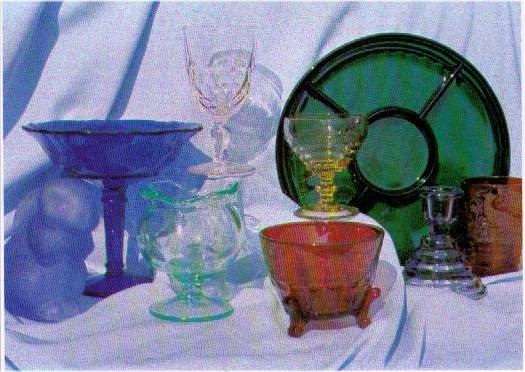 The glass animal in the photo above is the only known animal figure known to be created by Paden City. It is a hollow figure which was used as a cotton dispenser, the cotton being used to make the bunny's tail. Next to it is a Crow's Foot Round pattern tall comport in Royal (cobalt); the Georgian pattern tall goblet in Cheriglo; the Line 900 pattern five part divided relish in Emeraldglo; Mrs. B pattern 4¼" Vase in medium green; the Nerva pattern three-toed mayonnaise bowl; the Party Line candleholder in rare light amethyst; and the Penny Line 9oz tumbler in Ruby with the Delilah Bird plate etching.