Heisey Candelabra
by Bob O'Grady & Tom Felt
Glass Review - June 1981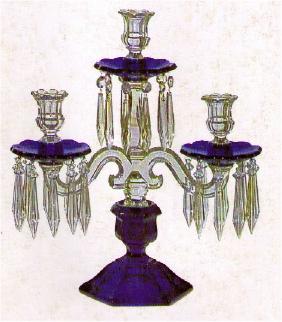 In the fall of 1901, four and a half years after the Heisey factory opened its doors, their first candelabra appeared on the market. From that date on Heisey was to produce many different styles of candelabra until it closed in December, 1957. For almost a fifty-six year period Heisey candelabra were a part of many households in America and even found their way into homes around the world. As styles changed over the years so did Heisey's candelabra. The exceptions are those few which, because of their timeless design, appealed to most people at all times and thus remained in production for the entire life of the Heisey factory. Even after the factory closed, Imperial continued to make many of the Heisey candelabra from original Heisey molds purchased in 1958. As a matter of fact, Imperial has just discontinued the last of its production of Heisey candelabra, although they are continuing to reissue various Heisey candlesticks. So today's collector has a wide range of Heisey candelabra to choose from, both Heisey originals and the reissues by Imperial, covering a span of eighty years.
The candelabrum pictured above right comes from Heisey's middle production period, the company's color years. This is the No. 301 pattern three-light candelabrum produced from about 1929 until 1957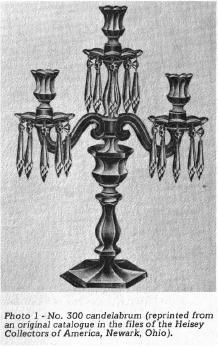 by Heisey. It was not, however, made this long in the cobalt base and bobeches. Heisey only produced cobalt blue from 1932 to 1941. Only the base and bobeches were generally made in cobalt for this particular candelabra. The arms, candleholders (cups) and prisms used were crystal. There is no record that Heisey made these in cobalt (at least as production items); although a pair of candelabra is all cobalt are known.
From their first appearance in 1901 the beauty of Heisey's glass was immediately evident in their colonial style candlesticks and candelabra. One of the wonders of the Heisey Company is that they maintained that quality so consistently - during good times and bad. Heisey's early years of candelabra production were characterized by large colonial banquet style pieces in crystal only. An illustration of the first of these, the No. 300 candelabra, shown in Photo 1 at right, was advertised in the Oct. 5, 1901 issue of China, Glass and Pottery Review. The next month the same journal contained the following text:
"It needs no prolonged search to discover the reason for the popularity of the Heisey line of fine table glassware. When the company starts to manufacture a special line they do not feel satisfied merely to bring out a couple of shapes, but to make the line the most complete on the market. This is strikingly exemplified in the new offering they make in the way of a series of candelabra. Where it is usual for a firm to bring out a Fall special, A. H. Heisey & Co. have placed a series of four on the market. This consists of a two branch candelabra with three lights, a three branch one with four lights and a four branch one with five lights. For table decoration and for sideboards these articles are certainly of very high decorative value. Not alone are they of artistic form, but the quality of the glass and the workmanship are of the highest order."
As we now know from history's vantage point, it was this No. 300 and its modified No. 301 version which remained popular until Heisey went out of business (and reissued by Imperial until last year).
This early period of candelabra design lasted generally until the early 1920's when these styles became less popular. During this early period there were four different basic pattern groupings of candelabra and within each grouping the various pieces were made separately to be assembled into complete candelabra. The bases of these early candelabra were generally modified versions of already existing candlesticks; thus, the four major groupings of early candelabra were: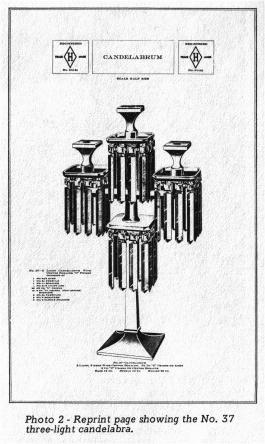 Pattern No. 300: one, two, three, four and five-light candelabra with a base resembling Heisey's No. 2 candlestick. (In common with most other companies, such as Cambridge and Duncan, Heisey called anything with prisms "candelabra" whether they had arms or not. So, over the years, Heisey made many one-light "candelabra".
Pattern No. 5: one, two, three and four-light candelabra with a base which was the same as the No. 5 candlestick.
Pattern Nos. 17, 18 and 19: Thirteen different one, two, three and four-light candelabra with bases modeled on the No. 16 candlestick.
Pattern Nos. 37 through 45: a collection of twenty-seven different one, two, three and four-light candelabra with varying configurations and heights, all with a form of the No. 21 candlestick as the base. (See photo 2 at right for an original catalogue picture of the No. 37 3-light candelabrum).
A completed candelabrum would consist of a base, arms, bobeches and candleholders (cups) all fitted together by metal spools or ferrules. (Later candelabra were sometimes made in one piece with only the bobeches separate). These pieces were versatile enough to be used interchangeably, not only within the same pattern among one, two, three, four or five-light items, but even between patterns so that, for example, a No. 300 bobeche or candleholder (cup) could be used on a No. 5 or No. 16 base. Candelabra often were assembled in mixed patterns depending on the customer's desires. Once the collector learns to recognize the candelabra parts, it is possible to find them assembled in many different ways.
During the 1920's when colored glass came into vogue, Heisey phased out most of the large candelabra, with the exception of the No. 300 which continued to be produced into the early 1940's. The No. 301, a modified or shorter version of the No. 300, was introduced in the early 1920's and, as mentioned above, continued in production until 1957. During this period, the No. 300 was offered in Heisey's Sahara color (yellow), as well as in crystal. The No. 301, available in crystal, was also made in cobalt blue (see cover), in Sahara in the two and three-light styles, and in Alexandrite (a beautiful lavender-blue) in the two-light style.
A few candelabra were also available during this period, but the tendency of the time was more toward smaller, less formal candleholders. This was reflected in the fact that the company did not offer as large a variety of candelabra during these years.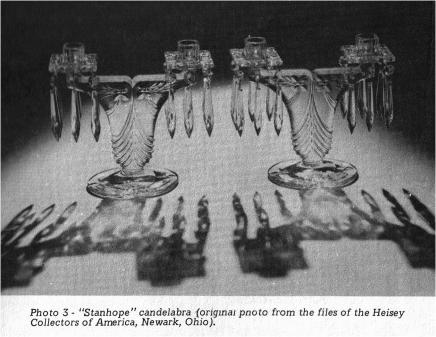 The early large candelabra and most of the candelabra of the color period were not generally considered part of any pattern groups. However, in the 1930 s Heisey began producing candelabra to accompany many of their larger pattern groups. Thus they would have table settings in which all of the design elements matched among the goblets, plates, bowls, pitchers, etc, and also the candlesticks and candelabra. Frequently, these pattern groups would contain three or more different candlesticks (usually in a one-light, two-light and three-light style). It was also not unusual for one or more of these candlesticks to be sold both as a candlestick or, by adding the appropriate number of bobeches and prisms, as candelabra. For instance, the No. 1483 Stanhope two-light candelabra pictured in Photo 3 at left, is from one of the popular patterns of the middle 1930's. This was sold without the bobeche and prisms, and when they were added, it became a two-light candelabra.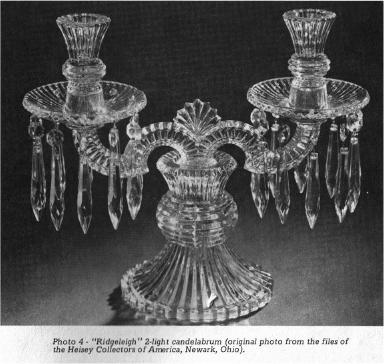 Another large pattern group which came out in the middle 1930's was No. 1469 Ridgeleigh which included two different one-light candelabra and the stunning two-light candelabra pictured in Photo 4 at right, as well as several other candleholders. Both the Stanhope and Ridgeleigh candelabra were offered in crystal only, and reflecting the time of their manufacture, had an art deco flavor.
Among the other pattern lines of these years, candelabra were also made in the No. 1445 Grape Cluster, No. 1485 Saturn, No. 1488 Kohinoor, No. 1495 Fern, No. 1503 Crystolite, No. 1509 Queen Ann and No. 4044 New Era patterns.
Heisey continued to offer candelabra in pattern groups on into their last production years. In 1948, for instance, another striking three-light candelabra was introduced as part of the No. 1567 Plantation pattern shown in the photo at left. This one was also offered without prisms and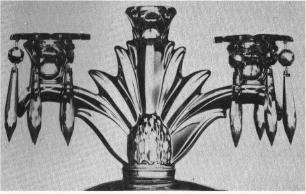 bobeches as a three-light candlestick. Although several styles of candelabra continued to be available up to 1957, this was the last new one to be designed by the company.
This concludes a brief review of Heisey's candelabra - stretching from the early "golden age" of the colonial period, with its tall, elegant crystal candelabra, continuing through the middle years, when the candelabra became generally smaller (frequently in color), and ending in the late 1940's and 1950's when only a few candelabra (primarily in specific patterns) were being produced in crystal - over half a century of production when Heisey made the candelabra we still cherish today.