Miss America
by Glenita Stearns
Glass Review - June 1981
One of the moat striking, and certainly one of the most sought after of Hocking Depression Glass patterns, is Miss America. Manufactured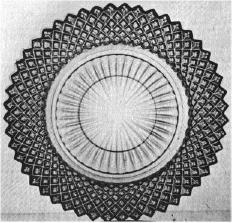 only from 1935 to 1937, it's short life span, as well as it's beauty, add to the desirability of this pattern.
Hocking produced a full dinner service in Miss America. Plates range in sizes from 5¾" sherbet plates to 10¼" dinner plates. A 10¼" grill plate was also made. There are a variety of bowls and serving pieces, including a four-part relish that was at one time a premium for a spice company. Miss America is collected mainly in pink, though it is one of the few patterns where crystal is also avidly searched out. A few pieces were produced and are generally available in green: the 5¾" plate, the 6¾" plate, be 8½" salad plate, 4½" and 6¼" berry bowls, a 10 ounce tumbler and a cup. No green saucer has been reported to date.
Occasionally a piece turns up in ice blue or red. The larger berry bowl has bees found in cobalt, but these will not usually be found on the marketplace.
Miss America was available through Montgomery Wards in 1936. Headlined "Miss America ... pink or crystal glassware, 4½ cents to 25 cents each" with the footed sherbet in either pink or crystal at the low end of the scale. The 25 cent item was the two quart water pitcher with ice lip, probably worth $80 or more if you can find one today. Check out the price list from a 1936 Montgomery Ward advertisement at the end of this article.
Miss America is occasionally confused with "English Hobnail", a pattern Westmoreland Glass Company made from the 1930's until very recently, though their pink and green production was only during the depression years. Miss America has uniform rays in the bottom of the pieces (see picture at right) while "English Hobnail" rays have a hexagonal pattern. There are other differences in shape and colors offered. Many interesting serving and occasional pieces were made in "English Hobnail" that could blend well with a Miss America collection.
In 1977, a butter dish and salt and peppers were reproduced. On the old butter lid the area inside the knob is concave; on the new it is convex. The old shakers stand 3 3/8" tall without the lid; the new ones 3¼".
Don't let reproduction pieces steer you away from this pattern. It is one that is going to continue to rise rapidly in price because of its character and charm.
One added note; If you purchased an Ice Cream Freezer from Montgomery Wards in 1936, you received six sparkling sherbets free! See the advertisement below.