Duncan & Miller's "Nautical"
by Gail Krause
Glass Review - May 1981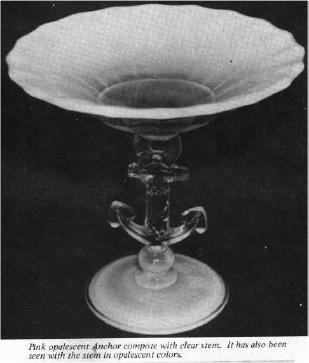 One of the most elusive patterns of the Duncan & Miller Glass Company is the beautiful Nautical. The unique design and colors are a collectors delight.
The Life Preserver ash trays and the Anchor compote come in clear, pink, blue and yellow opalescent. It is possible other colors may have been made but I have not seen them.
Duncan and Miller Glass Company designed many items for the sportsman. One of their most prominent designers was Robert A. May. He began working with the Duncan plant as the resident designer in 1934 although he had sone free lance designing for them the previous year. He was a versatile artist who designed many of Duncan's blown stemware lines.
It is interesting to note that the Nautical name was later listed in the catalog pages and advertisements as Sanibel No. 130. However, on the original design sheets, Mr. May refers to these items as a "Nautical Line".
The candy jar and cover shown next to the original design sheets come in crystal blue, pink, cobalt, ruby, opalescent blue, pink and yellow as do most of the other items in the "Sanibel" Line.
Mr. May continued to design interiors and display furnishings for the New York city and Chicago sales offices, as welt as displays for the annual China and Glass Show in Pittsburgh. In 1942 he moved to Philadelphia as an associate and eventually a partner in the firm of Harold Van Thorn. He retained the Duncan account as a personal one until 1950 when his working schedule became so heavy he was forced to terminate this extra activity.
Photos shown here are courtesy Lois Bowman, editor of The Collector, Heyworth, IL