Fire-King Ovenware
by Virginia Scott
Glass Review - February 1981
Almost every user of glass cooking and serving ware must be familiar with the "Fire-King" name which appears on a large variety of pieces made in many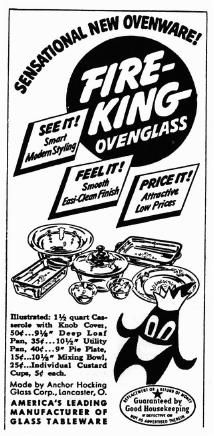 shapes and colors. Perhaps you have wondered when and by whom these items were made.
"Fire King" is the trade name used by The Anchor Hocking Glassware Corporation of Lancaster, OH. The company was founded in 1905 as Hocking Glass Company. In 1937, Hocking merged with Anchor Cap and Closure Corporation and the name was changed to Anchor Hocking Glass Corporation. That name was modified to the present form, in the late 1960s.
The general trademark of the Anchor Hocking Corporation is an anchor design superimposed over an "H", This trademark is shown in Illustration No. 1 (below, left). According to The Trademark Register of the United States, this trademark was registered April 9, 1940.
Fire-King ovenware was first produced in 1942. The illustration at right shows the earliest ad that I found for Fire-King, a small ad from Good Housekeeping, October 1942. The first Fire-King was made in very

pale blue color. Blue Fire-King was transparent and was decorated with a pressed design of scrolled medallions connected by decorated ribbons. This motif was used to form a border on the sides and a similar, but more elaborate, design formed a circle around a stylized flower on the bottom of many of the pieces.
Fire-King was made in the light blue color from 1942 to 1945. One reference, The Housewares Story by Earl Lifsey, states that the color of Fire-King was changed to green in he mid-1940s and to straw yellow a little later. Jade-ite, an opaque jade green color, was introduced in 1945. This might be the green to which Mr. Llfsey referred. Azur-ite, an opaque light blue, was made a little later. Other colors and dates given in the The Housewares Story are: Ivory 1948; Crystal and White 1951.
White Fire-King has been decorated with many colors and designs through the years and pieces with fired-on color have also been produced. Complete dinnerware sets were made in Jade-ite, Azur-ite, Ivory and White and with fired-on colors.
The name "Fire-King" was registered as a trademark June 24, 1941 according to the Trademark Register. This name has been put on Anchor Hocking ovenware and dinnerware in many variations. Some of the early transparent blue Fire King was not marked, as far as I have been able to determine. Other blue pieces have a block print "FIRE-KING." The sketches at left show some of he other marks that have been used. Some pieces have only the Anchor Hocking "Anchor-H" device, No. 1. The marks shown in No. 2 and No. 3 are commonly found. These marks have a script "Fire King" with "Oven" above and "Ware" below, No. 2, or with "Made in USA" added, No. 3. Sometimes "Glass" Is found instead of "Ware." Another variation, a circular arrangement incorporating "Anchor Hocking" and the "Anchor-H" trademark, often appears (No, 4). The word "Ware" may be expanded to "Dinnerware" on table setting and serving pieces.